Due to a wide array of powerful features, high accuracy, cost-saving opportunity, and improved safety options, drones have become a must-have tool for many companies. Those specializing in the area of aerial surveying simply can't do without UAVs. Today, we can see that the drone inspection market is rapidly growing. And in this insightful post, we'll review the best drones that can be used for inspection, explain how UAVs transform and improve inspection processes, review the benefits of drone surveying, and much more!
How UAVs Change the Inspection Area
If an industry requires aerial inspection, it simply can't do without drones. The main goal of a visual inspection is to check absolutely every part of an asset. And in such a scenario, a drone is used as the inspector's eye.
A drone collects visual data and after that, an inspector processes the data and learns every detail. However, drones can do much more than a simple visual inspection of an asset. When a drone is equipped with a thermal camera, it can easily analyze the asset from the sky and quickly find heat leaking or people. Drones with multispectral sensors can be used in the agricultural sector as they enable farmers to analyze the crop state from the sky.
Overall, drones are a must-have tool for inspectors. They can save time and allow them to make quick decisions.
What Are the Main Advantages of Drone Inspection?
The greatest benefit of using drones is lower inspection costs. Using drones for aerial surveying is cheaper as compared to a traditional method where an airplane and a human needs to perform this operation. Drones guarantee improved worker protection and allow experts to access information in hard-to-reach places. On top of that, drones reduce the risk and time necessary to complete this operation.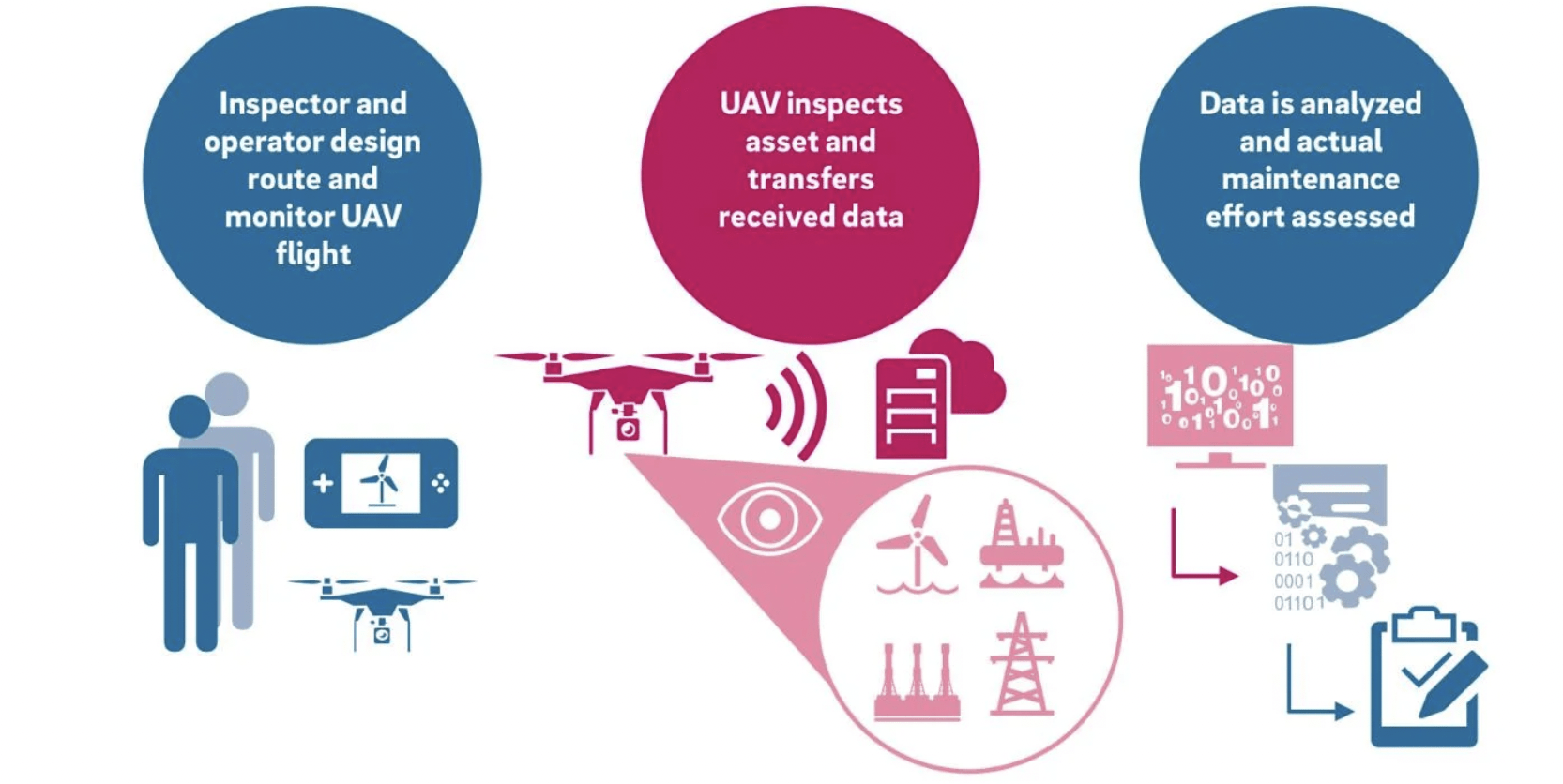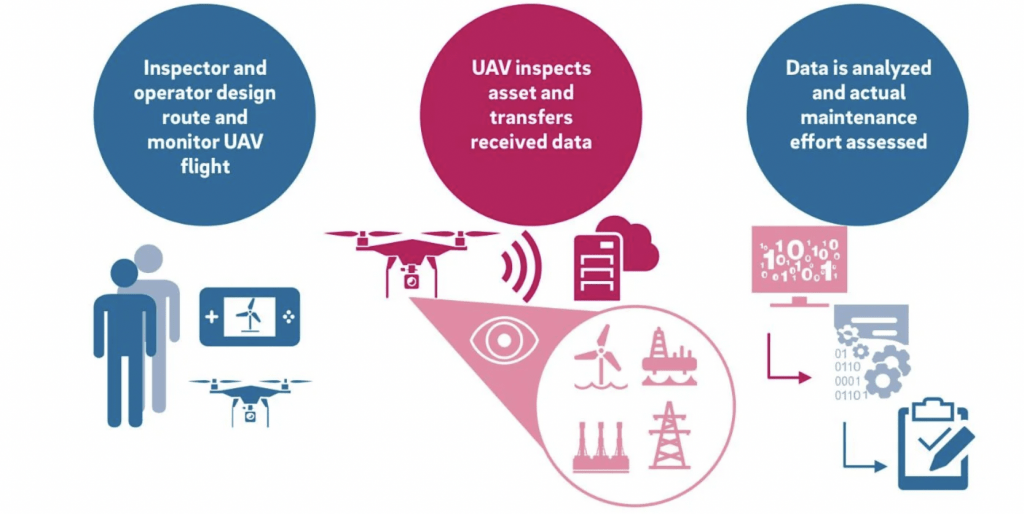 Drones Make Aerial Inspections Cheaper
It goes without saying that drones can reduce the cost of aerial surveying. Just picture this – you only need to have a drone and a pilot who will perform the mission, and that's all! Just a minute and a drone is in the sky. You don't have to hire experts to monitor industrial or commercial environments. On top of that, when drones are used to perform aerial inspections, experts in this niche don't have to place themselves in too dangerous situations.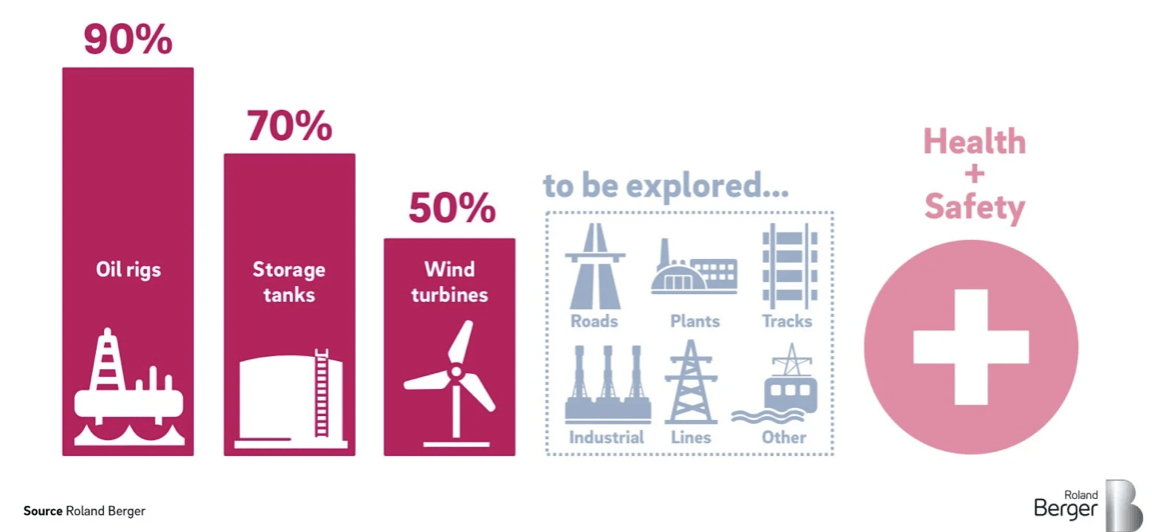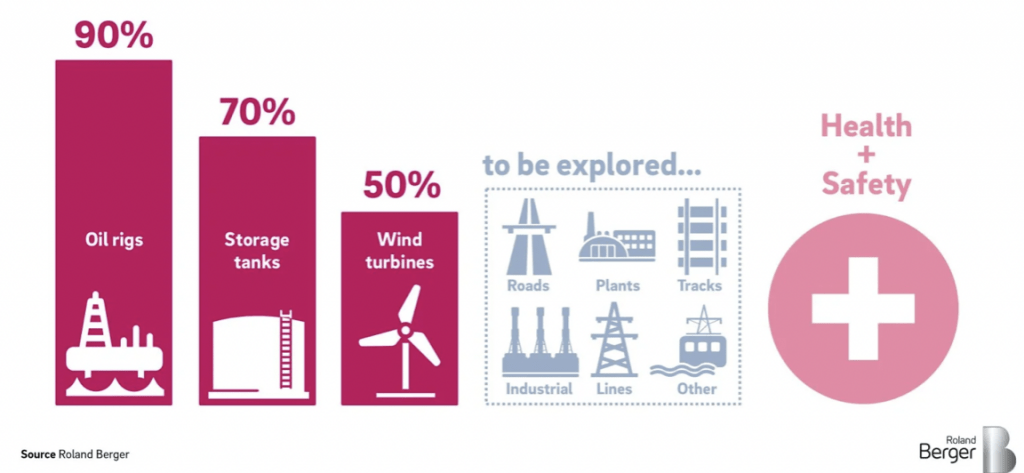 You probably know that erecting scaffolding to perform a manual inspection is too expensive. Firstly, it takes time to build scaffolding. Secondly, building scaffolding is a costly affair. When drones are used, companies can reduce their expenses by 80%.
Besides, the low cost of drone inspections allows experts in this area to do aerial inspections more frequently. And this means that potential problems can be addressed quickly. Drone data allows professionals to keep track of the condition of a certain asset over time. On top of that, the modern market is also overloaded with handy solutions for data post-processing.
In What Areas Drone Inspections Are Mandatory?
There are many areas that benefit from drone inspections. For instance, in current times, such industries as agriculture, chemical industry, infrastructure, construction, public safety, oil and gas, and mining simply can't do without drone aerial surveys.
Let's take a closer look at some specific examples. Aerial surveying is of utmost importance for the inspection of wind turbines, power line monitoring, mobile phone masts, railway, road, and bridge monitoring.
Public safety organizations use UAVs to control events arenas, inspect crime areas, control disasters.
The insurance sector also can't do without drones. UAVs help experts in this area to control the conditions of buildings and car accident sites.
Drone Inspections vs Conventional Inspections: Which One Is Cheaper?
As we have already mentioned, investment in a powerful drone is a good idea for absolutely any organization that needs to do aerial surveying regularly. It goes without saying that drones are a cheaper option as compared to traditional methods. And to prove this statement, we'll take a look at an example.
The UK Drone Safety Register published research where they proved that UAVs that were used for inspections in the construction area can save up to 70 % of the budget. They found out that the average cost of building scaffoldings to inspect the roof is £1,250. Besides, they should also pay for the use of an elevated platform around £1,000. However, the average cost of deploying a UAV is £500.
All in all, we can see that the use of drones for aerial surveying is the most cost-effective method that can be used to analyze the site.
Overview of the Most Powerful Drones for Aerial Surveying
Now, it is time to move on to discussing the best, and probably the most powerful drones that can be used for aerial surveying. Get comfortable and have a look!
The DJI 210 Matrice V2
It's one of the best commercial drones released by DJI. This platform features a rugged design and easy configurability that make this drone a must-have tool for numerous areas. The DJI 210 Matrice V2 is used for aerial surveying, inspections, building, search and rescue operations, turbine inspections, etc.
Two years ago, this drone helped to find a lost 6-year-old boy in a cornfield in the USA. More than 500 volunteers were engaged in this operation but only a drone equipped with a thermal camera helped to find him.
The DJI Matrice 300 RTK
It's one of the newest commercial drones that are available on the market today. The developers of this drone were inspired by the aviation systems and built this drone based on these techniques. This flying machine features a 55 minute flight time, 6 directional sensing and positioning, and advanced AI capabilities. Overall, this flying machine combines unrivaled reliability, intelligence, and superb performance.
DJI M600 and Phase One Cameras
Powerful Phase One Industrial Cameras (iXU and iXU-RS) can easily be integrated with the M600 drone. Overall, it's a powerful commercial solution. It can be used for critical infrastructure monitoring and as a powerful inspection tool.
Thanks to a small size, the Phase One cameras can be fixed to this drone. A customer has the choice – either to use fixed focus or motorized-focus functionality.
Overall, DJI's M600 series is an exceptional aerial platform and a good option for cinematography and industrial applications. Drones come with long-range controllers and an operating range up to 3 miles. Recently, this drone was used at the Chernobyl site to explore radiation hotspots.
The DJI Mavic Enterprise
If you are currently searching for an entry-level but powerful commercial UAV, you will hardly find a better tool than the DJI Mavic Enterprise. The drone comes with a set of features as more expensive drones have. On top of that, it can be equipped with a thermal or visual camera, loudspeaker, and spotlight.
American Airlines used this solution to explore the plane. It was also used to keep track of forest fires in Ukraine. The greatest benefit of this flying machine is that it can be deployed in a matter of seconds. That's why it's a must-have tool for emergency services.
AceCore Zoe
Developed in the Netherlands, this UAV can be a must-have tool for you! It's a heavy-lift drone with a foldable design that guarantees quick deployment. On top of that, it features the biggest payload capacity and can lift up to 14 lbs.
During the COVID pandemic, the engineers of this drone equipped it with a loudspeaker. This allowed emergency services to speak directly to people from the sky.
This drone has a waterproof design and is very stable in high winds. The authorities of Puerto Rico used it to reconstruct fallen power lines after Hurricane Maria.
Parrot Anafi
This drone was manufactured by a reputable French company, one of the main DJI's competitors. The Parrot Anafi is a small, inexpensive, and powerful aircraft that can capture footage in 4K. Due to the high-quality footage that can be produced by Parrot Anafi, it remains popular on the market.
If you need excellence in video, you simply can't do without Parrot Anafi. With the help of this solution, you won't face any difficulties while shooting the horizon or skyline. On top of that, the drone features excellent zoom features and there's no need to invest in interchangeable lenses.
Besides, it's a foldable drone that has a 25-minute flight time.
All these drones are must-have tools for aerial inspections. If you have some questions, seeking clarification, let us know and we'll help you choose the right option that suits the needs of your project!