4K HDR, 21 MP CAMERA TO OPTIMIZE THE WAY YOU WORK
The 4K HDR, 21 MP high-resolution camera is ideal for every professional usage: rapid inspections of buildings and infrastructures, video production or intervention monitoring.
Use Case: using ANAFI's high-resolution camera for your inspection
projects eliminates the risks of climbing on structures such as scaffoldings, ladders or elevated platforms, making the whole process safer for professionals.
4K HDR, 21 MP
UNIQUE 180° CAMERA TILT TO CAPTURE IMAGES OF HARD-TO-REACH AREAS
Use ANAFI Work's controllable tilt gimbal with its zenith angle (+90°) and nadir angle (-90°), to capture images above or under inaccessible areas.
Use Case: you no longer need to block off access to a inspection site or rent costly equipment such as a mobile crane or an aerial work platform. Your workflow is quicker and cost-efficient.
3-AXIS HYBRID IMAGE STABILIZATION FOR ULTRA-STEADY FOOTAGE
ANAFI Work's hybrid stabilization system ensures smooth videos and steady photos, as it reduces the rolling shutter effect and vibrations.
Use Case: you can shoot videos and photographs with precision, without having to worry about balancing ANAFI whilst flying.
LOSSLESS ZOOM TO TAKE A CLOSER LOOK AT YOUR TARGET FROM A SAFE DISTANCE
ANAFI Work's camera is equipped with a lossless zoom of 1.4x in 4K and 2.8x in full HD (1080p), so you can get a closer look at a specific area.
Use Case: zooming in on an area that requires precision without any resolution loss, means that you can detect cracks or defects in buildings or infrastructures at a safe distance from obstacles. 2.8X LOSSLESS
ZOOM
PERFORMANCE ON THE GO, ALWAYS READY TO FLY IN NO TIME
ANAFI Work is an all-in-one kit that's the perfect on-the-go tool for business. This Parrot solution is quick to fly, ready to be piloted in the blink of an eye.
With a combined flight time of 1 hour and 40 minutes, thanks to its 4 smart batteries included in the kit. You don't have to worry about running out of battery life before completing your mission.
ANAFI Work features a USB-C charging system, so you can charge the drone on the go, with a smartphone, laptop or power bank, 70% faster than with standard USB-A. This Parrot drone also comes complete with a multi-port USB charger, enabling you to charge batteries you're not using, simultaneously.
Thanks to its powerful, yet quiet propulsion system, ANAFI Work can fly with perfect stability in winds of up to 50 km/h (31 mi/h) per hour, giving you the chance to conduct inspections in light winds.
The pack contains
1 ANAFI DRONE
1 PARROT SKYCONTROLLER 3
1 COMPACT SHOULDER BAG
4 SMART BATTERIES
1 MULTI-PORT USB CHARGER
8 PROPELLERS
1 16 GB SD CARD
USB-A TO USB-C CABLES
ONE-YEAR SUBSCRIPTION TO Pix4DModel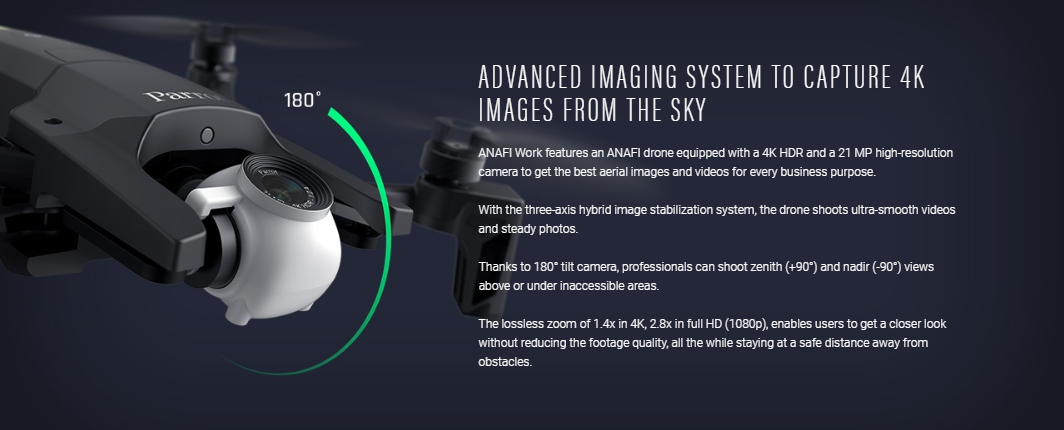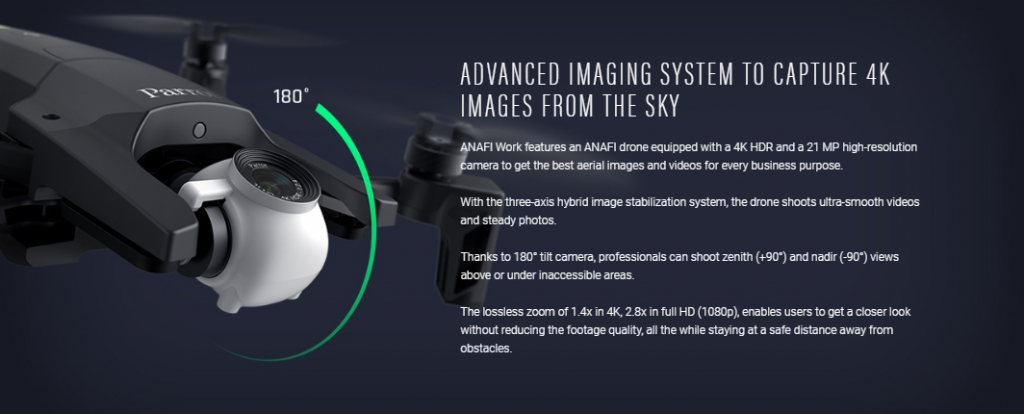 VERYTHING YOU NEED IN ONE KIT
ANAFI Work is an all-in-one kit that contains all you need for your professional projects.This Parrot drone is ultra-compact, weighing in at only 320 g (0.7 lb). Its four legs can unfold in less than three seconds, making it an ideal quick-to-deploy tool for busy professionals. ANAFI Work has its very own controller, slot your smartphone into Parrot Skycontroller 3 for an intuitive flight experience.We've created a tailor-made shoulder bag specially for ANAFI Work so your drone solution is accessible everywhere you go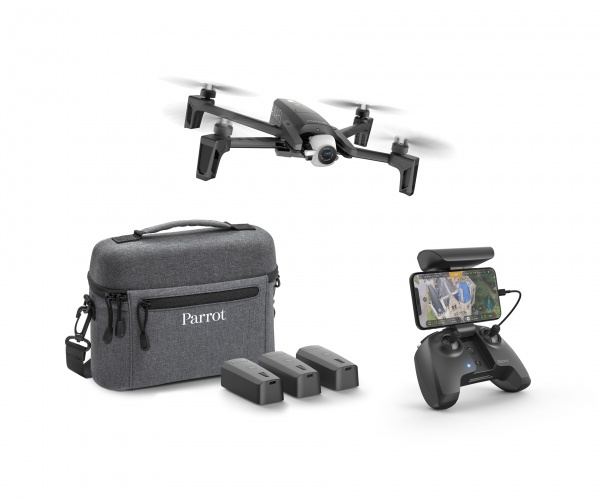 DRONE
Size folded: 9.6×2.6×2.5in
Size unfolded: 6.9×9.4×2.5in
Weight: 11.3oz
Max transmission range: 2.5mi with controller
Max flight time: 25 min
Max horizontal speed: 33mph
Max vertical speed: 13.2ft/s
Max wind resistance: 31mph
Service ceiling: 2.7mi above sea level
Operating Temperature range: 14°F to 104°F
Satellite Positioning Systems: GPS & GLONASS
SMART BATTERY :
Type: High Density Lipo (2 cells)
Battery capacity: 2700mAh
Battery life: 25 min
Charging port: USB-C
Weight: 4.4oz
Voltage: 7.6V
Max Charging power: 24W
5-PORT USB CHARGER: :
Power: 52W (Max)
Input: AC 100-240V, 50/60Hz, 1.5A (Max)
Output: 4 USB: DC 5V/6.8A (each 2.4A Max) 1 USB Quick Charge 3.0: 1 x DC 3.6V-6.5V/3A, 6.5V-9V/2A, 9V-12V/1.5A
AC Power Cords: US, EU, UK
Dimensions: 3.7×1.1×2.4 in
Weight: 7 oz
IMAGING SYSTEM
Sensor: 1/2.4'' CMOS
LENS :
ASPH (Sharper images)
Aperture: f/2.4
Focal length (35mm format equivalent): 23-69mm (photo), 26-78mm (video)
Shutter speed: electronic shutter 1 to 1/10000s
ISO range: 100-3200
VIDEO RESOLUTION :
4K Cinema 4096×2160 24fps
4K UHD 3840×2160 24/25/30fps
FHD 1920×1080 24/25/30/48/50/60fps
Video HFOV: 69°
Max video bitrate: 100 Mbps
Video format: MP4 (H264)
DIGITAL ZOOM :
Lossless: up to 2x (FHD)
Standard: up to 3x (4K Cinema, 4K UHD, FHD)
PHOTO RESOLUTION :
Wide: 21MP (5344×4016) / 4:3 / 84° HFOV
Rectilinear: 12MP (4000×3000) / 4:3 / 75.5° HFOV
Photo formats: JPEG, DNG (RAW)
HDR: 4K UHD video
IMAGE STABILIZATION :
Stabilization: 3-axis hybrid
Mechanical: 2-axis Roll/Tilt angles
Electronic (EIS): 3-axis Roll/Pan/Tilt angles
Controllable tilt range: – 90° to +90° (180° total)
CONTROLLER:
Size folded: 3.7x6x2.8in
Size unfolded: 6x6x4.6in
Weight: 13.6oz
Transmission system: Wi-Fi 802.11a/b/g/n
Operating frequency: 2.4 – 5.8 GHz
Max transmission range: 2.5mi
Live streaming resolution: HD 720p
Battery capacity: 2500mAh 3.6V
Battery life: 2h30 (Android) / 5h30 (iOS)
Supported mobile devices: screen size up to 6''
USB ports: USB-C (Charge), USB-A (Connection)