Aerial surveys allow us to gather data with much better precision and create detailed reports in a safer and more cost-effective way. Whether you have an important construction project or you need to reconstruct a crash scene, your team simply can't do without drone data that allows you to create detailed orthomosaic maps, point clouds, or even 3D models.
Due to these data sets, experts in this niche can make important decisions faster. However, there are a few questions that need to be solved before getting started. One of them is choosing the right drone for your task. To put it simply, you have to decide whether you need a multirotor or fixed-wing aircraft. In this insightful post, we'll take a closer look at this question and try to help you decide which one is better for your surveying needs.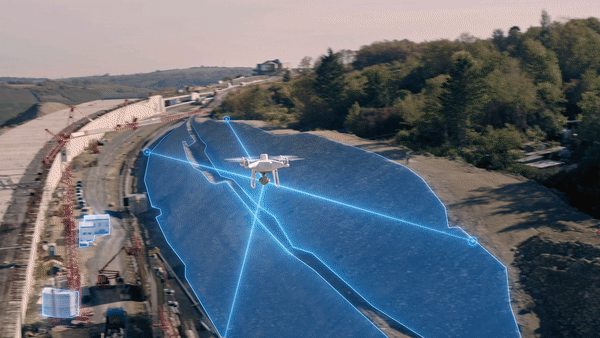 What Are the Main Benefits of Surveying With Fixed-Wing Drones?
Firstly, let's take a closer look at the fundamental benefits of using fixed-wing drones.
Operating range
If you used to deal with satellite imagery and manned aircraft for gathering data, in all likelihood, you'll choose fixed-wing drones. For instance, agriculture and oil-gas professionals usually prefer using fixed-wing drones because they offer superb flight speed, good operating range, and perfect flight speed.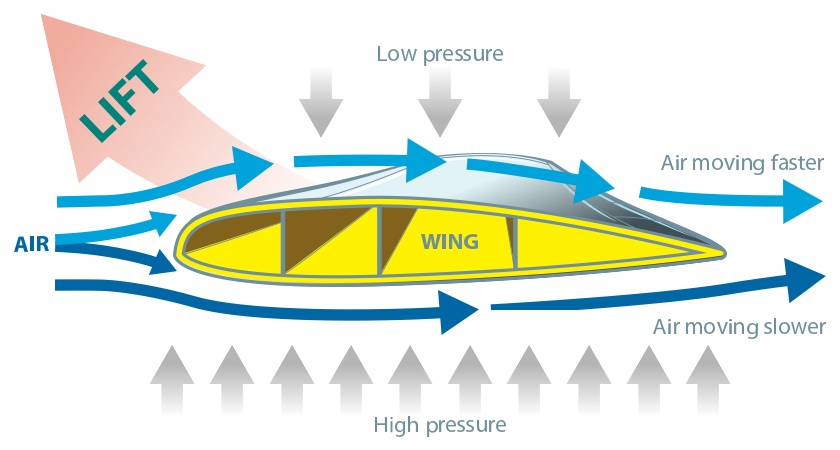 They usually operate like normal airplanes – they generate lift with the help of their wings. As a result, they don't use much energy to stay in the air. Due to this benefit, fixed-wing drones are a perfect choice when big areas need to be covered.
Stability in high winds
It goes without saying that fixed-wing drones are more aerodynamic as compared to multirotor alternatives. They can easily withstand stronger wind.
Flight time
Much better flight time as compared to multirotor drones is another benefit. Most models that are available on the market can stay in the air for more than one hour. Thanks to this benefit, the operational downtime is lower and a wide array of surveying tasks can be done in a single flight.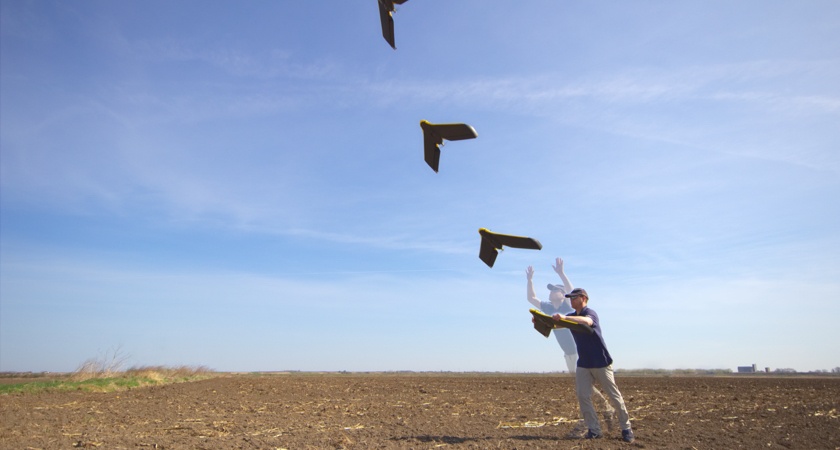 Disadvantages of Fixed-Wing Drones
Unfortunately, fixed-wing drones aren't perfect; they also feature some shortcomings. They are as follows:
They are more expensive as compared to multirotor drones. On top of that, they are bigger and it is more difficult to transport them. The setup time is also longer.
The thing is that this drone has superb design options that provide it with a big coverage area. However, it's also the main weakness. Yes, you have good speed and can cover a bigger area, but you also lose in terms of maneuverability.
Unfortunately, fixed-wing flying machines can't hover and this undoubtedly influences their versatility. Therefore, making inspections in complex environments can be tricky. They don't have obstacle detection capabilities.
Too complicated and time-consuming take-off.
It is really hard to take off and land such drones. It usually requires experience, skills, and knowledge.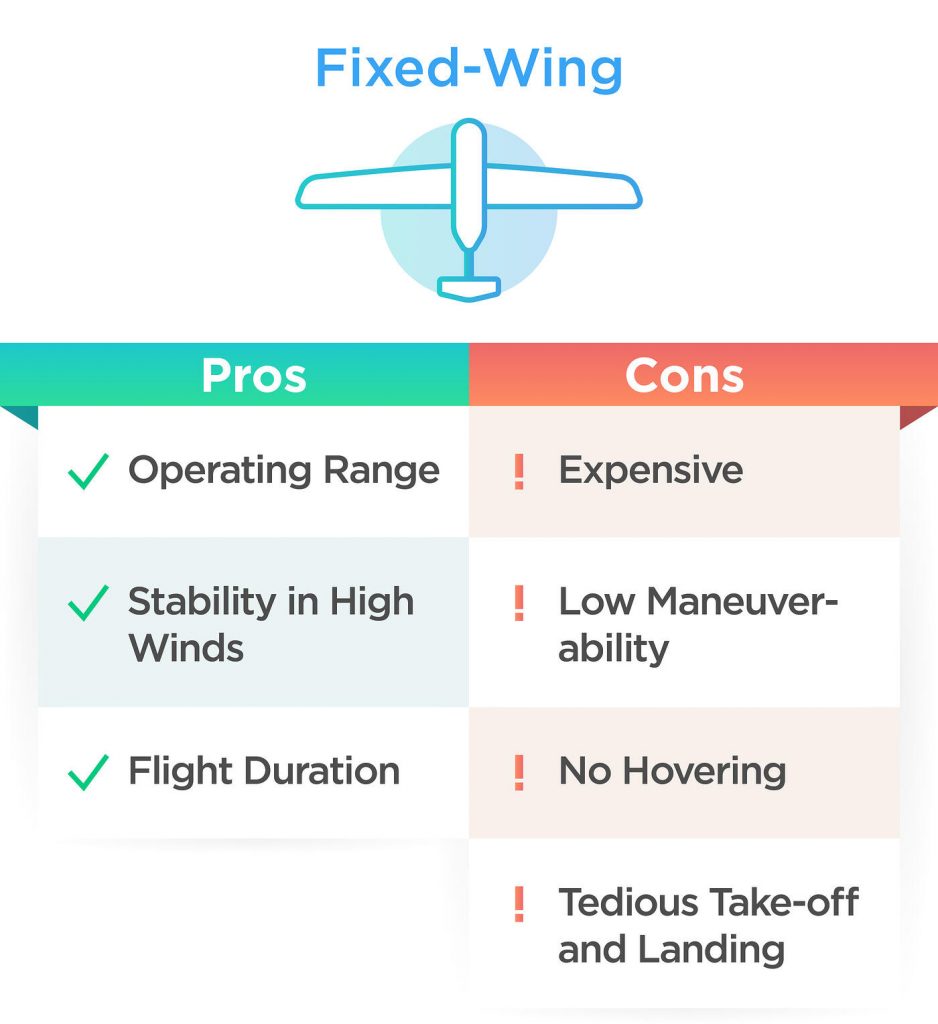 What Are the Main Benefits of Multirotors?
Multirotors are a must-have tool for gathering data in a challenging environment. Thanks to these powerful devices, users can capture data in shorter time frames and with less risk to operators.
Let's check some of the fundamental reasons to choose multirotor drones.
Ease of use
They are very easy to use. Even if you aren't a professional pilot, you'll understand how to use them. Due to mission planning software, even the most complex tasks can be completed with ease. Besides, thanks to the high level of automation, multirotors guarantee much better accuracy and reduce human errors. Just a few clicks on the screen of a controller, and you can easily execute precision flight plans.
Maneuverability
It's one of the main reasons why you have to opt for multirotors. For example, DJI Matrice can easily hover in place and adjust the altitude. It actually doesn't matter what task you need to perform – multirotors can tackle any challenge. They are also equipped with an obstacle avoidance system and a wide array of safety options.
Interchangeable payloads
Some multirotors also provide users with an opportunity to work with interchangeable payloads. For example, DJI Matrice 300 RTK comes with thermal payloads and high-spec imaging. Thanks to this feature, experts can create a surveying solution that suits their needs.
Portability
Such drones are very easy to store and to pack. Moreover, they are also very easy to put to work. Just a few clicks, and you can take off your drone.
However, there's one disadvantage. They usually have a short flight time. On average, multirotors can stay in the air for 30 minutes. In some niches, a short flight time means fewer data captured. You need to land your drone, exchange a battery, and perform another flight.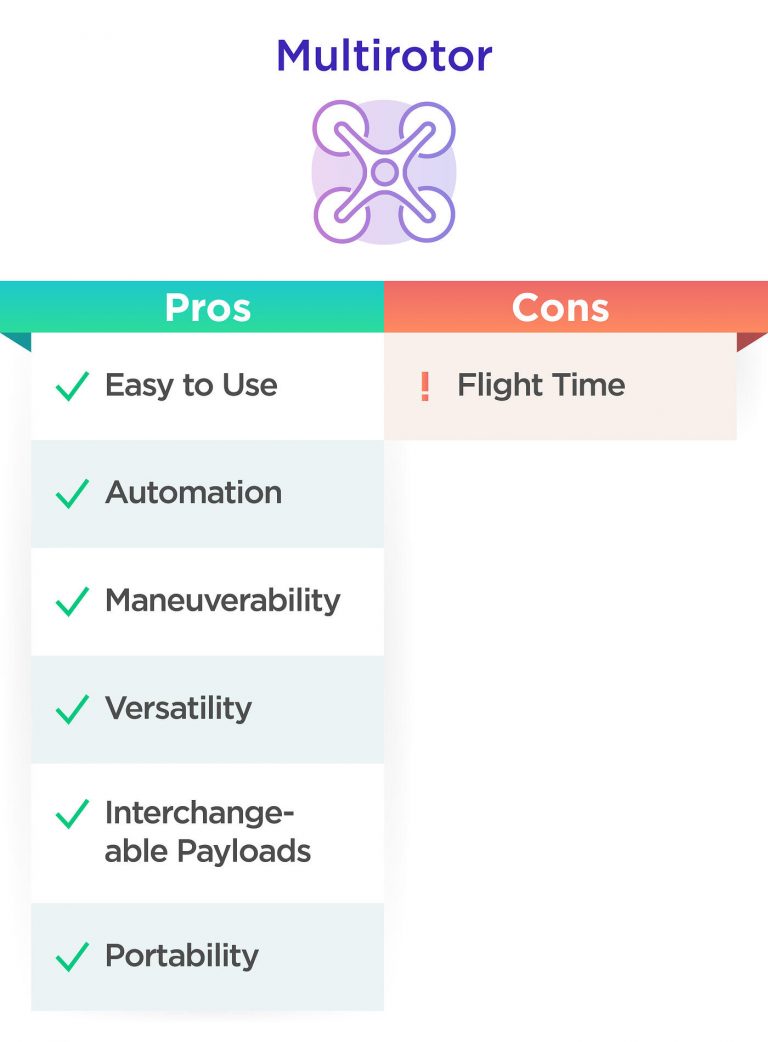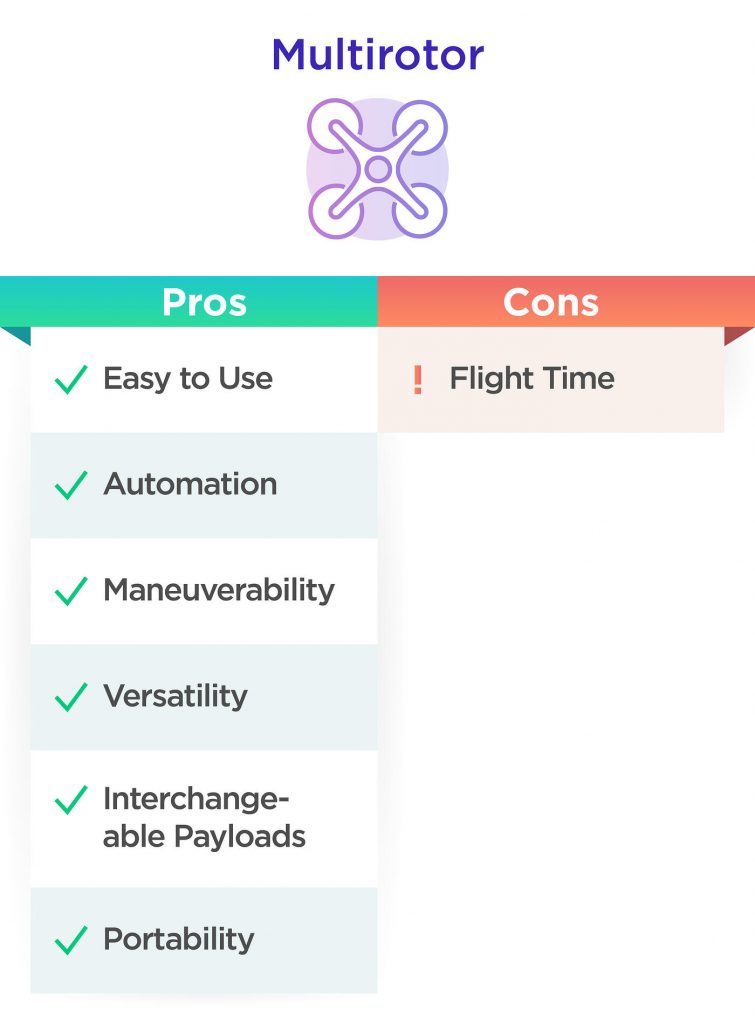 Where Multirotors Can Be Used
So, which one is better? Let's draw a conclusion. If you are currently looking for an inexpensive solution for mapping of up to around 10 hectares, multirotors are the best option for you. Experts in oil and gas, mining, or agriculture will also benefit from using multirotors.
Fixed-wing drones are good for performing missions on a larger scale. A lot depends on your surveying needs. One of the main factors that should also be considered is the depth of data that needs to be captured.
Overview of the Best DJI Surveying Solutions
Let's review some of the best multirotor drones developed by DJI.
The Phantom 4 Pro. It's one of the best drones developed by this manufacturer. It comes with the classic airframe and a 20 MP sensor that guarantees only high-resolution imagery.
The Phantom 4 RTK. It's a powerful, professional drone that comes with an integrated  RTK module that guarantees centimeter-level accuracy.
The Matrice 300 RTK. It's a powerful enterprise mapping solution that was developed on an adaptable platform and comes with an interchangeable payload. Its flight time is 55 minutes.
The Matrice 600 Pro. It's a well-known heavy lifter that comes with six arms, rotors and motors for specialty cameras.
Overview of the Best DJI Payloads
As we have already mentioned DJI drones also come with payloads. Let's review some of the most successful models:
Zenmuse L1. It's a powerful LIDAR Solution that was built specifically for aerial surveying. This device features a Livox Lidar module, a 1' CMOS camera on a 3-axis stabilized gimbal and an accurate IMU. It's a must-have tool for gathering 3D data.
Zenmuse P1. This payload comes with a full-frame 45 MP sensor and interchangeable fixed-focus lenses on a 3-axis stabilized gimbal. It was developed to meet the needs of photogrammetry flight missions.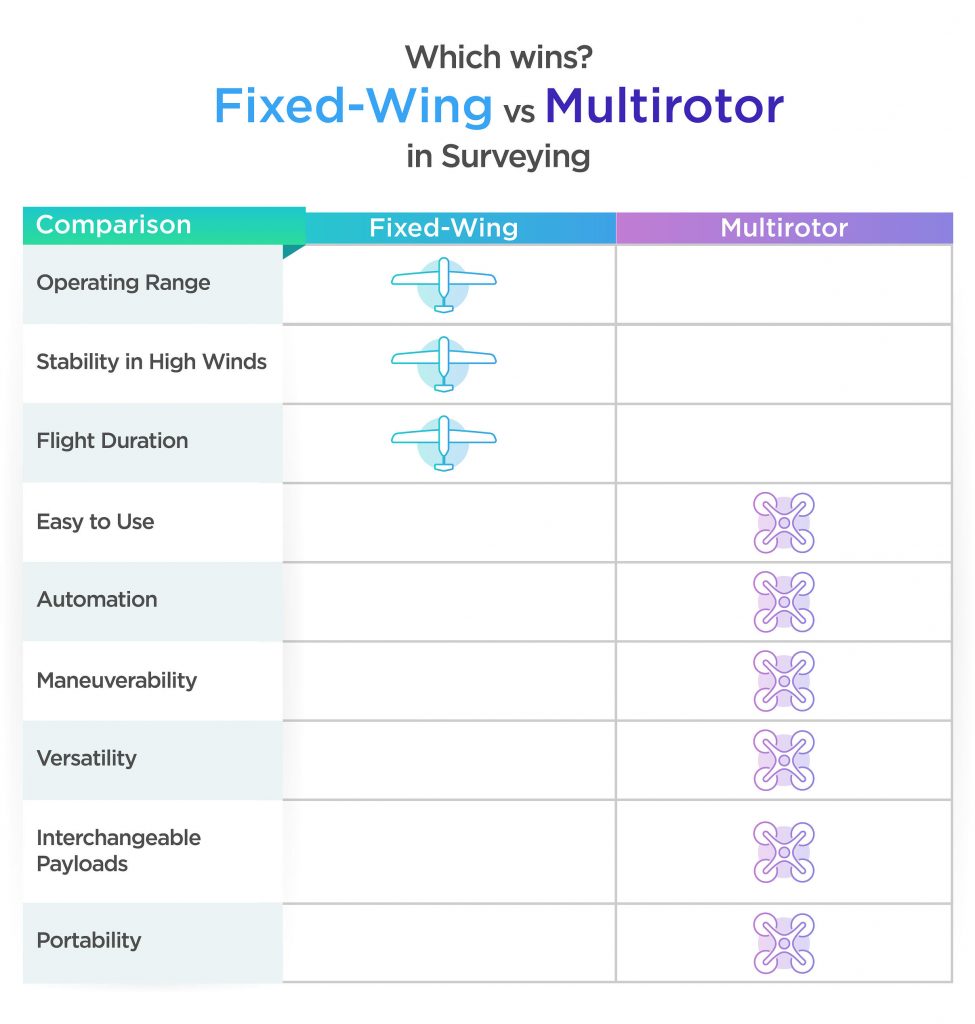 Tips on How to Decide What Drone Is Better for Your Surveying Task
It is clear that today, drones are a must-have tool for surveying missions. They allow experts in various niches to gather highly accurate aerial data. But how to choose the right tool? It goes without saying that a lot depends on your budget and the task that needs to be performed. Multirotors are very easy to use, extremely portable and can suit the needs of many mapping applications. And thanks to payload integration, you can complete even more missions.
For more information, please, contact aeromotus.com. We'll help you choose a drone that will undoubtedly meet your needs!