One of the most remarkable archaeological trends of the last decades is the growing popularity of UAV –  use in archaeological research. Drones allow archaeologists to explore large areas quickly, obtain images of hard-to-reach areas in different spectral ranges, and find historical objects underground without excavation. UAVs lower labor costs of archaeological research and the preservation of historical buildings, monuments and archaeological sites. A wide range of cameras and sensors are used for these purposes, including high-resolution photo and video cameras, hyperspectral sensors, laser scanners, and even thermal imagers.
History of aeroarcheology - from balloons to drones
Archaeologists have long known that aerial photography is often the only way to accurately determine an area's archaeological characteristics. Before the advent of UAVs, aerial archeology projects relied on ground-based surveys and costly and time-consuming conventional aerial photography techniques.
In the 1930s, archaeologists started using balloons and kites, but they required specific weather conditions, which delayed the work for many days or weeks. The advent of drones has changed the picture – within a few minutes, a drone can be programmed to independently perform tasks by planning its flight along the route in advance. It currently takes 10 to 30 minutes to fly around an object, depending on its size and choice of instruments. Drones can cover large areas and fly close to the ground, creating more detailed images and more accurate 3D models than ever before.
UAV capabilities in archeology
A general overview of drone capabilities for archaeological research:
operational aerial photography of large and small areas for planning future excavations and documenting new discoveries;
inspection, monitoring and recording of changes of historical objects;
high-resolution photos and 4K video;
survey of objects under conditions of complex urban development;
shooting objects in enclosed spaces (e.g., caves or historical buildings);
converting aerial photographs into photogrammetric data, building 3D models of historical sites and digital reconstruction of ancient sites;
monitoring of illegal artifact excavations;
assessment of human activities and natural phenomena that could potentially damage ancient sites.
magnetic surveying
Aerial photography is a traditional tool for the remote study of archaeological sites. It allows to obtain high-quality images of an object at different angles and at different times of the day and year, as well as capture architectural and archaeological objects and their elements that are difficult to reach during ground shooting (e.g., building roofs and upper parts of facades).
Combined with other remote and ground-based methods, low-altitude aerial photography from copters is effective for studying both large and small objects, as well as monuments, both separately and in combination with the surrounding landscape.
Currently, drones are used in archeology for the following purposes:
archaeological exploration and planning of future excavation sites;
monitoring and assessment of the condition of historical objects;
3D modeling and digital reconstruction of ancient sites;
monitoring of illegal excavations and looting of artifacts;
visualization of historical objects for the general public.
Archaeological exploration
During the reconnaissance stage, UAV data can be used to determine whether a site has archaeological features that require excavation. Thus, it is no longer necessary to rely solely on field work to locate, map, and analyze the archaeological features of a site or landscape—it speeds up the process of target area exploration. A properly interpreted aerial photograph of the earth's surface complements the information from ground sources and provides an advantage in the search for archaeological sites. In general, ground survey time can be reduced from 2-3 weeks to 1-4 days.


In 2018, the National Trust for Scotland used drones to scout and document archaeological sites in the outlying Scottish islands. The drone, which flew over 400 km in five days, took over 4,000 ultra-high-resolution photos. These photographs uncovered the islands' history and revealed previously unknown traces of Bronze Age agriculture.
Archeological survey of the National Fund of Scotland. Source: National Fund of Scotland
Monitoring and protection of cultural heritage sites
Drones help experts assess all types of damage to or deterioration of historic structures and draw up plans for their conservation and restoration. Regular aerial photography allows to monitor changes in the monuments and in the environment, which contributes to their long-term preservation.
Photos and videos are convenient in conducting a detailed analysis of the condition of the buildings' walls and roofs in real time. In addition, surveys and 3D modeling of the Red Castle in Scotland (12th century) have demonstrated that the sandstone around the historic structure has eroded significantly more than originally thought. In this case, conservationists were able to fence off the site in advance, planning for future restoration.
Survey of Red Castle, Lunan Bay, Scotland
Source: Skykam
Creation of 3D models of historical sites
Photogrammetry involves precise measuring of the distance between objects, after which 3D data can be obtained from 2D images. 3D modeling illustrates archaeological objects and their features in detail, enabling researchers to analyze objects remotely without the risk of damage.
Excavation is a long and expensive process, but it becomes more efficient when data is combined with 3D modeling.
Moreover, photogrammetry can offer models of previously studied sites with outdated or low-quality data, which can subsequently lead to the discovery of new artifacts or the remains of ancient structures.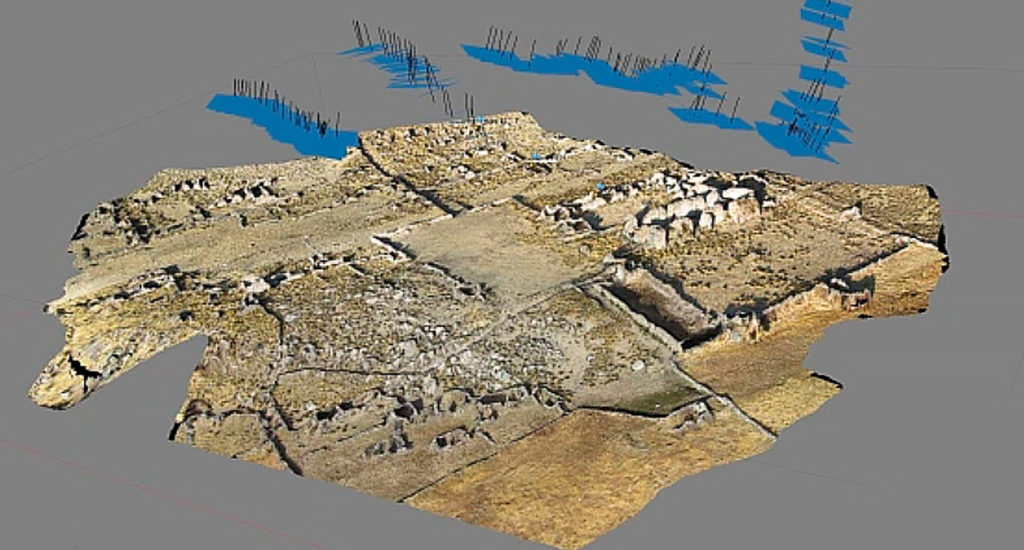 "We have used them in many sites and assessed the damages of the armed conflict on archaeological sites. We have a new study on the theater of Sabratha that was used Where the drones assess the damage." AHMED ADHAILEY  Archaeologist.
The project is directed by Professor Anna Leone, Durham University and Dr Lisa Mol, UWE, supported by Oscar Gilbert (UWE) and Patricia Voke (Durham University – Wessex Archaeology).  Due to the current travel restrictions and global challenges the project is developed   by team members in the UK providing remote training and technical support for the members of the DOA – Libya carrying out the survey and data collection. This intervention is timely as the situation in Libya has now improved, the site is accessible and secure and and it is hoped that restoration of the monuments will happen in due course. However prior to the restoration some more detailed recording and evaluation need to be conducted, in order to fully understand the situation, beyond the clear damage on the surface of the monument.  
The project aims are as follows:
Undertake detailed photogrammetry of the theatre and other structures with a drone, creating creation of 3D models, using archival data mapping, archival data and integrate new data with archival material  all the information into a GIS data-base, to manage the next steps of the recording and analysis 

Complete an evaluation of the size and the type of damage done by each individual bullet and a measurement of the impact crater

Sampling and analysis of the stones to evaluate the effective impact. This includes mapping of likely subsurface damage based on stone type, condition, calibre of impact and angle of impact, and associated likely deterioration curves

Mapping will be collated using GIS, which will serve as digital tool to continue the monitoring of the theatre as well as plan the future work

Mapping of the damage spread, severity and likely direction of damaging projectiles using the photogrammetry model imported into GIS.

Using the 3D model and the elevations to carry out a structural evaluation of the monument
Data visualization and interpretation
Aerial photos and videos from drones, combined with the growing use of drones, are effective in visualizing and presenting archaeological research to the public and exhibiting research results.
Effective use of aerial photography and video filming to present monuments of archeology, architecture and urban planning in an interesting manner. Drone photos are currently being used as illustrations in guidebooks, magazines, newsletters, and research reports.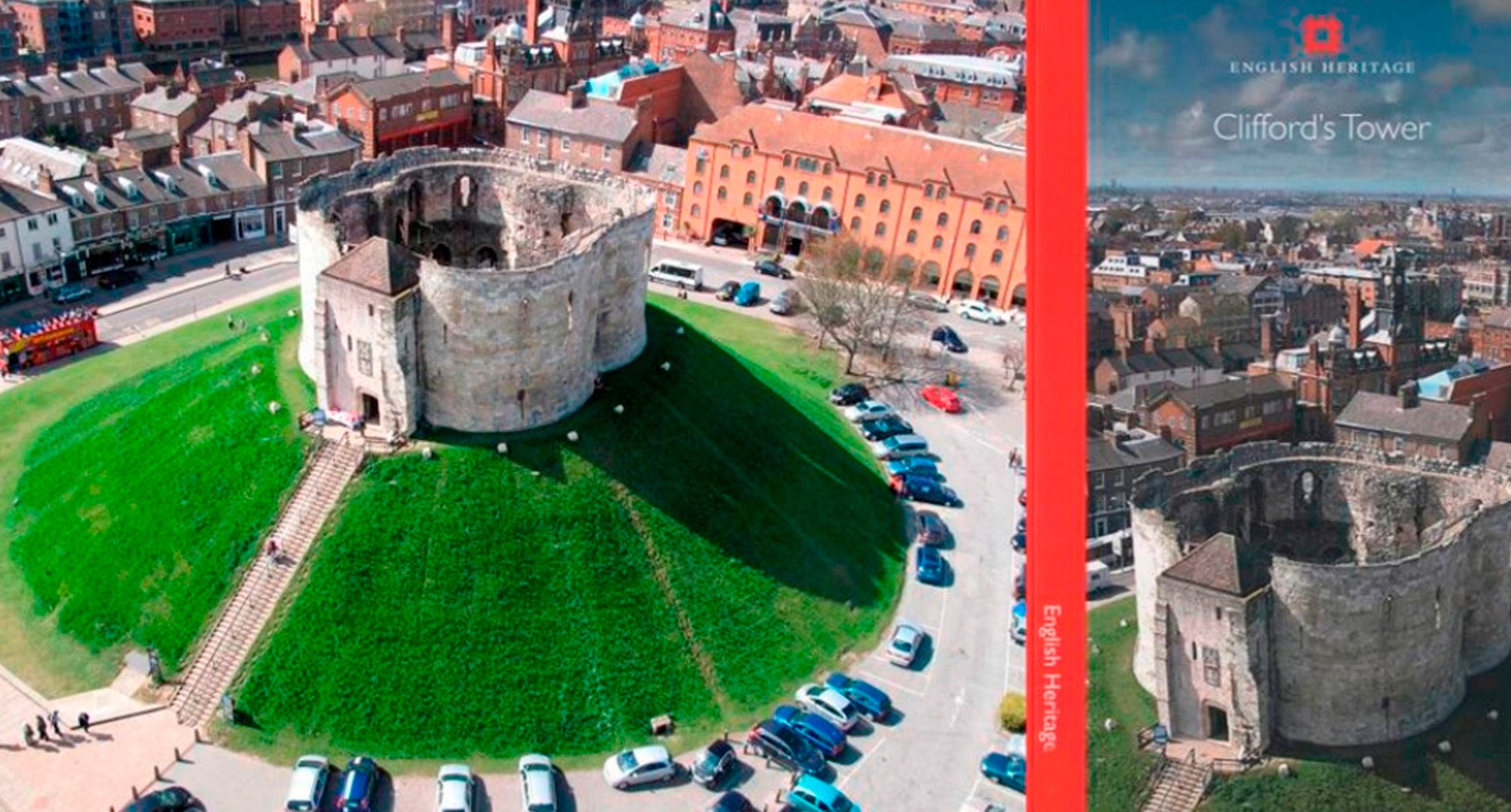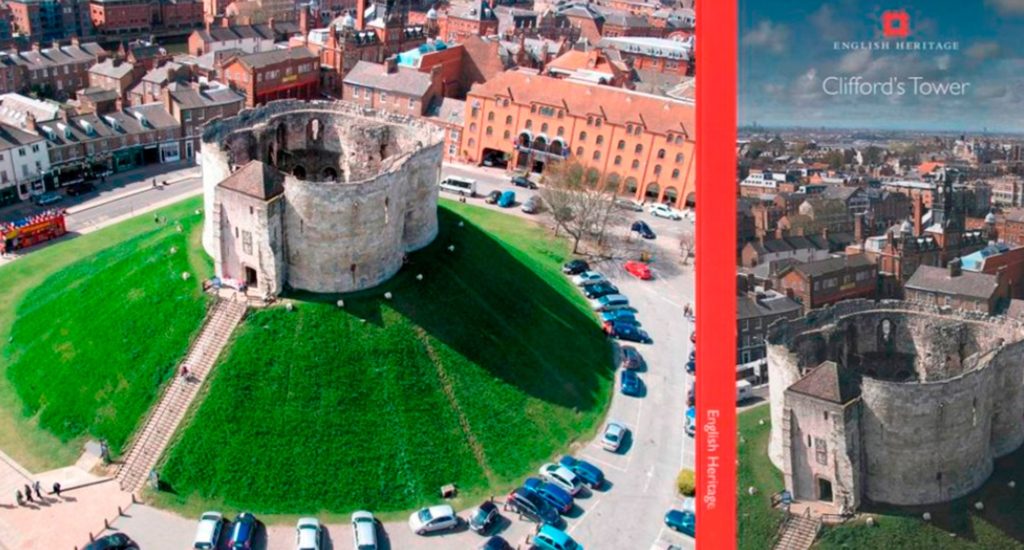 Aerial archaeological surveys
Te greatest advantage of the UAV system is that it is operable in areas that cannot be walked or driven on. Tis opens up possibilities for surveying areas that were until now inaccessible for magnetic prospection.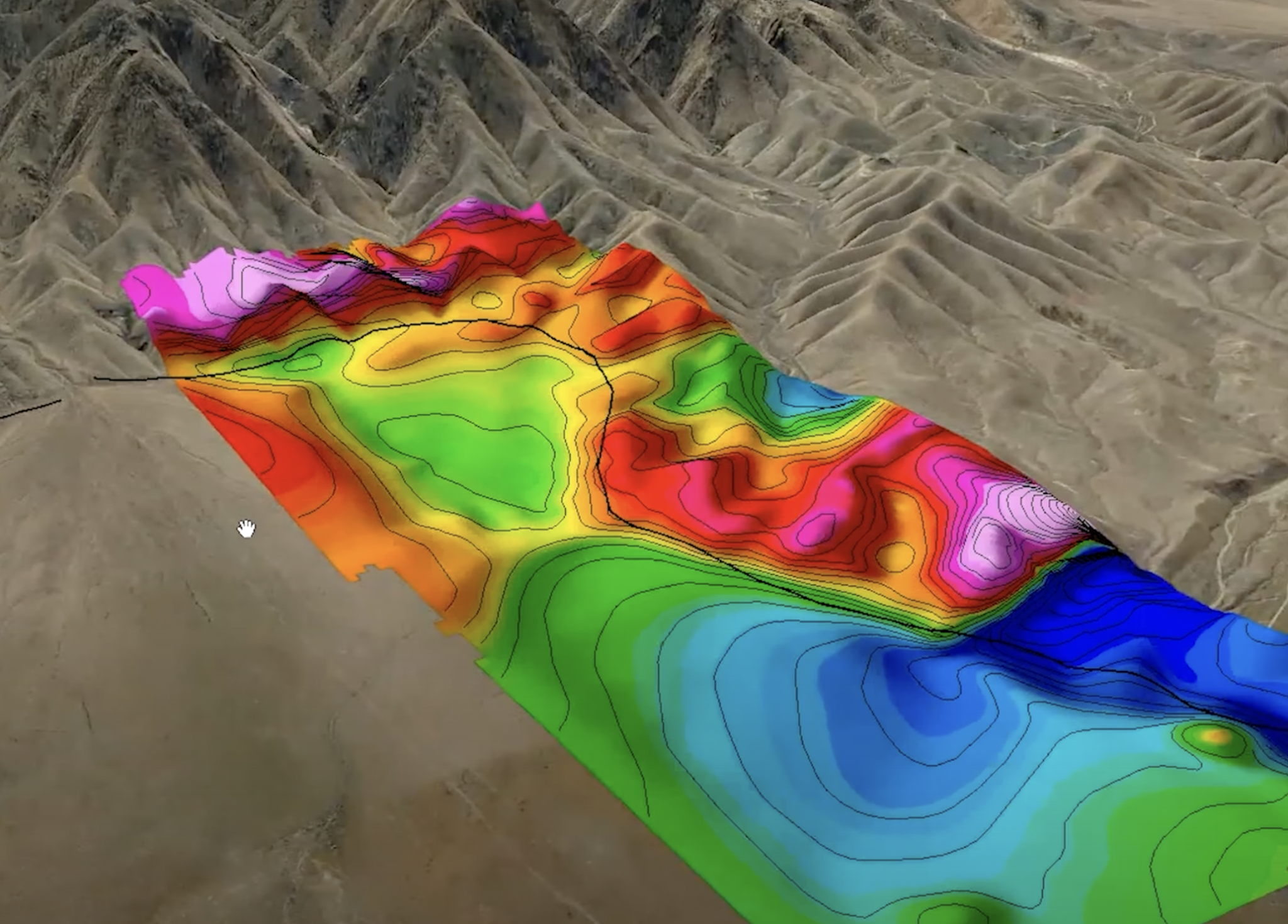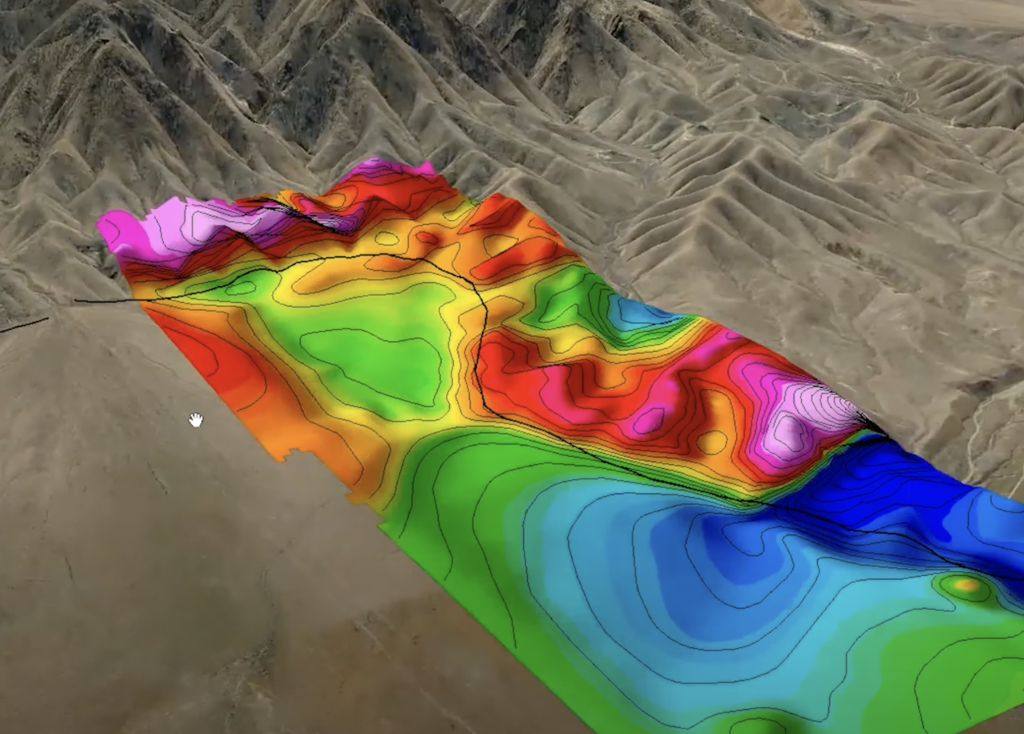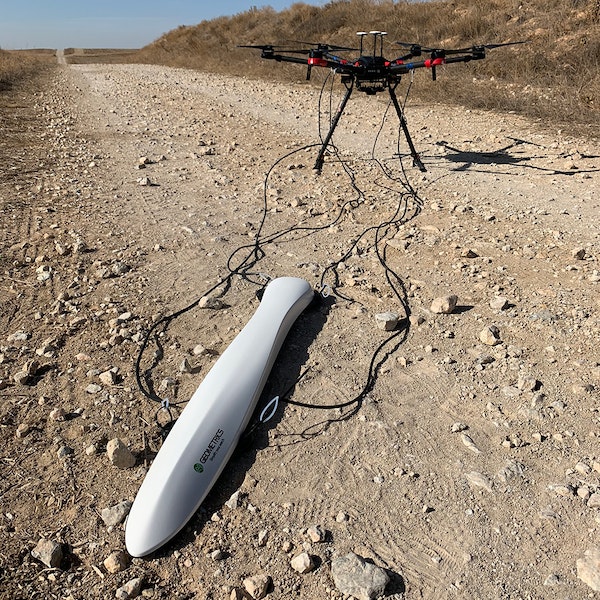 Geometrics MagArrow
The Geometrics' MagArrow is a lightweight, sensitive magnetomer system design to be flown using a drone. The highly sensitive instrument can discriminate variations in magnetic intensity due to cultural features and mineralization. Drone-mounted surveys can be quicker and safer than traditional boots-on-the-ground. Which method is most suitable depends on a variety of factors including the target, estimated depth to the target, and ground conditions. 
Magnetic surveying is an established method in archaeological prospection, and it has been continuously improved in the last few decades thanks to technical progress in measurement equipment. Modern systems can map magnetic field variations with high accuracy and spatial resolution. One of the latest developments in magnetic surveying is the use of unmanned aerial vehicles (UAV) as measurement platforms. UAV-borne magnetic measurements have proven to be a valid method to map magnetic fields. They enable data acquisition in harsh terrain and unsafe areas, like volcanological studies (Gailler et al., 2021) or detection of unexploded ordnance (Gavazzi et al., 2016)
In certain cases, vegetation, i.e., forests or bush thickets, may interfere with the identification of archaeological objects. Photogrammetry is unable to show the objects concealed by vegetation, which is where lidar imaging comes to the rescue. LiDAR technology entails the use of light pulses emitted by a device, which hit the object and are reflected back to the sensors, where the distance from the device to the surface is calculated.
Some of the advantages of this method for archaeologists include a high level of detail and the ability to conduct archaeological research in areas with vegetation. LiDAR can also help in detailed mapping of areas that are physically inaccessible for exploration. For example, in 2019, researchers at the Crow Canyon Archaeological Center mapped a site in Southern Colorado to create an ultra-high-resolution landscape model. Since the object was located in a remote area (canyon), the researchers used lidar-equipped drones.
"My own MA thesis from 20 years ago included multispectral data from a variety of platforms from NASA's Stennis Space Center. I used sensors from a helium blimp, a power parachute, a Cessna, various NASA jets, and satellites. More recently, I migrated to quadcopter drones and have conducted surveys using photogrammetry and LiDAR. I think a lot of others in North America that worked with aerial methods previously are also using drones now. I would also note that, in addition to magnetometers, GPR and EMI systems are also being used."
Bryan Haley, Archaeologist, Remote Sensing and GIS Specialist
Lidar imaging is unaffected by cloud cover and changing lighting conditions, and provides an accuracy of up to 1–2 cm. Compared to traditional methods, lidar data is quickly available and can be processed and interpreted quickly. This is an advantage given the speed of data acquisition, since it can take researchers years to obtain detailed information from a ground survey.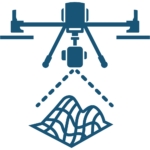 Archaeologists have long understood that thermal and multi-spectral imagery can potentially reveal a wide range of ancient cultural landscape features, only recently have advances in drone and sensor technology enabled us to collect these data at sufficiently high spatial and temporal resolution for archaeological field settings. Results demonstrate the value of high-resolution thermal and NIR imagery, as well as of multi-temporal image analysis, for the detection of archaeological features on and below the ground surface, offering an improved set of methods for the integration of these emerging technologies into archaeological field investigations.
"The most important use, identifing buried remains through cropmarks, soilmarks and shadow marks! To detect them we use RGB camera but even better are multispectral camera and thermal camera. " 
Filippo Materazzi, Archaeologist specialized in drone remote sensing.
The use of this methodology represents a new opportunity for fast identification of a consistent number of archaeological evidence over vast extensions. The use of multispectral cameras makes it possible to record the spectral response of plants in different bands of the electromagnetic spectrum. By processing the images acquired through the use of "vegetation indices", it is possible to identify the slightest variations in the physiological conditions of the vegetation produced by buried remains and invisible to the human eye. The experimental application of this technique started at Veii in 2017, has shown how it has been possible to identify a considerable amount of crop marks, the careful reading of which has allowed us to deepen our knowledge and understanding of the development of the urban landscape in a large portion of an ancient city.
( Multispectral Remote Sensing Using Drones. An Innovative Approach to Investigating the Urban Landscape of Veii. Filippo Materazzi, Marco Pacifici 'Sapienza' Università di Roma)
Thermal imagers in archeology
This method's concept is simple: different parts of the landscape heat up and cool down at different rates during the day and at night. For example, buried rocks tend to retain heat longer than the dry soil around them. This means that in the early morning the rocks will be much warmer than the surrounding ground. These temperature differences are invisible to the eye, but a thermal imager that detects infrared light can reveal them easily. If these buried stones, in fact, turn out to be the remains of ancient buildings, the camera will take a picture of the extinct settlement without touching the earth's surface.
This technology was used to search for the buried buildings erected by an ancient community in New Mexico (USA) in 2014. By sending a thermal imaging camera on four flights at different times of the day, the researchers discovered many of the buried structures and identified the most promising places to start excavations. The thermal images not only accurately captured most of the known buildings, but also revealed that some of these structures were much larger than archaeologists had previously thought.
In 2020, thermal imaging was instrumental in the study of the abandoned buildings of an old religious community in New Hampshire (USA). The map demonstrates the difference in thermal imaging data of two images taken on the same day at different times: 20:00 and 23:00. The increased contrast of some objects made it possible to identify two old foundations (C, D), an old path through the lawn and a trace of pipes (A, B). The images were captured using a FLIR Vue Pro-R thermal imaging camera mounted on a DJI Phantom 4 Pro.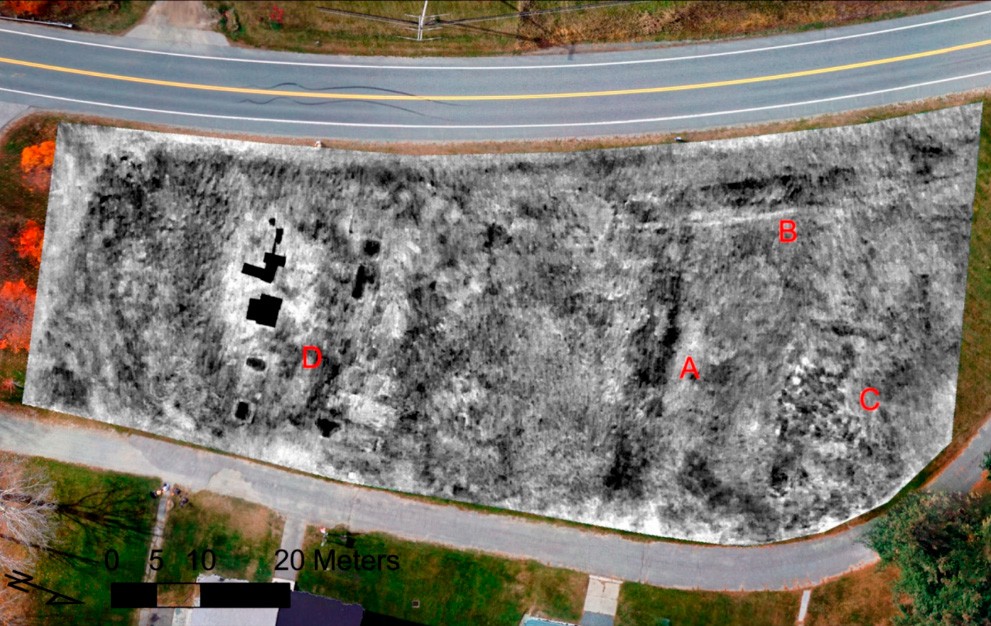 Drones used in archeology
Both multicopters and aircraft-type UAVs are used in archaeological work. When choosing, it is vital to pay attention to the copter's surveying accuracy and portability.
Aircraft-type or fixed-wing UAV
Their long range makes them perfect for mapping and capturing large-scale landscapes, but they are less suitable for capturing vertical objects, such as buildings, large monuments or rocks.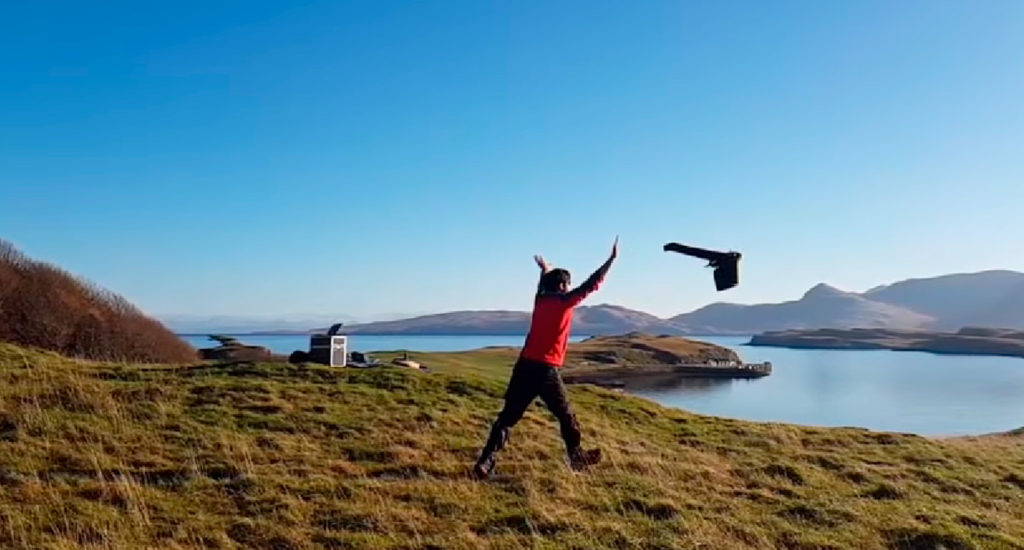 Due to their maneuverability, multicopters are more suitable for shooting small-scale and hard-to-reach areas, as well as for vertical objects. Multicopters can carry a heavier payload, however, their shorter battery life and slower flight speed mean less range.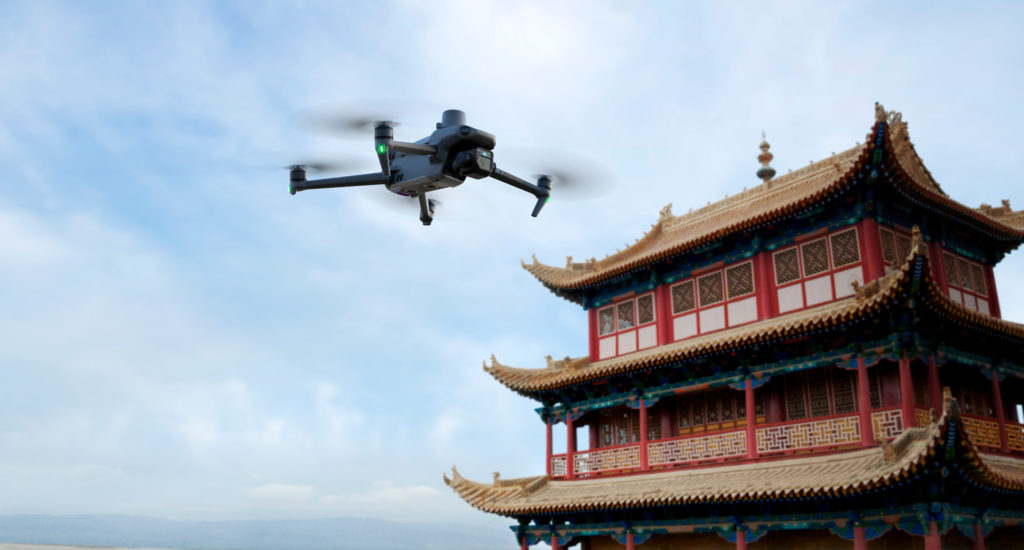 From mapping ancient sites to creating 3D models, the use of drones in archaeological research has become an essential tool for discovering and preserving historical locations. Over the past decades, drones have helped archaeologists discover ancient structures and artifacts that might have otherwise remained unknown.
Drones have become an essential tool for identifying archaeological sites and locating excavation sites, enabling the rapid collection of high-quality data at various scales and resolutions. Their speed and flexibility make them an excellent choice for topographic surveys and archaeological exploration. This allows to identify previously unrecognized locations, determine the full scale of identified archaeological sites and monitor the state of historical monuments.