The Matrice 300 RTK is DJI's latest commercial drone platform that takes inspiration from modern aviation systems. Offering up to 55 minutes of flight time, advanced AI capabilities, 6 Directional Sensing & Positioning and more, the M300 RTK sets a whole new standard by combining intelligence with high-performance and unrivaled reliability.
15 km Max Transmission1

UAV Health Management System

P45 Rating

55-min Max Flight Time2

-20°C to 50°C Operating Temperature

6 Directional Sensing & Positioning

Hot-swappable Battery

Primary Flight Display
Improved Transmission System
The all-new OcuSync Enterprise enables transmission up to 15 km away and supports triple-channel3 1080p video. Real-time auto-switching between 2.4 GHz and 5.8 GHz4 enables more reliable flight near high-interference environments, while AES-256 encryption offers secure data transmission.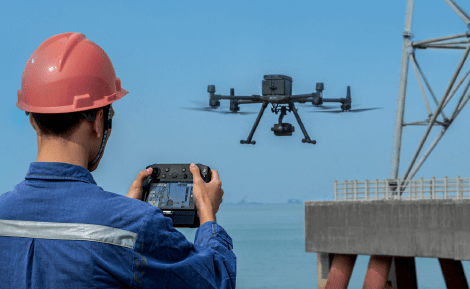 Configure your M300 RTK to fit your mission needs. Mount up to 3 payloads simultaneously, with a maximum payload capacity of 2.7 kg.

Live Mission Recording
Record mission actions such as aircraft movement, gimbal orientation, photo shooting, and zoom level to create sample mission files for future automated inspections.
AI Spot-Check7
Automate routine inspections and capture consistent results every time. Onboard AI recognizes the subject of interest and identifies it in subsequent automated missions to ensure consistent framing.
Waypoints 2.0
Create up to 65,535 waypoints and set multiple actions for one or more payloads, including 3rd party ones, at each waypoint. Flightpath planning is also optimized to maximize flexibility and efficiency for your missions.

PinPoint
A quick tap marks an object in view, advanced sensor fusion algorithms immediately deliver its coordinates.
Smart Track
Identify and follow moving subjects like people, vehicles, and boats with the auto-zoom function, while continuously acquiring the subject's dynamic location.
Location Sharing
While either PinPoint or Smart Track is enabled, the subject's location can be projected across multiple camera views, to another remote controller, or shared through online platforms such as DJI FlightHub9.
The M300 RTK adopts a new Primary Flight Display (PFD) that integrates flight, navigation, and obstacle information to empower the pilot with exceptional situational awareness.
Flight Information
Flight information such as aircraft attitude, altitude, and velocity, as well as wind speed and wind direction, are all intuitively presented.
Navigation Display
Pilots can also view the live status of the aircraft's heading, trajectory, PinPoint information, and home point projection, in a more efficient way. Visualize all nearby obstacles at once with the new obstacle map, so you can be fully informed.
Advanced Dual Control
Either operator can now obtain control of the aircraft or payload with a single tap. This creates new possibilities for mission strategies as well as higher flexibility during operations.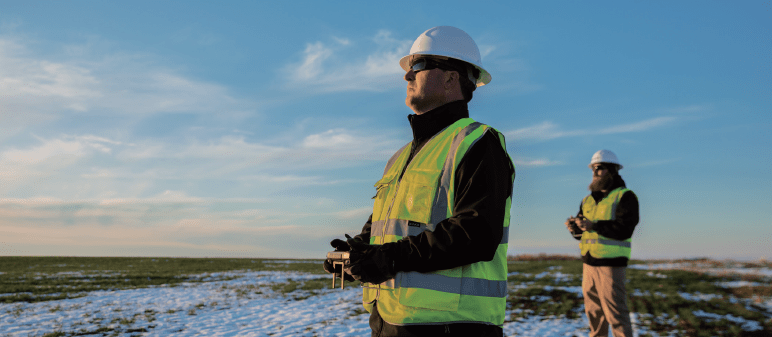 A Powerful Vision System You Can Rely On
To enhance in-flight safety and aircraft stability, dual-vision and TOF sensors appear on all six sides of the aircraft, offering a maximum detection range of up to 40m, with options to customize the aircraft's sensing behavior via the DJI Pilot App. Even in complex operating environments, this 6 Directional Sensing and Positioning system helps keep the aircraft and the mission safe.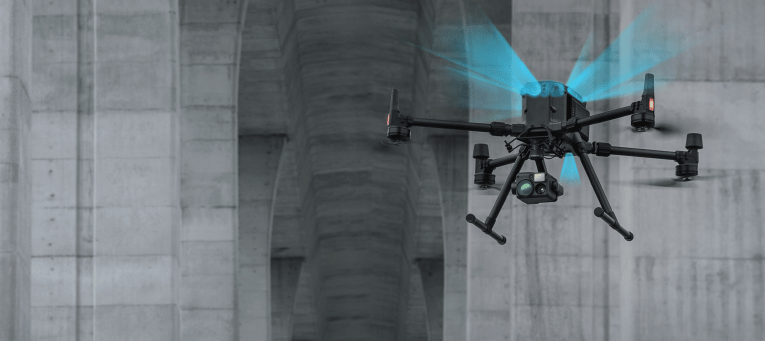 Professional Maintenance for Your Drone Fleet
The new integrated Health Management System displays the current status of all systems, notification logs, and a preliminary troubleshooting guide. Also in the system are the aircraft's flight logs, duration, and mileage throughout its entire lifecycle, and tips on aircraft care and maintenance.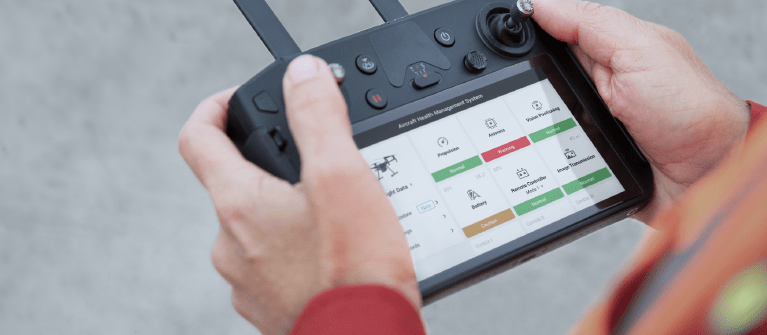 Redundancy Systems for Safer Flights
The M300 RTK's built-in advanced redundancy systems help keep your critical missions going even in unexpected scenarios.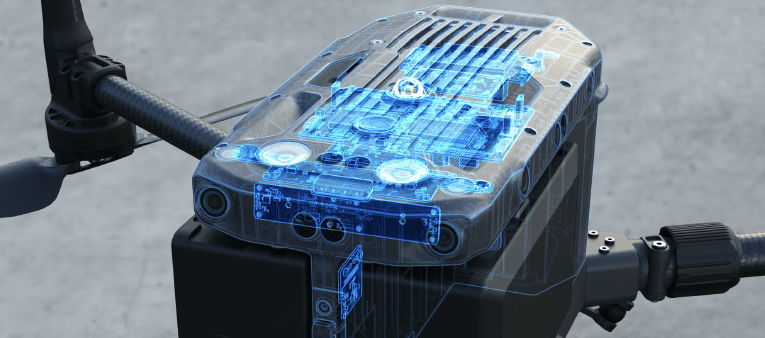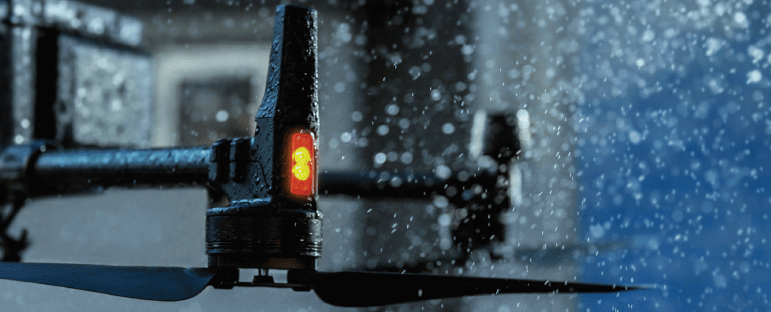 IP45
Self-Heating Battery
-20°C to 50°C
Anti-Collision Beacon
AirSense ADS-B Receiver
D-RTK 2 Mobile Station
Gain improved relative accuracy with centimeter-level precision positioning data using the D-RTK 2 High Precision GNSS Mobile Station, which supports all major global satellite navigation systems and provides real-time differential corrections.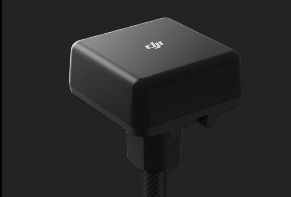 CSM Radar
For an added safety measure, a Circular Scanning Millimeter-Wave (CSM) Radar with a detection range between 1 to 30 m can be mounted on top of the aircraft.
Accessories
Battery Station
The battery station manages up to 8 flight batteries and 4 remote controller batteries, while fast charging allows you to conduct your missions without running out of power.
TB60 Intelligent Flight Battery
The high-capacity, hot-swappable TB60 Intelligent Flight Battery lets operators change batteries without powering off, saving time during critical missions.
DJI Smart Controller Enterprise
The DJI Smart Controller Enterprise comes with an ultra-bright 5.5-inch 1080p display that maintains clear visibility even in direct sunlight.
PAYLOAD SDK
Integrate a variety of 3rd party payloads like gas detectors, loudspeakers, multispectral sensors,
and more. Payload SDK supports DJI SkyPort, DJI SkyPort V2, and DJI X-Port. These greatly reduce
the payload development lifecycle and maximize the potential of your payloads in more diverse scenarios.
ONBOARD SDK
Harness the full computing power of your M300 RTK. Onboard SDK
supports customized development of a wide range of features such as 6
Directional Sensing and Positioning, UAV Health Management System, Waypoints 2.0, and more.
MOBILE SDK
With a large network of 3rd party mobile applications, you can unlock
the capabilities of your drone platform to meet specialized mission
needs. Utilizing Mobile SDK, the M300 RTK supports highly customizable
mobile app development.