The mining industry is traditionally known as one of the most dangerous in the world. However, in recent decades, the active development of robotics and automation technologies has allowed to significantly increase the safety level and largely protect personnel from unnecessary risks. Unmanned technology has become one of the instrumental factors.
Drones allow to perform remote inspections without endangering life. In addition, the use of unmanned technologies allows to avoid equipment downtime at enterprises that occurs during routine inspections, leading to increased productivity. Thus, drones are being successfully introduced at mine sites and are effective for both small and large companies.
Main advantages of drones in the mining industry
Higher efficiency.
Drones allow surveyors not only to get more information, they also allow to get more accurate information at more frequent intervals.
Save time.
The use of drones by mining giant Vale to conduct geotechnical field surveys at the Sossego Mine in Para state, Brazil, has reduced the process time from 3 hours to 20 minutes.
Increased workplace safety.
Normally, a visual inspection can only be carried out during a plant shutdown. However, drones allow inspections to be carried out even while the plant is operating.
Cost savings. Drones not only reduce the costs associated with mining operations, but also help companies improve their performance by eliminating downtime. *
For instance, by replacing aircraft with drones to obtain aerial photographs and 3D maps of its facilities in Australia, BHP was able to achieve annual savings of $3.8 million on its Queensland sites alone.
Choosing an unmanned complex for work
The choice of an unmanned solution depends on the approved budget, project scope and accuracy requirements. Before choosing a specific solution, it makes sense to test it against the following criteria:
Will it endure the temperature range of the operating environment?
What is the required actual flight time or area coverage that is feasible while preserving at least 20-30% battery power at time of landing?
How remote is the mining site and to what extent can the equipment be serviced without being sent back to the manufacturer?
To what extent is the accuracy declared by the manufacturer applicable to the rolling topography of the mine area?
For mapping purposes: what equipment is required for ground control or post-processing?
Is it capable of working without GPS? / Is there a need for a zoom lens?
Can the aircraft connect to the Internet for operation, processing or registration of data?
A complete aerial photogrammetry solution, the M300 RTK+P1 can generate orthomosaics that meet 1:500 and 1:1000 accuracy requirements without GCP. Ideal for capturing highly detailed 2D and 3D information in medium to large areas.
Dual RTK GNSS system
Centimeter-level accuracy
45 MP full-frame sensor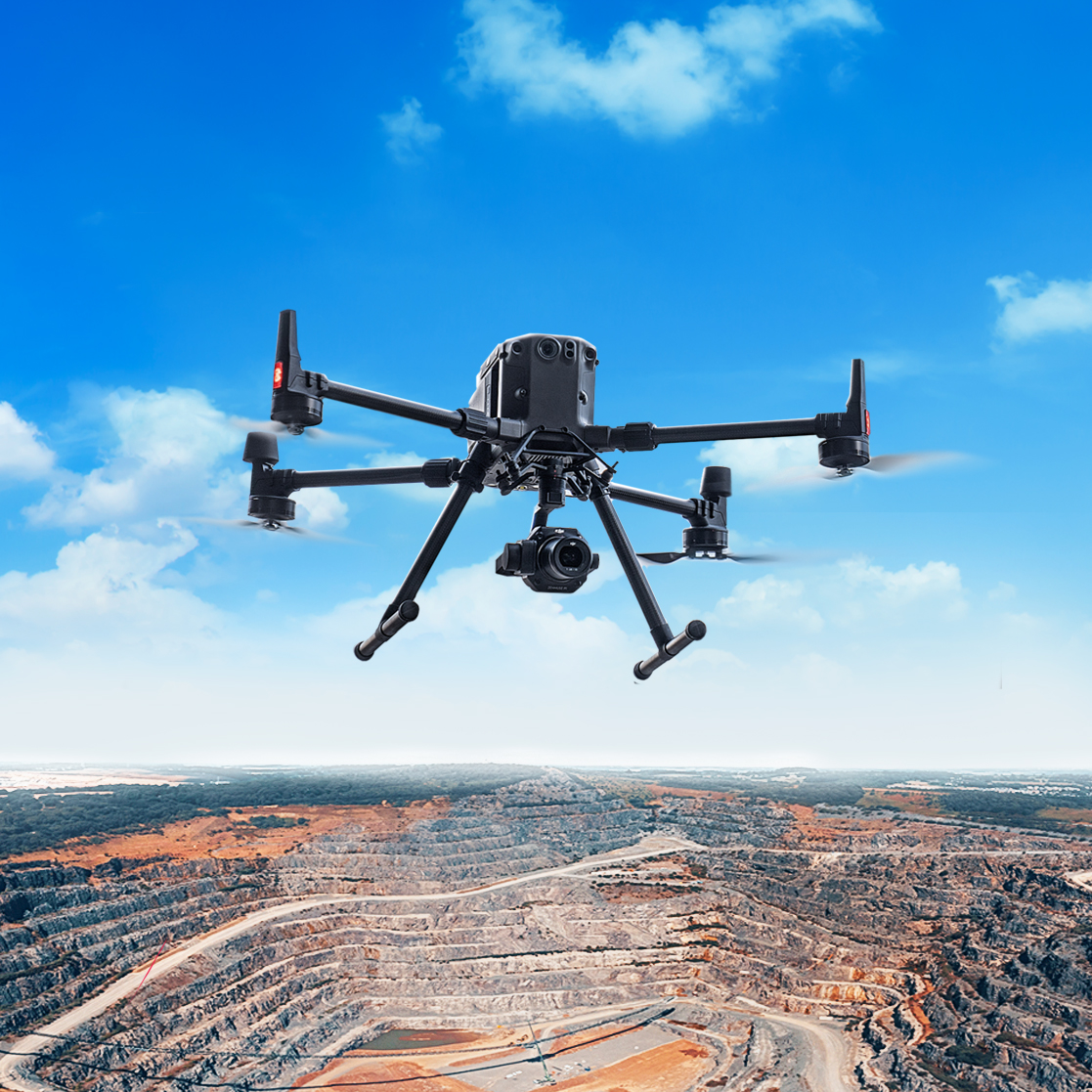 DJI's first LiDAR solution for aerial photography, the M300 RTK+L1 can create centimeter-scale reconstructions with high-precision IMU, 2D and 3D information in medium to large area operations.
 Integrates a LiDAR module & RGB camera with a high-accuracy IMU
Point Rate: 240,000 pts/s
 IP44 Ingress Protection Level for rough weather conditions
High Efficiency 1.24 mi² covered in a single flight
Detection Range: 450 m (80% reflectivity, 0 klx)
High Accuracy Vertical Accuracy: 5 cm / Horizontal Accuracy: 10 cm
Point Cloud LiveView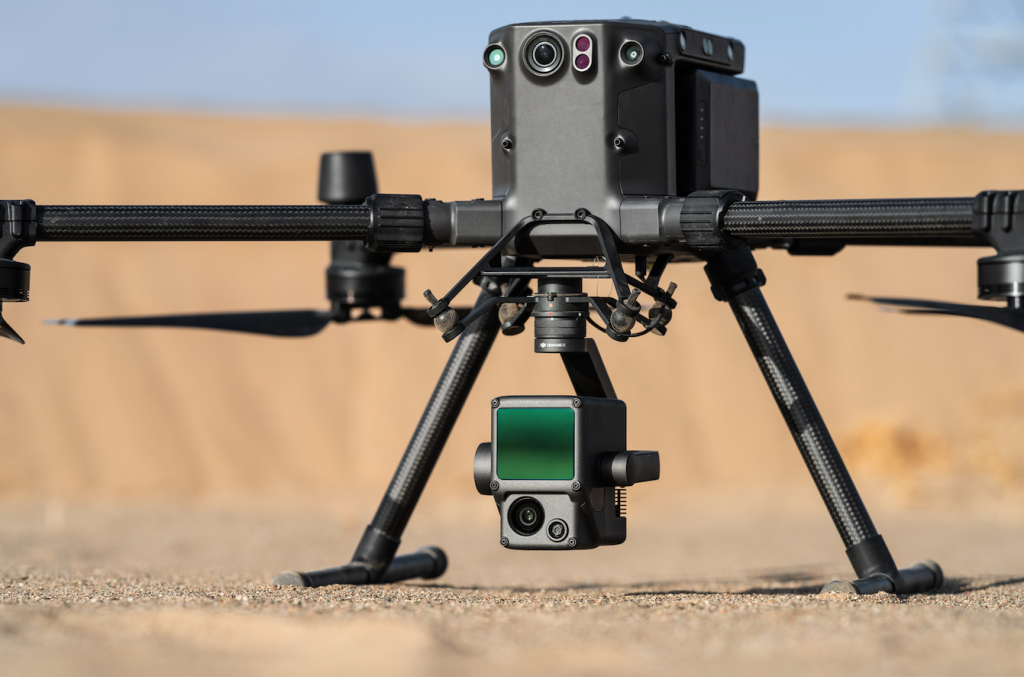 Matrice 300 RTK + Hovermap System
Lightweight and easy to use, the Emesent Hovermap payload allows the M300 RTK to navigate autonomously through tight dark spaces with no line of sight, even in the absence of GPS. The rugged design and unique simultaneous localization and mapping capability, combined with the superior performance of the M300 RTK, make this drone the ideal solution for tough underground mining environments. Wells and other hard-to-reach areas are mapped in minutes, not hours, while keeping personnel away from hazardous areas. The M300 RTK + Hovermap solution can also be used to map complex objects above the ground for valuable detailed information.
3D mapping based on SLAM
Omnidirectional field of view
LiDAR-based collision avoidance
Position hold and speed control without GPS
Increased security and risk reduction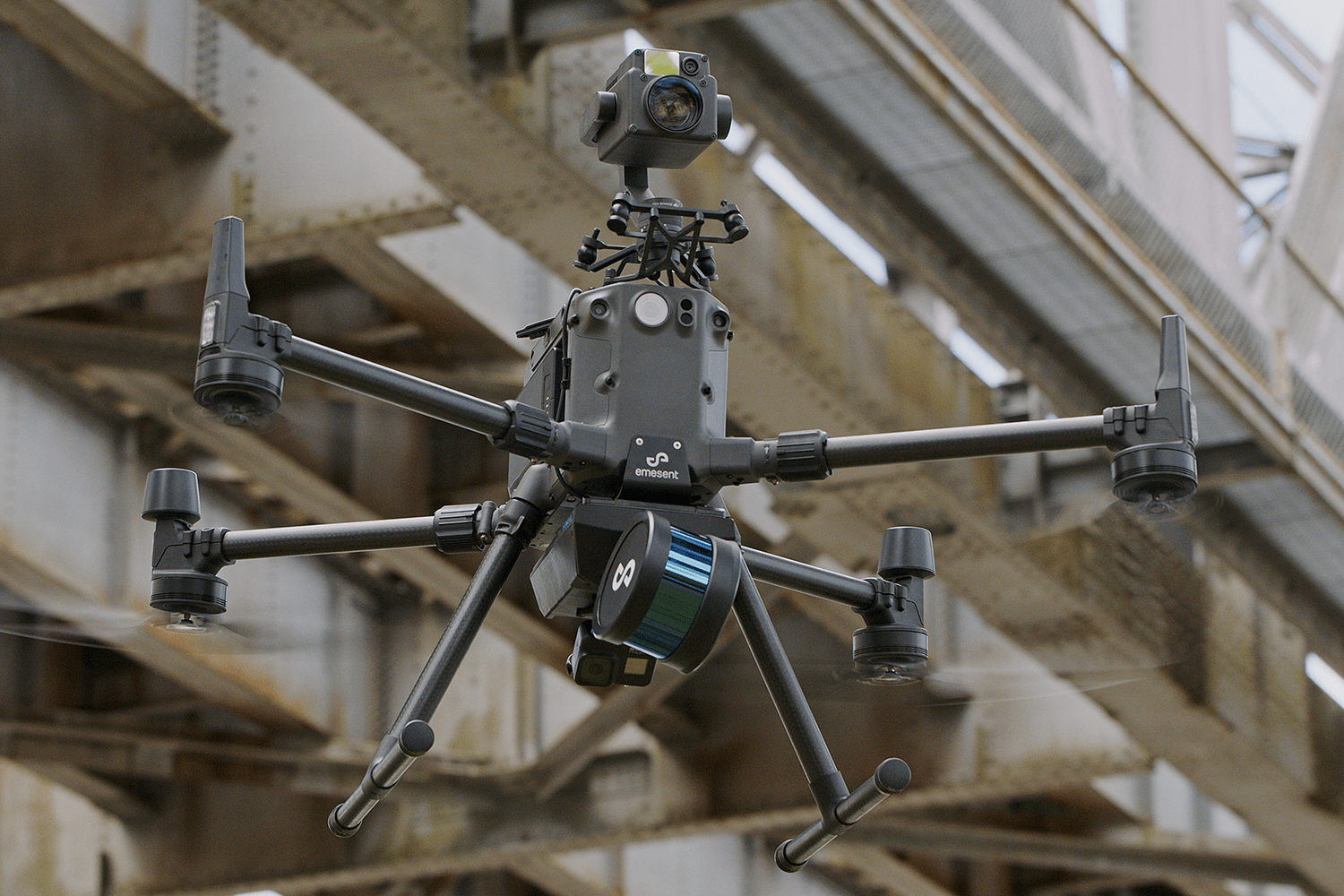 The DJI Mavic 3E is designed to make mapping and surveying missions more efficient, without the need for Ground Control Points. Its biggest improvement over competitors is better performance in dim conditions.
A 20 MP wide-angle camera
4/3 CMOS sensor with large 3.3μm pixels
Rapid 0.7-second interval shooting
Intelligent Low-Light Mode
Up-to-56x hybrid zoom camera (with an equivalent focal length of 162mm for 12MP images).
Mechanical shutter (prevents motion blur and supports rapid 0.7-second interval shooting).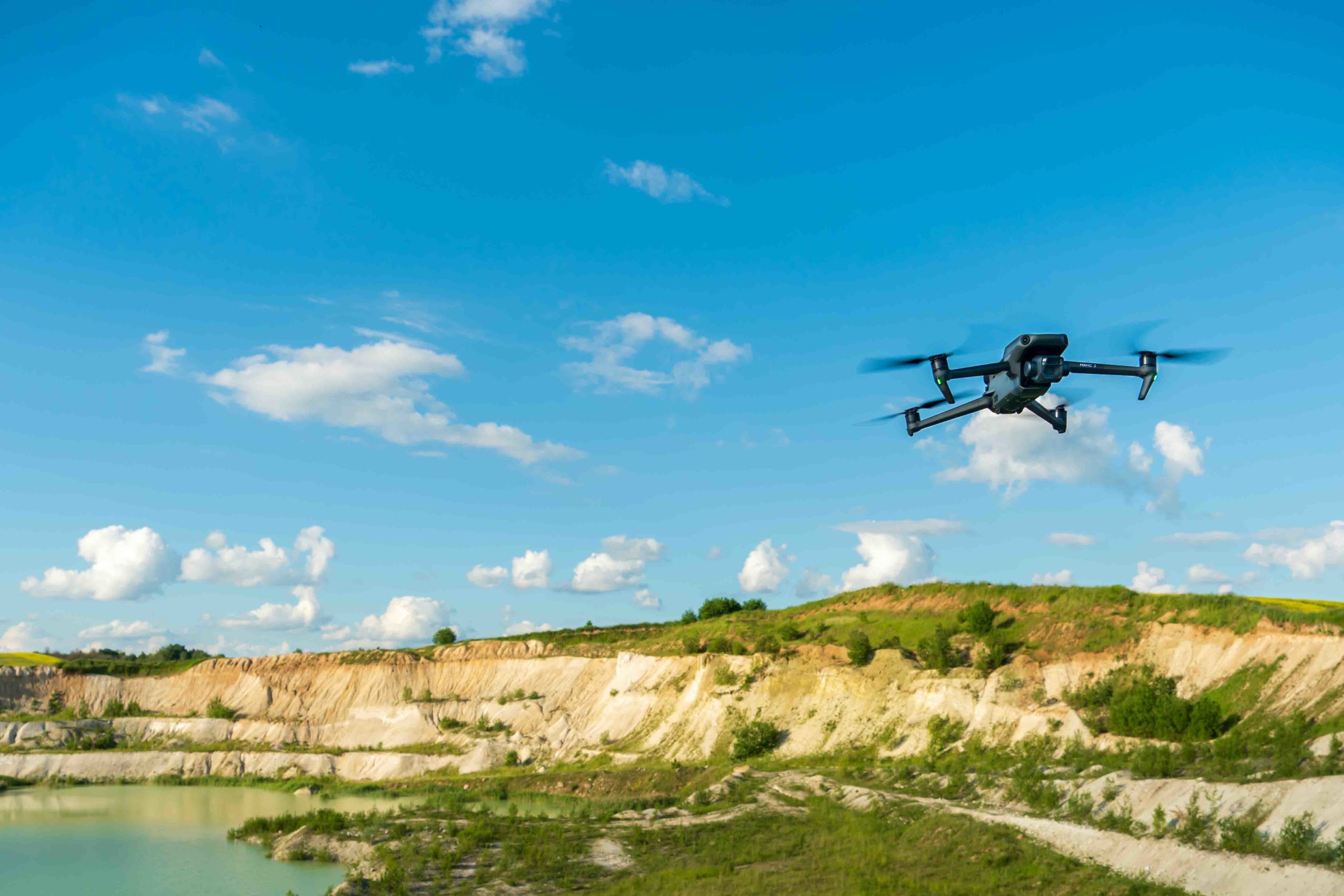 It works with DJI Terra, which is DJI's full-featured mapping software for all stages of work, from mission planning to processing of 2D and 3D models. DJI says the Mavic 3E is capable of surveying up to 2 square kilometers in a single flight. 
An intuitive surveying solution that captures centimeter-scale data to create georeferenced 2D maps and 3D site models. The P4 RTK has been a reliable workhorse in the mining industry for many years.
Accuracy of 1/10 of a foot for inventory measurement
Geotagging in real time
Cheaper than alternatives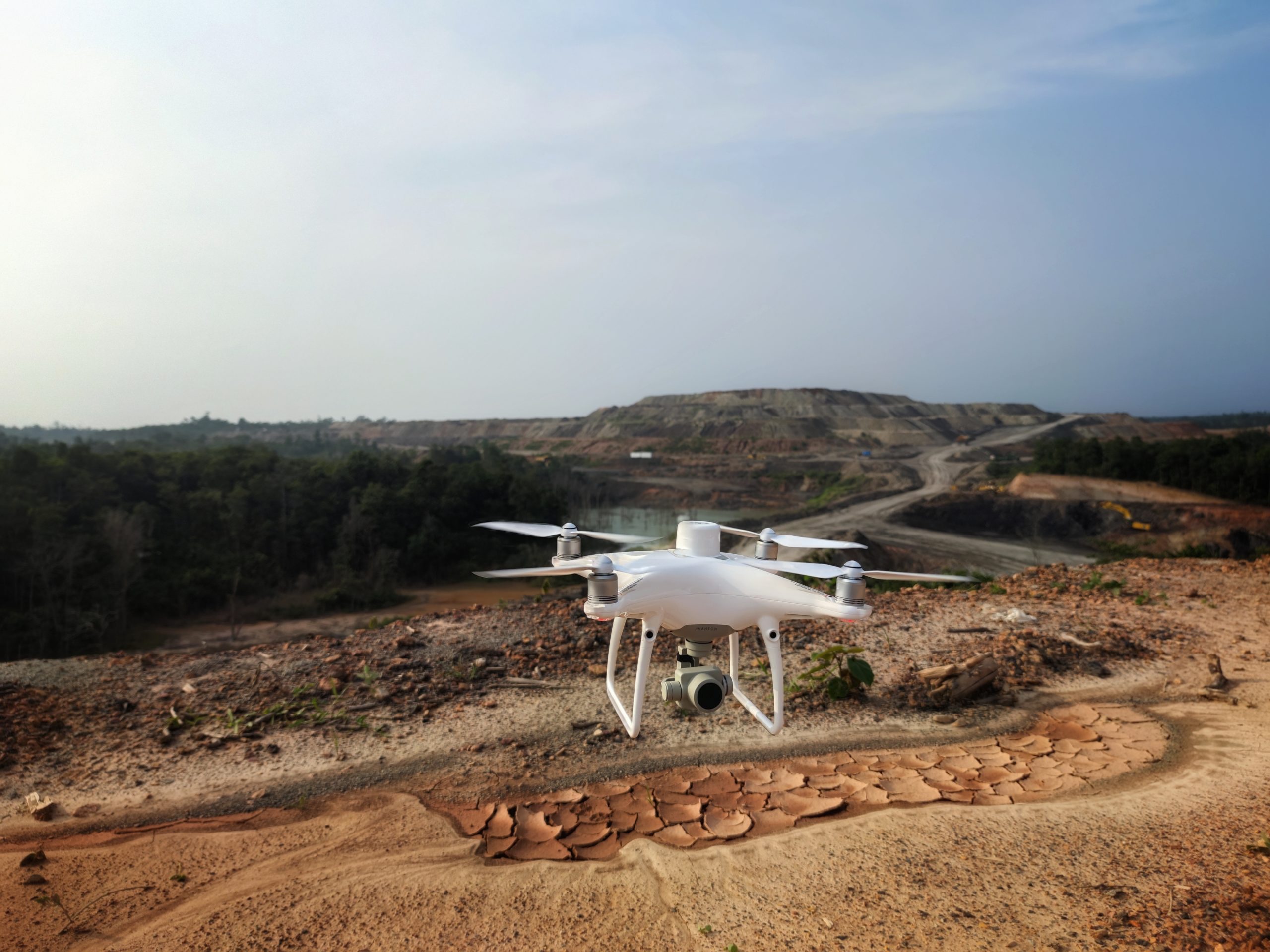 As important as it is to get the data you need from a drone, making that data usable is critical to getting the most out of your mining drone program investment. Thus, to complete this drone workflow conundrum, DJI has unveiled a solution that integrates drone hardware and post-processing analysis in perfect harmony, fully disposing with compatibility issues: DJI Terra.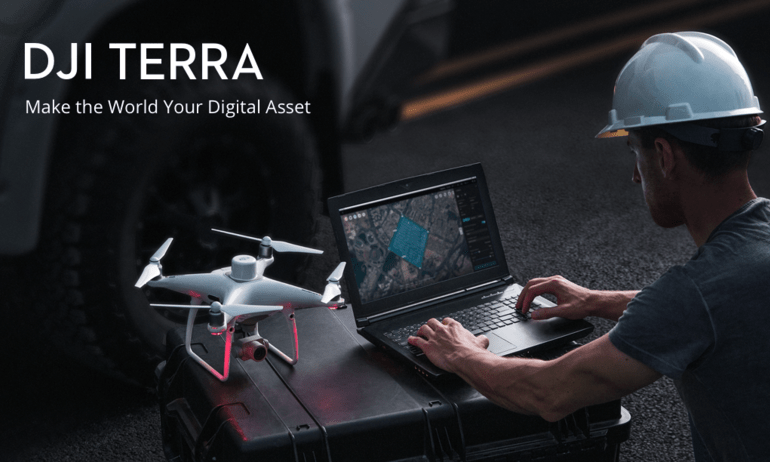 The Terra easily syncs with the DJI Phantom 4 as well as with the Zenmuse P1 and L1 payloads. This means that you'll get the best and most accurate results from your mining drones when you use Terra for data processing. The software supports Smart Oblique Capture, which automatically rotates the gimbal to shoot from different angles so as to meet the demands of centimeter-level accurate 3D modeling. In addition, Terra requires only 1GB of RAM to process 400 images from the DJI P4 RTK, meaning that any regular laptop can be used for post-processing.
Interestingly, the software is so easy to use that drone data analysts don't require any special training to get started. The University of Debrecen, Hungary confirmed this in a recent study, declaring DJI Terra the "easiest" software that "requires the least knowledge from the user to operate" when compared to similar solutions on the market.
Terra is designed for mining companies that want a fully integrated solution for all their needs, from mission planning and data acquisition to post-processing and pit data analysis. As an intuitive software solution to help automate complex mining operations, Terra is the ideal solution for managing mining operations.
Drones can do more than supporting your mining excavation operations. Drones can also help to monitor the quantity and value of the produced material on site (lignite, coal, sand, …) before it is used or sold
Calculate volumes for stockpiles or basins. Works for free standing, walled and fully enclosed piles.
Stockpile volumes
Basin fill volumes
Volume annotations
Volume export
Compare progress over time between drone data, a design file or a baseline.
Cut-and-fill analysis
Spot heights
Volume/balance regions
Export cut-and-fill map
Create reports