A safe and successful transition to "green" energy depends on many factors. Solar energy plays an essential role in this. Safe and efficient systems are a prerequisite.
Solar energy is again focusing on the search for alternative energy sources to ensure the security of the power supply. The Middle East and North Africa (MENA) and other parts of the Persian Gulf region are gaining ground on solar power. Solar photovoltaic technology is now "the most competitive form of power generation" in the Gulf region, according to a report released earlier this year by the International Renewable Energy Agency. 
The Middle-East solar power market is expected to grow at a CAGR of more than 11% over the forecast period of 2022-2027. Photovoltaic solar panels accounted for 94% of Middle East solar energy installations in 2020. 
One of the reasons for this growth is the naturally abundant sunny climate, availability of cheap and sunny desert land, in addition to supportive tax regimes, and well-designed tender structures. However, dusty desert conditions make operations challenging and risky. Solar farms in much of the region are vulnerable to sandstorms that can damage or obscure solar panels, requiring them to be cleaned. Here's how drones help maintain the solar installations up and running.
Solar Systems Are Subject to Inspection
Solar energy has a lot of potential, especially in desert areas, where sunshine is abundant. But with the installation of the solar battery systems comes a lot of responsibility. After all, solar parks are often located in remote locations, yet, they should still function safely and smoothly.  
The purchase and ongoing operation of solar and photovoltaic systems is an investment that has to pay off at some point. The maintenance of already installed systems is therefore becoming increasingly important. Whether it's small or large systems, checking the effectiveness of a solar or photovoltaic system is essential.
Drone thermography is a non-contact, purely optical measurement process. Thermal abnormalities or temperature differences in solar modules are immediately visible using infrared recordings with drones and serve as the first indicator of possible errors.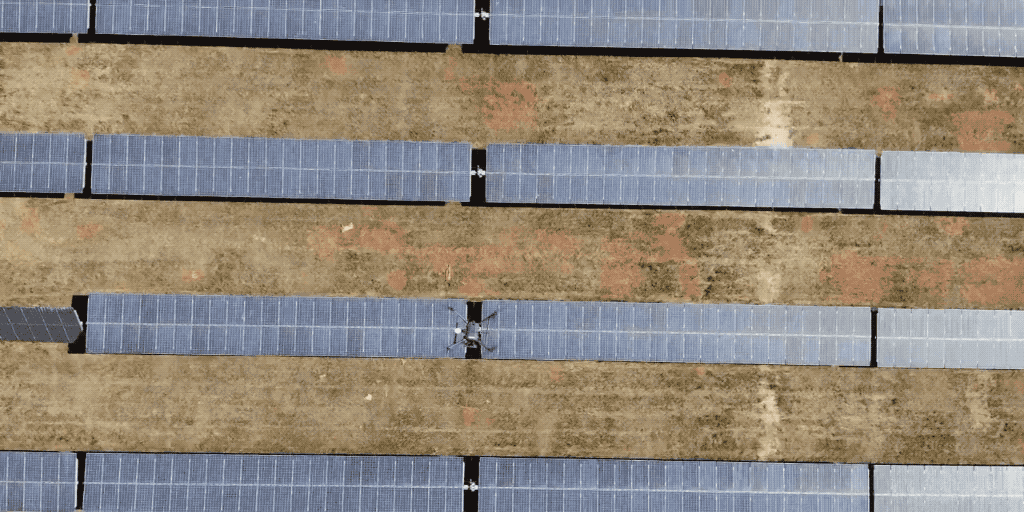 A solar drone inspection proves to be incredibly effective. This way, a trained eye can identify yield losses and potential defects in the solar system directly at the customer's premises. And so the time-consuming construction of a "climber," i.e., a truck including a raised work platform, is completely eliminated with a pure drone solar inspection from above. During the check on the screen, the customer can see with his or her own eyes the functionality and reliability of the "green" energy system.
Regular checks of the solar and photovoltaic installations also offer insurance advantages. After all, damaged solar modules are more common than you might think, so complete documentation of the tests is worthwhile. In the event of damage, operators can prove that they have complied with all system operating regulations. Another plus is the optimized yield of the system. After testing, defective modules can be quickly replaced.
Benefits of Testing Solar Panels with Drones
An essential part of the test is the visual inspection of the system for damage and defects in the insulation and cable harnesses. There is also a thorough function test, including checking the inverter.  The scope of testing also includes measurement tests. In addition to the insulation resistance, no-load voltage, short-circuit current, the total output, and the protective equipotential bonding are checked. Potential structural changes to the system are compared with the documentation.
The visual inspection of the individual modules is usually expensive and time-consuming. Efficient test equipment is all the more critical. A drone flies over a large area in a short time and records the condition of the system. This method makes defective modules visible at a glance with a thermal imaging camera. With this, operators can safely and reliably see their solar park's efficiency during ongoing operation and whether urgent repairs are due. 
There is also added value for buyers of solar energy systems already in use. An expert opinion based on drone recordings can secure the planned investment.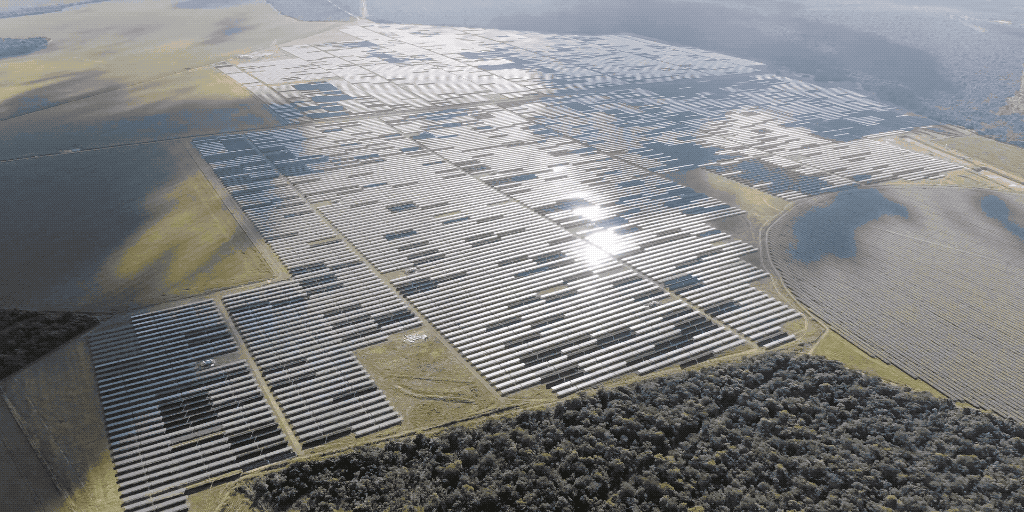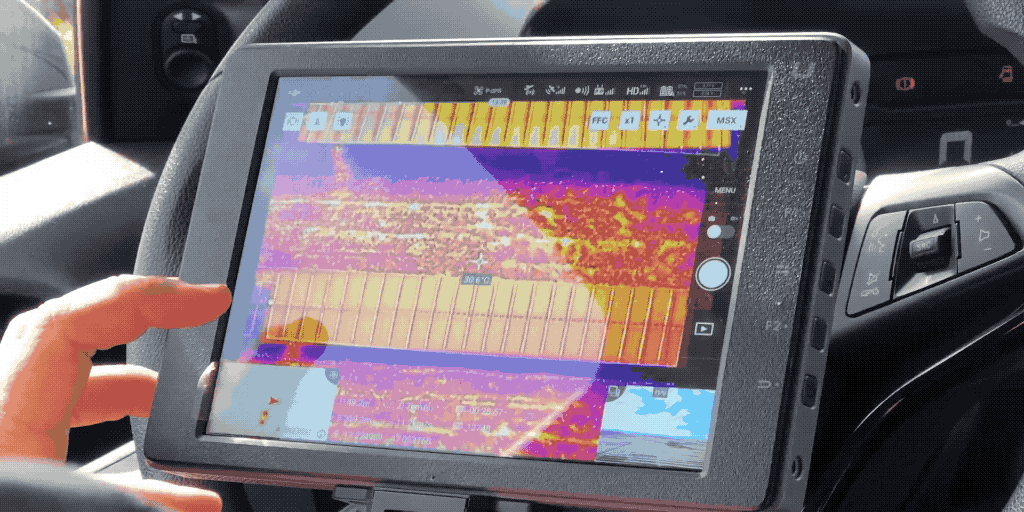 Optimizing the Use of Land for Solar Parks
The test highlights US companies' growing use of the latest computing technologies – drones, robots, software, sensors, and networks – to design, build and operate solar farms. 
After seeing the prices of solar panels drop dramatically over the past decade, companies are looking for new ways to cut costs and compete with fossil fuel power through project design.
Reducing the amount of land used by solar farms has additional benefits. It minimizes environmental impact, a controversial issue for large projects built for utilities because they tend to spread across hundreds of acres of land in remote regions. Some of these projects have riled environmentalists, attracted lawsuits, and forced solar companies, including SunPower, to commit money for land for wildlife conservation.
Saving Money for Solar Power Operators
Loss of performance and loss of earnings are a nuisance for the operator. System operators can hold solar panel manufacturers accountable, as they usually guarantee that a module will lose 20 percent of its performance in 20 years. According to the Coburg University of Applied Sciences, the system performance becomes critical from only a five percent loss. 
The reasons for a drop in performance are sometimes banal. For example, if bird droppings burn into the module for too long, so-called hotspots occur. At these points, solar and photovoltaic modules get hot and lose power. Here are some defects that often come to light during drone photovoltaic and solar inspections:
Defective bypass diodes

Contact errors and short circuits in solar cells

Penetrated moisture and dirt

Cracks in cells or in the module glass

Faulty wiring and loose contact points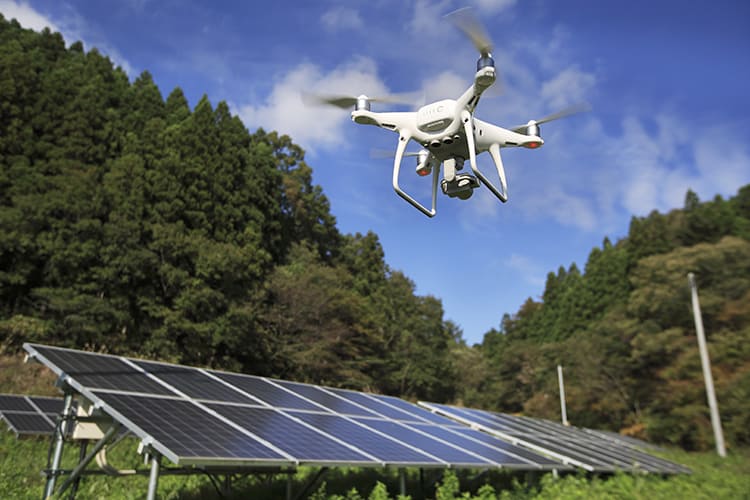 These faults can be discovered with a thermal imaging camera installed on a drone. Equipped with sensitive thermal imaging cameras, inspection drones can take thermographic images from the air. 
Thanks to the flexibility and speed of the drone, drones can carry out a contactless inspection of large areas in the shortest possible time to identify thermal abnormalities. This saves time and money compared to conventional measurement methods.
Inspecting solar and photovoltaic systems is indispensable for the long-term cost savings of the system operator, for any warranty claims, or for a proper risk classification with insurance companies. 
In addition to solar and photovoltaic panels, drones can examine thermal bridges in buildings, high voltage power lines, energy supply lines, and district heating pipes.
Improving Documentation and Reporting
Drone thermography, whether during commissioning or maintenance, can also be helpful for documentation. It helps to avoid defects and yield losses for the customer. With an examination before the warranty period expires, any warranty claims against manufacturers can be asserted in good time.
Detecting Fire Damage Early
Fire protection is also playing an increasingly important role. Incorrectly mounted or poorly cooled electrical components of photovoltaic systems can quickly lead to a fire. If inverters are mounted at several meters, they can also be checked quickly for defects. Malfunctions are noticed by temperature differences visible with a thermal imaging camera.
Starting Above Solar Systems
When examining photovoltaic modules, drones can get to hard-to-reach places and use the advantage of flight route planning and programming for optimal recording of the radiometric data. Modern thermal copters record with a precision of 50mK, can be used immediately, and save a high technical or human effort. During the inspection flights, the systems remain fully operational.
Keeping Solar Systems Shining
For the sustainable efficiency of solar systems, drones are indispensable for the early detection of thermographic abnormalities. This results in various advantages: 
A preventive determination of faults

An increase in the efficiency of the systems 

Easier planning of potential system refurbishments
Plant operators can also claim against insurance companies if power yields cannot be achieved due to faults.
Drones with infrared camera systems provide a high-quality thermographic overview of photovoltaic modules. Affected error sources are often complete strings or substrings, modules, hotspots, junction boxes, and broken glass. Power system operators will evaluate the recordings for thermal abnormalities or other faults. The potential of thermographic performance analysis extends to all conceivable radiometric areas of application in which anomalies in the form of thermal differences can be measured.
What technology is used for solar drone inspection?
The drone from the DJI Enterprise series has proven to be very effective, simple, inexpensive, and above all, reliable. For a good reason, DJI Matrice 300 RTK is very popular. Inspired by aviation, this commercial drone platform has AI capabilities for its Directional Sensing & Positioning and 45 minutes of flight time with H20T even at temperatures up to +50C. Another weatherproof option is DJI M30T integrated with multiple high-performance sensors and equipped with the newly upgraded DJI Pilot 2 flight app for improved piloting efficiency. 
DJI Dock makes it easy to recharge and operate drones even in the most challenging weather conditions. During solar inspections, it's possible to review the live stream in high-definition at any time or review the geo-tagged pictures, videos, maps, and panoramas collected by the drones.
The future possibilities of drones with thermographic cameras are unlimited, whether searching for missing persons, rescuing fawns—or checking solar panels!
Contact Aeromotus and get every kind of drone solutions online at the best prices.