When DJI Zenmuse P1 hit the market, it was a breakthrough in the area of aerial surveying. This camera integrates a full-frame sensor with a few interchangeable fixed-focus lenses on a 3-axis stabilized gimbal. This payload was built specifically for photogrammetry flight missions as it takes efficiency and accuracy to an absolutely new level.
Recently, Aeromotus started testing a whole new solution – DJI Matrice 300 RTK + DJI Zenmuse P1 and DJI Terra. Right now, we have to confess that this combination is the best tool for experts specializing in the areas of site modeling, topographic maps, cadastral surveying, and a wide array of other flight missions.
In this post, we'll take a closer look at both tools separately and analyze the fundamental benefits of this solution. Get comfortable and have a look!
DJI Zenmuse P1
It's a must-have and go-to tool for aerial surveying. This payload hit the market a few months ago but quickly gained popularity among users. The main features of Zenmuse P1 are as follows:
High Efficiency. 3 km2 covered in a single flight.
3-axis Stabilized Gimbal, Smart Oblique Capture (With this feature, you can cover up to 7.5 km2 per working day and make only photos that are important for reconstruction. This allows you to improve the efficiency of data post-processing up to 50%)
45 MP Full-frame Sensor;
Accuracy without GCPs, 3 cm horizontally/5 cm vertically;
TimeSync 2.0 – synchronization at the microsecond level.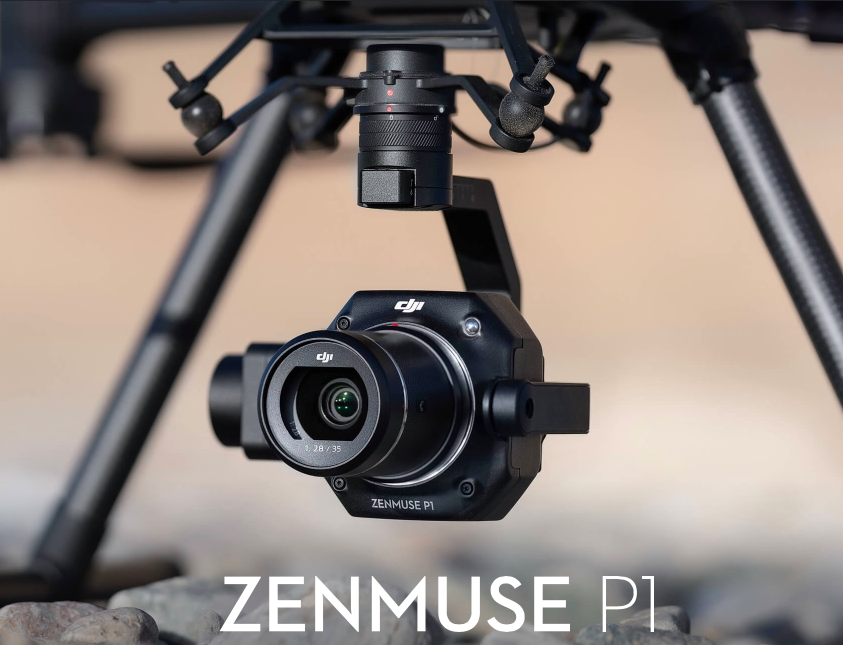 Application scenarios of Zenmuse P1
Now, let's see where you can use this full-frame camera payload:
Topographic mapping;
Cadastral surveying;
AEC and surveying;
Geological investigations;
Disaster site modeling;
Natural resource management.
Overall, the P1 is developed for photogrammetry flight missions. As compared to the Phantom 4 RTK, the current photogrammetry solution that comes with a 20-megapixel sensor, P1 payload offers more precision with its 45-megapixel sensor.
DJI Terra
With a wide array of mapping capabilities, DJI Terra enables drone pilots to easily generate 2D orthomosaic maps as your drone flies. Simply put, it's a must-have solution for urgent and time-sensitive missions where situational awareness is of utmost importance and decisions need to be made in seconds.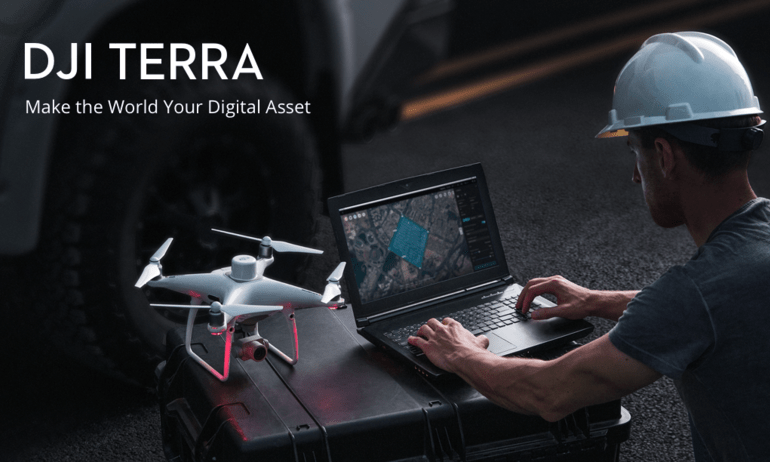 DJI Zenmuse P1 and DJI Terra: Data Processing
DJI Terra is a must-have tool that allows you to quickly transform data taken by DJI Zenmuse P1 into easy-to-understand 3D models or maps.
Right now, Aeromotus started testing DJI Zenmuse P1 and DJI Terra. However, we can see that this package allows businesses and companies to quickly capture, analyze and visualize aerial footage for many applications across the construction, public safety, agriculture, infrastructure, or even movie-making industry.
Now, you may choose one of three available Terra's licenses: Advanced, Pro, and Electricity.
Today, DJI Terra is an all-in-one mapping solution that makes it easy to extract P1 data and generate conclusions across different use cases ranging from crash reconstructions to simple infrastructure inspections. Overall, it allows you to carry out a real-time mapping and create exceptional 2D and 3D measurements. After you capture the data, you'll get a camera calibration file that you'll process later. DJI Terra supports easy exporting to a wide array of formats after your mission is complete.
Overall, thanks to this solution, you can easily produce precise models and maps with much better accuracy. It's one of the best solutions that takes accuracy to a whole new level!