The Autel Robotics Dragonfish was released with a slogan, "Subvert tradition, command the future". It's a powerful solution that can meet the needs of many areas. Let's have a look at the main benefits offered by this tool.
The main distinctive feature of Autel Robotics Dragonfish is its flight time – 120 minutes! By the way, most modern drones can be in the air for 30 minutes. This aircraft also features a 4K camera with a 20x optical zoom.
Here's a list of the main characteristic features:
The maximum fly speed is 67 miles per hour.
It can fly in winds of up to 31 miles per hour.
The maximum take off weight is 17 pounds;
The infrared detection from 200 meters away.
This flying machine can meet the needs of firefighting, public safety, energy, and agricultural experts.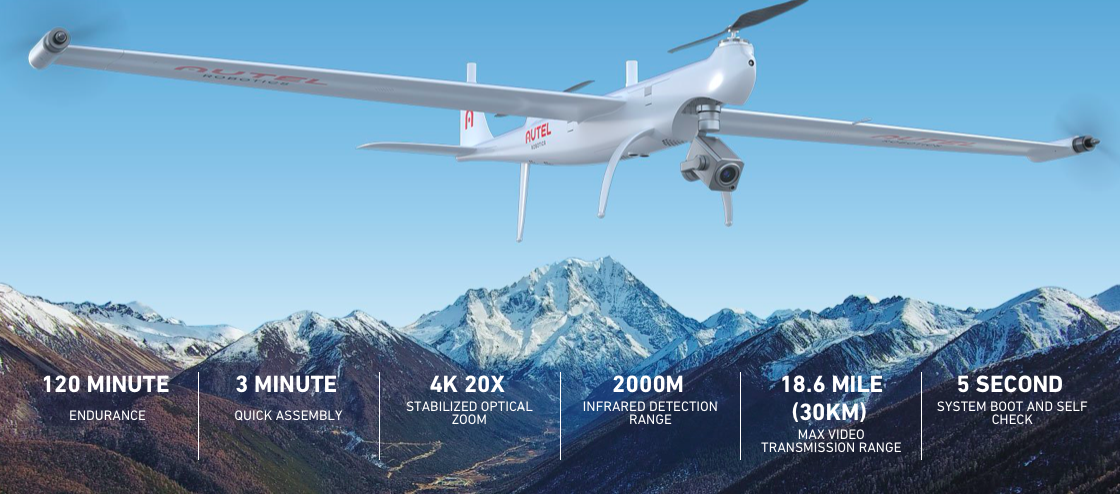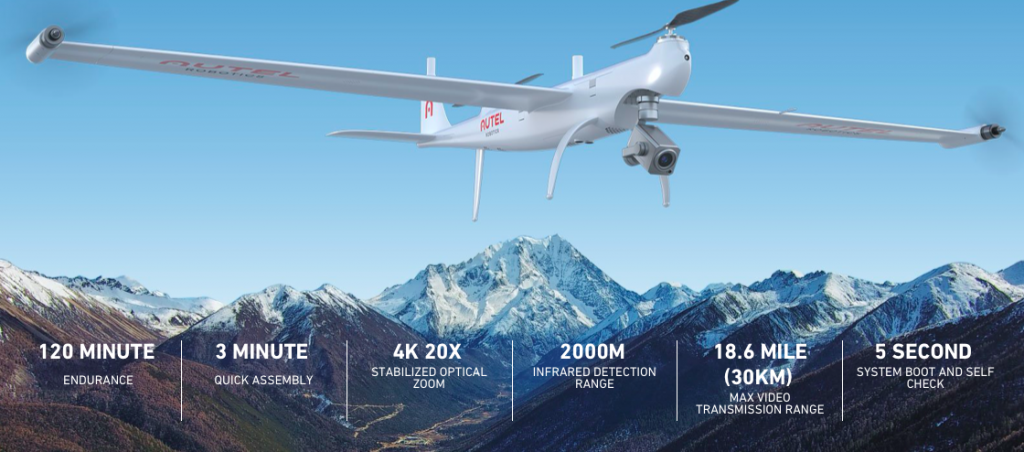 Safety and Redundancy
While working on this product, the company was mostly focused on safety and building redundant systems. They managed to achieve their goal. Now, it's the safest flying machine! The Dragonfish comes with two batteries, barometers, IMU, compasses, and RTK modules. When the aircraft can't fly in the current mode, it will automatically change the mode and continue flying. Moreover, this flying machine uses Artificial Intelligence to check its systems and find faults before causing damage.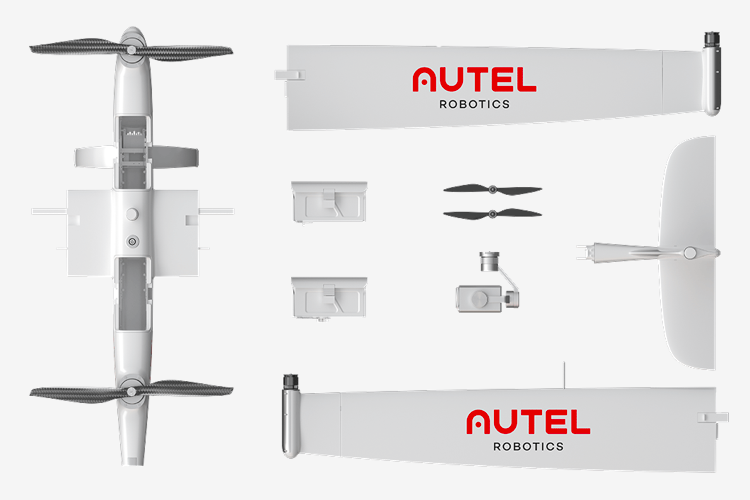 Intelligence
Autonomous capabilities are the main benefits of Dragonfish. This drone can quickly complete a mission and return home automatically. It can keep track of various objects, circle above them, and fulfill multi-point missions.
Taking Control
Considering the number of robust features, this drone doesn't require special skills to use it. The company-manufacturer created the Autel Voyager software that guarantees intelligent tracking, mission planning, flight history monitoring, and much more to easily control it.
Payload System
The Dragonfish comes with an interchangeable payload system; there are three first-party camera payloads.
The first one is a 4K dual-sensor camera that comes with a 4K 20x optical zoom and a 48-megapixel wide-angle camera.
The second payload is a triple sensor camera that comes with the 4K 20x optical zoom camera and 48-megapixel wide-angle camera and a powerful radiometric thermal camera.
The third payload includes a robust multispectral camera with an RGB 48-megapixel camera and five 2-megapixel multispectral sensors.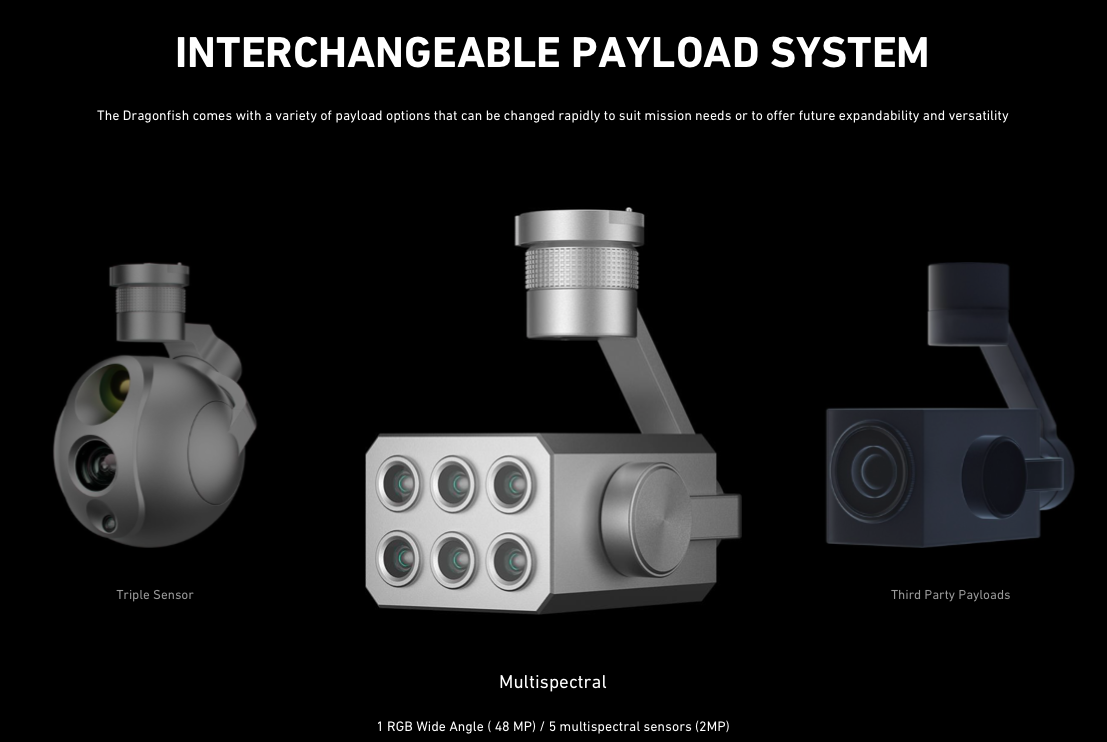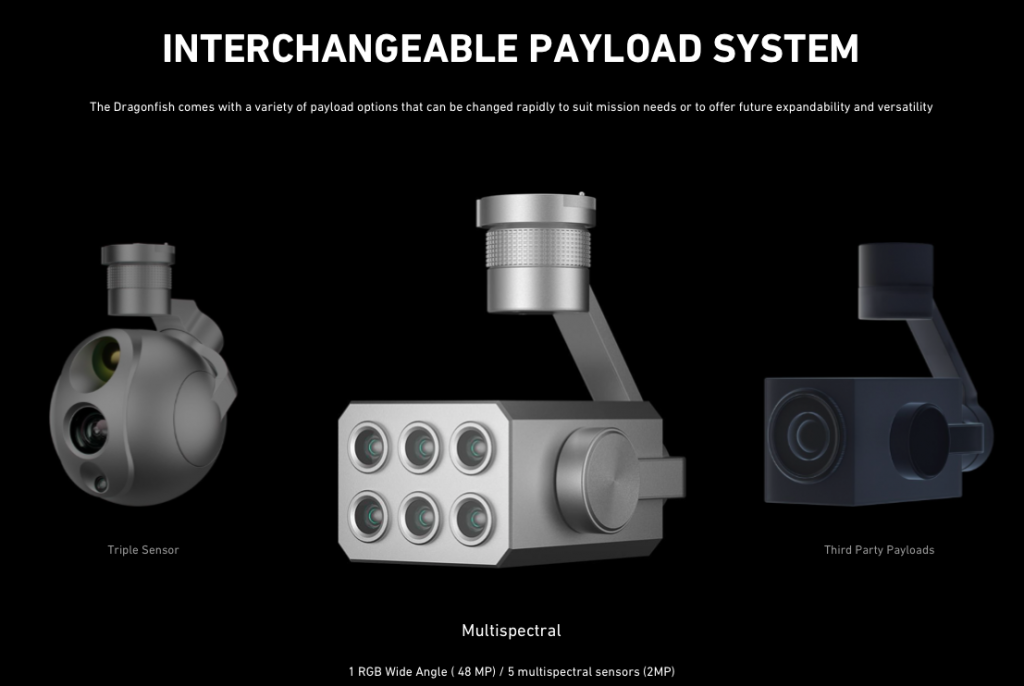 Overall, it's a compact and powerful solution that can be easily disassembled by one person. Only five minutes are needed to launch it! It's a fixed-wing drone that is capable of vertical-take-off-and-landing. Small but powerful propellers help stabilize the aircraft during landings and takeoffs. Today, it's one of the most powerful flying machines that come with a number of automated functions!