A Hoverbike: The Great Technology of the Future
Do you remember the film "The Fifth Element" where the technology of flying bikes and cars was shown? The film was released twenty years ago, and all visual effects seemed to be fantastic! Nevertheless, we can consider that the technology of flying bikes is slowly putting in place. But first things first!
Recently a Russian drone startup presented his project – Scorpion-3 – a half motorcycle and a half drone! Having browsed the web, you would see a video where this new hoverbike prototype is being tested. The developer of hoverbike tries to convince the audience that riding his invention is as simple as anything.
The Scorpion-3 is a perfect combination of the drone technology with a motorcycle design. As a result, the developer managed to create a hoverbike, able to lift itself and fly in the air. Nevertheless, it doesn't mean that this device is for professionals only. Its software can be controlled either manually or automatically, allowing even amateurs to test it.
This device offers lots of opportunities to a number of users. The Scorpion-3 is empowered by a safety system. It has art flight controllers, passive elements and even logical programming.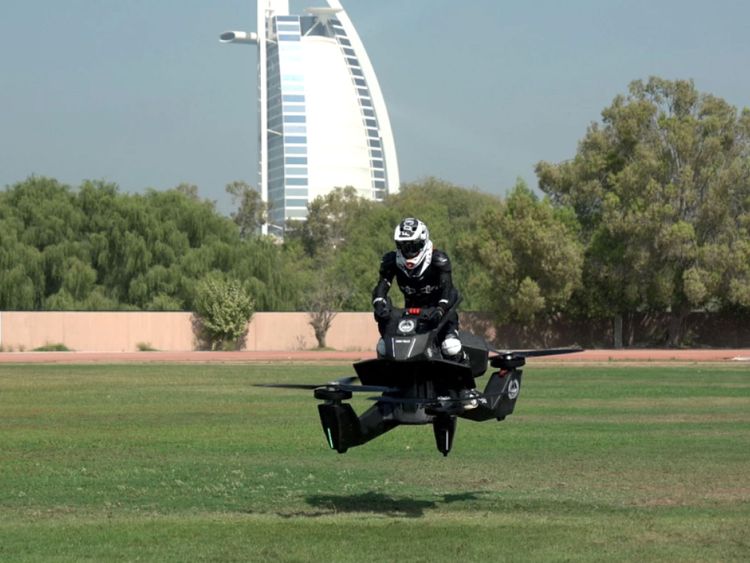 In Dubai, this invention was named as a passenger drone as far as it offers an absolutely new transportation option. Nonetheless, its developer, Hoversurf, confessed that when he was working on this "drone-bike" he thought about the possibility to use it for sports purposes. Taking a look at its design and its possibility to surf in the air, we may conclude that its design is really sporty.
Yet still, if to believe different resources the Scorpion-3 is not the first hoverbike in the world. These days, there are several prototypes of this transportation mean in the works. First, it stands to mention a famous "taxi drone", which will soon be released in Dubai.  Besides, the U.S. military also made a great contribution to the development of this area: they also developed a hoverbike, which can be used for the military purposes. One more engineering company, based in California is working on another project – to develop a passenger drone.
We see that the drone technology is constantly developing and in several years such devices will rise to eminence in this area.