In a tweet that went viral on its social media accounts on 31st March 2019, Dubai based Emirates Airlines
announced that they would introduce a fleet of comfortable driver-less passenger drones that would fly
people between any point in Dubai and DXB beginning year 2020. Many people were caught unawares, and
some even praised the company for being a top technology innovator in the world.
Each drone is expected to feature two fully enclosed 1st-class private sets.
The new drone port transfer is expected to be available to all its Skyward Platinum members. The airline posted images of the expected
high tech four – rotor vehicles that would have two fully enclosed 1st-class private suites. In one picture, a
passenger is seen seated inside the flying vehicle, with a remote on her hand. The windows on the left side
were displaying the view of Dubai from the sky. They said the flying drones would start operation from the
year 2020.
It won't be the first time the chauffeur-less drones are being introduced in Dubai. Previously, Dubai has had
plans to introduce driver-less drone taxis to serve its public transportation sector.
The only downside to this was, it was just but a prank! How could they do this for heaven's sake?
If you didn't know, its Emirates tradition to fool people every 1st April of every year.
They have been doing this for years now. For example in:
In 2018, the same time, they announced plans to lounge the SkyLounge Concept and some people fell for the
prank, they announced;
"Emirates reveals SkyLounge, one unique Onboard Lounge that will be launched on the Boeing 777X
fleet from 2020. Its a completely transparent onboard lounge with neverseen aerial views and unmatched
luxury, this SkyLounge promises variety views like no other" I quote.
In 2017 again, during the same time, they announced;
"Emirates unveils plans to make the world's 1st and largest commercial aircraft. This triple-decker includes
a games room, swimming pool, gym and park." I quote.
This year, 2019, they did it early, a day earlier. They tweeted;
"Fly on our driver-less drones between any point in Dubai and @DXB, beginning April of 2020.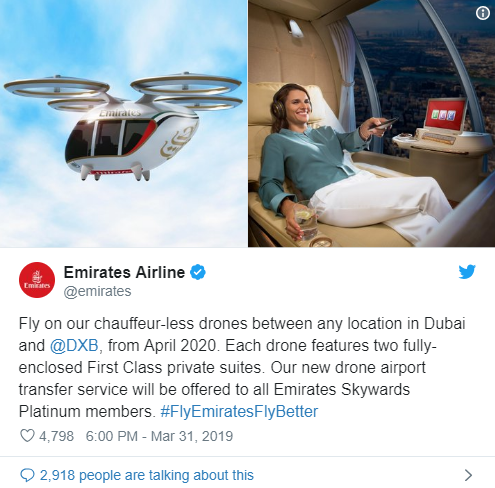 Each drone will have two fully enclosed 1st Class private places. Our new drone port to port transfer services
will be exclusively offered to our Platinum members . #FlyEmiratesFlyBetter" I quote.
Some people noted this and retweeted saying;
"You have done it early, April fools is tomorrow!"
Did people fall for it this time?
Yes, some did, pretty hard.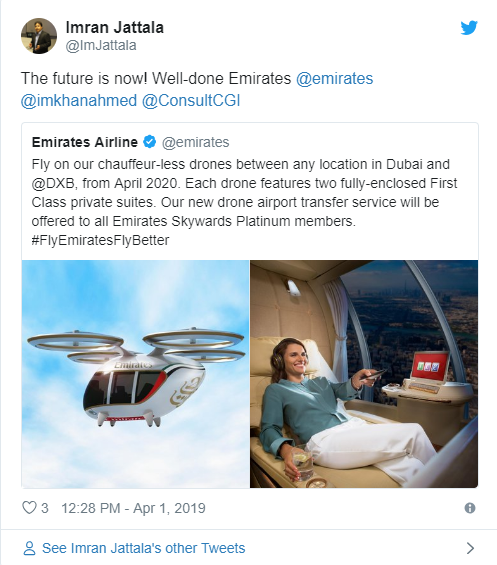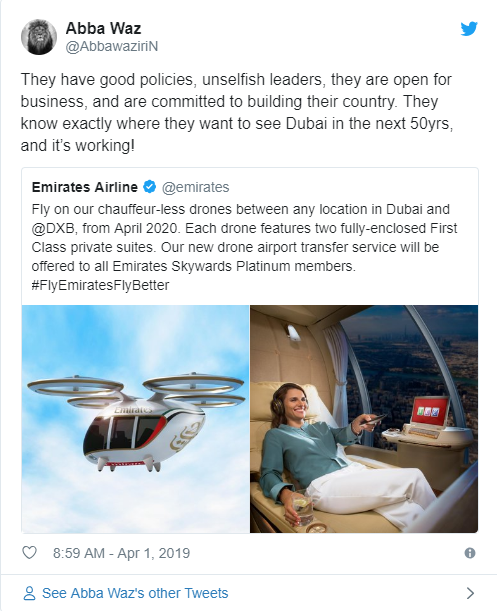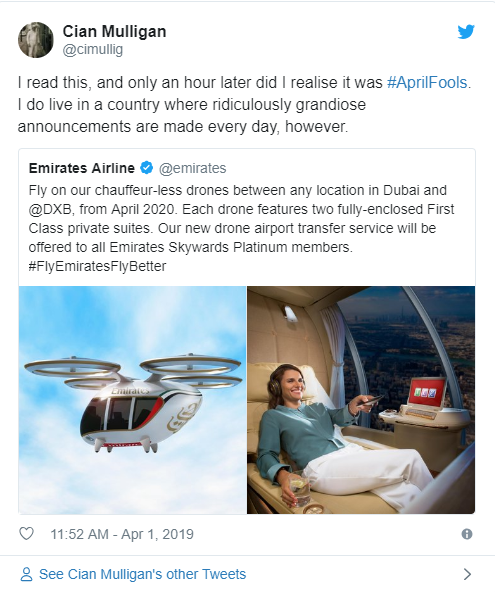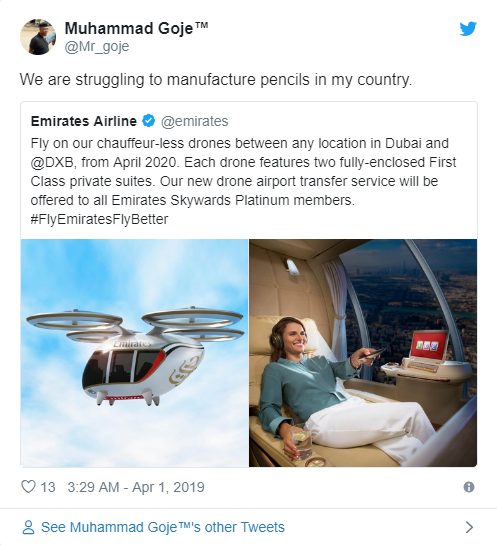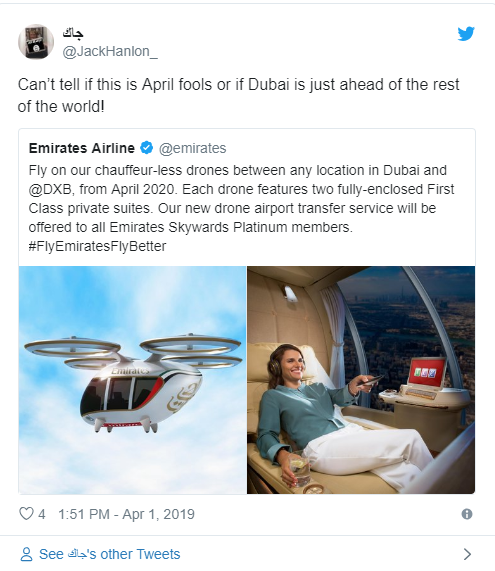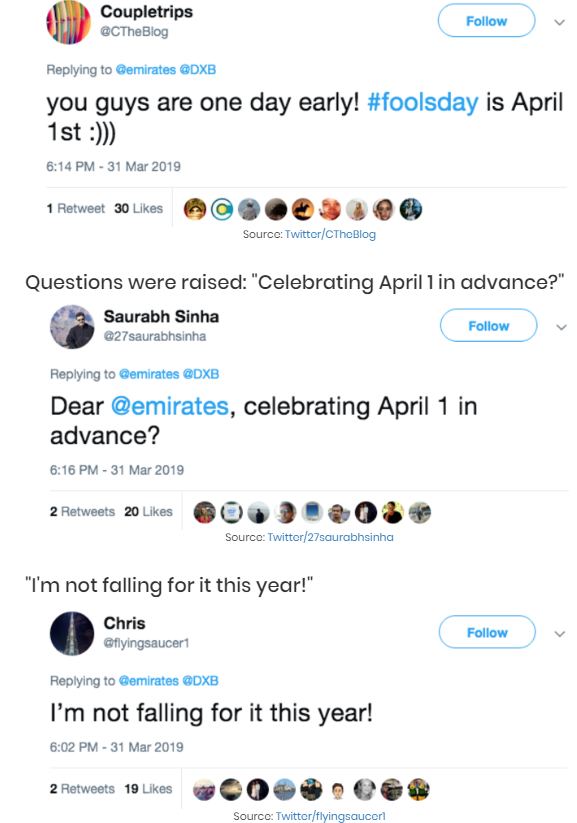 All jokes aside, self-driven sky taxis drones are a possibility, but not in 2020! Hahaha, maybe in the "near" future.
Of course, we are an advanced civilization, or maybe we are the only advanced civilization in the universe,
we shall make this happen, maybe in the future.