Yuneec Typhoon H Pro with Intel RealSense technology
Are you looking for a high-quality drone camera in the market? A drone camera with exclusive, unique features and offered at pocket-friendly. Yuneec Typhoon H Pro with Intel RealSense Technology  is built with capabilities of capturing 3HD video. It is an excellent choice for professional photographers.
Camera
Yuneec Typhoon H Pro is widely known for its excellent camera. Its camera is non-comparable. With its CGO3 camera, it will always be the ideal product in the market. The camera is spherically shaped with a diameter of 3.5. It is capable of covering 360-degree rotation. For this reason, it effortlessly captures the video and picture at the back of the drone. The quality of the video is stunning. The users can record and view the video with high resolutions. Yuneec Typhoon H Pro maintains a field view of ninety eighty percent real view. The CGO3 camera is magnificently designed to provide different modes including the normal, night, raw and gorgeous. The night mode enables the user to capture a breathtaking night video. Professional photographers use the raw mode to capture stunning still images. If you are adding color effects, you can switch the setting to natural or gorgeous mode. Besides, Yuneec Typhoon camera is unbelievable; it captures slow motion video with 1080p UHD resolution. It captures 12-megapixel pictures.


The video footage is phenomenal. The video transmission range is far fetching; it goes up to 1400 feet. It is easy to zoom and edit the video before full production without altering the quality. Additionally, it has a terrific video setting that allows you to choose the environment that will suit you in your coverage.
Yuneec typhoon H Pro with Intel Real Sense technology is appropriately designed with ST 16 ground station for landing. It is perfectly combined with 7 inches and R/C radio control. This advanced technology allows the user to view the video and save the information. Also, setting the camera when to start and stop
recording becomes an easy task. The user is provided with a variety of option; you can switch and take pictures, and reset the resolution.
Ground Station
ST16 ground station displays the map and allows you to reset and change your destination. It is compelling and thrilling. ST16 ground station is incorporated inside with an Intel processor that profoundly smooths the functioning of the Android OS. Realsence technology integrated Yuneec Typhoon H Pro with an excellent LCS screen that has capacitive multi-touch 7 HD screen, therefore, no third party that is required. Yuneec Typhoon H Pro with Real Sense
technology is well-designed with a drone controller that has directional buttons and joysticks. Drone has two antennas for signals frequency preview. The frequency range is 5.8GHz for video. Yuneec is designed with diverse and intelligent flight modes features such as orbit, POI, journey, curve cable
cam, follow me and return home. They are the stronghold of the 4K drone. If you decide to switch return home mode, Yuneec Typhoon H Pro will return and land within eight minutes. It is the best drone for both beginners and professionals. The user only selects the subject of interest and the
unmanned aerial vehicle orbit to the subject chosen autonomously. The journey mode allows Yuneec Typhoon H Pro to fly automatically capturing a breathtaking aerial selfie. This unmanned aerial vehicle is remarkable and striking. Yuneec Typhoon H Pro with Realsense technology
is designed with a sensor to detect the obstacles.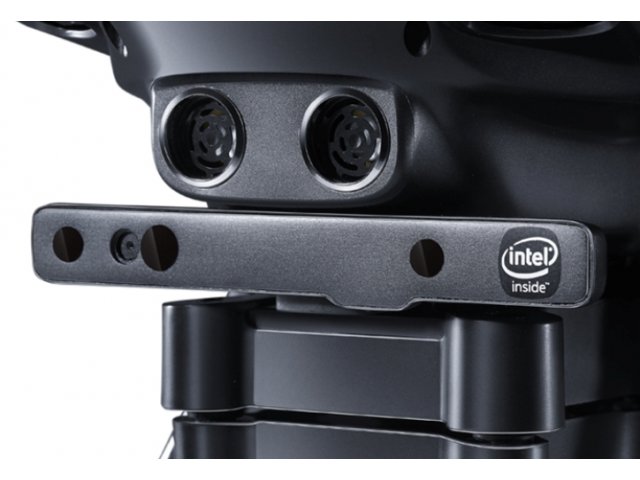 It swiftly navigates around the stone, tree and walls obstacles. Along with that, the Realsense technology has added an indoor positioning system that enables the Yuneec Typhoon H Pro – drone to fly quickly in the selected position and height and perfectly to use the ultrasonic sensor. While flying the camera uses he awe-inspiring flow techniques in maintaining and tracking the location. Its ability to avoid and navigate around the obstacles makes Yeneec Typhoon H Pro an
extraordinary and to outstand other drones in the market.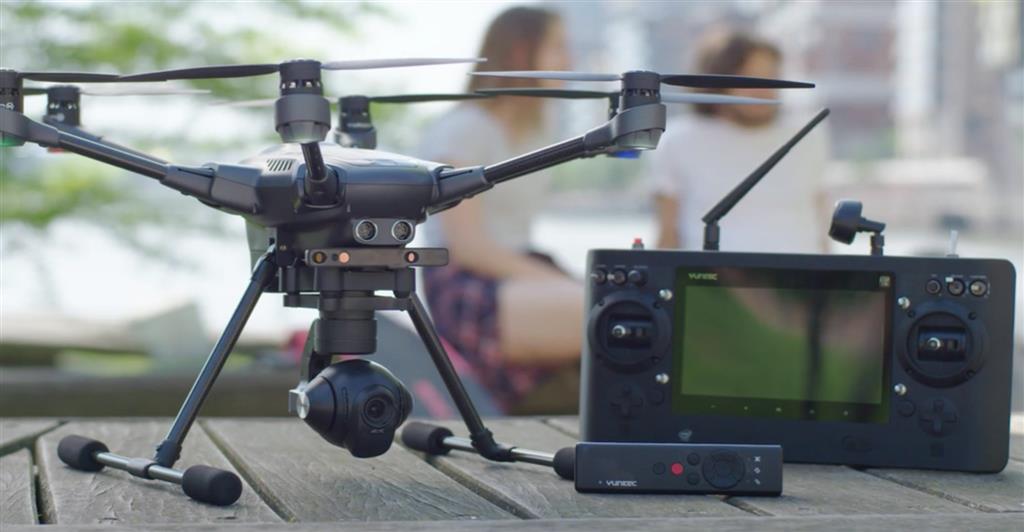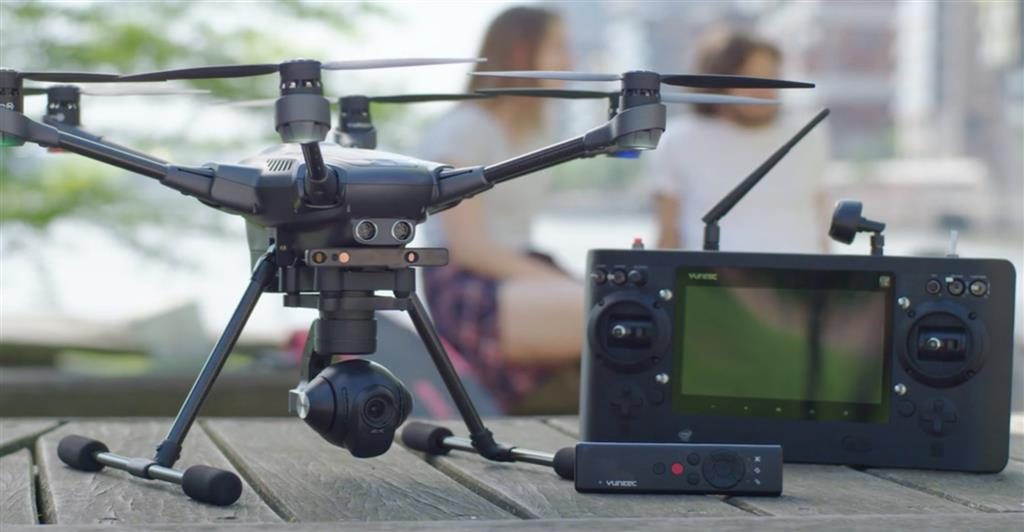 Professional videographer prefers Yuneec drones because it gives them the freedom to include their creative options. It is well integrated with follow me mode that allows the cameraman to focus on the footage without worries of the obstacles. The retractable landing gear makes Yuneec Typhoon H Pro drones to outwit DJI Phantom 4. The landing gear usually retracts while flying allowing you to have a clear and full view of the world without any obstacles. Not forgetting this unmanned aerial vehicle foldable arms, they fold on the way hence the flight becomes easy. Its flight performance is impressive.
It is one of the incredible and phenomenal flying drones; it can fly in amid of rough wind. If you are purchasing Yuneec Typhoon H Pro with Intel RealSenses Technology, it comes with an additional package. Acharger including the cable, two batteries that both fit perfectly in the backpack, an SD card. Not forgetting a
battery car charger is provided too. Yuneec Typhoon H Pro is a beast. The drone battery watts is 5400mAh. It can fly for twenty-five minutes on the air. To recharge the battery, it takes a maximum of one hour. Fortunate enough, the controller has a USB port; therefore it is easy to charge.
This unmanned aerial vehicle has all that you need. It works perfectly in adverse temperature without giving you any worries. During winter when temperature lower to negative ten degrees or summer when temperature raises to positive forty degrees, it shows compactness and is very steady.
Yuneec Typhoon H pro is an excellent device. It has a GPS that enables you to know the location when it is flying and also track the target. It also comes with the latest firmware and software updates. The device is breathtaking; it has an unbelievable control angle accuracy of plus or minus 0.02 degrees.
There is no experience required in the installation of the propeller. By pressing the release button, you can install or remove each propeller in a simple way. It is structured with a high-performance propeller; therefore it responds very fast to commands. Yuneec typhoon H pro is incorporated with the OTA update functions that allow the future update to be downloaded and saved. This unmanned aerial vehicle remains the best
product in the market.