Flagship features and performance on a foldable airframe that fits inside a backpack
For years we've worked closely with public safety teams and infrastructure inspection crews to take enterprise drone technology forward and integrate it into critical operations. The new DJI Matrice 30 is a case in point, with features inspired by the lessons we've learned from thousands of flight hours and feedback from pilots on the front lines.
The launch of the M30 once again pushes the boundaries of what's possible. We've incorporated flagship features and performance into a foldable airframe you can fit inside a backpack.
From rapid deployment to compatibility with the new DJI Dock, here are nine things that make the M30 a groundbreaking drone for public safety and asset inspections.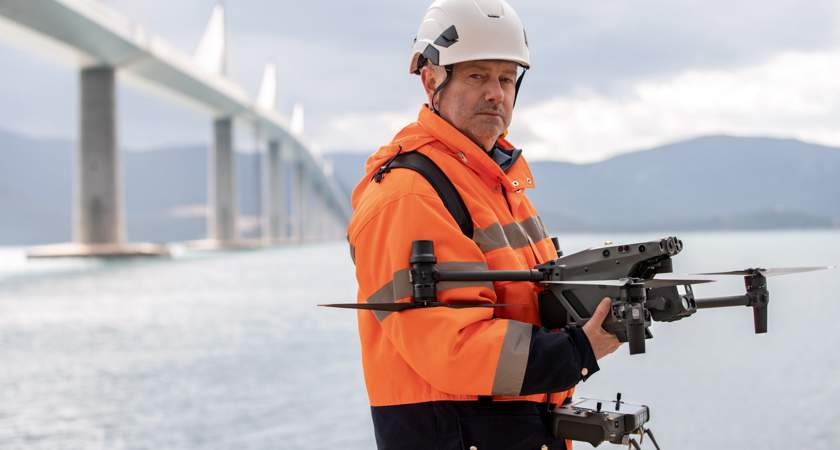 Flagship payload performance
The M30 is an adaptable platform with flagship-level payload options, the M30 and M30T.
The standard M30 has a hybrid visual and laser rangefinder payload, which includes a 48 MP Zoom camera and a 12 MP Wide camera. Both cameras have ½ inch CMOS sensors and can shoot 4K 30FPS video. Both models also benefit from an improved FPV camera that offers enhanced details in low light conditions, that allow pilots to pick out the horizon during night flights.
The laser rangefinder brings clarity to complex environments with precise measurements and PinPoint location data. It has a detection range of 3-1200m and an accuracy of ±0.2m+D×0.15%.
The M30T has all of the above, plus a thermal sensor that matches the Zenmuse H20T's capabilities. It offers 640*512@30Hz resolution and temperature measurement accuracy of ±2℃.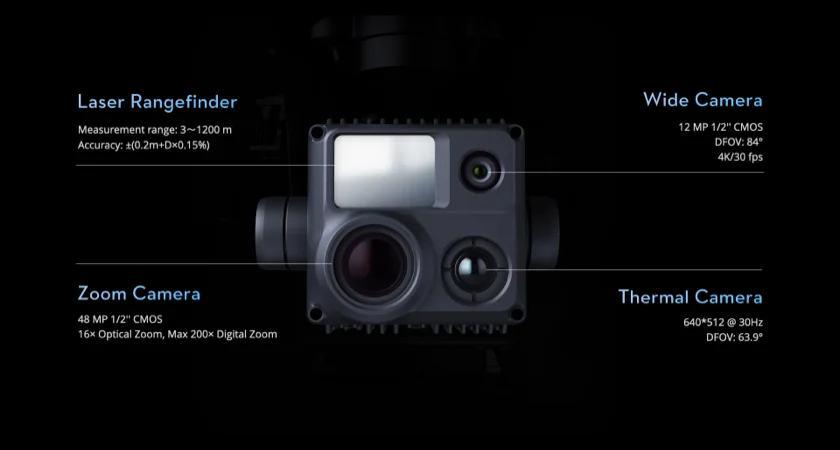 Flagship flight performance
Reducing the size of a drone usually leads to some kind of tradeoff, such as limits on performance in an effort to cut weight and increase portability. The M30 is an exception to that rule with flagship performance stats across the board. Despite weighing half as much as the M300, the M30 offers 41 minutes of flight time, a maximum flight speed of 23 m/s, a top ascent/descent speed of 7 m/s, and stability in winds of up to 15 m/s.
Don't be fooled by its size. The M30 is a powerful and highly capable platform with flight time and performance specs to take on the most challenging of missions.
A portable Enterprise platform
Many inspections and public safety operations require pilots to be fast on their feet and fly from multiple locations within a single mission. In these scenarios, portability is everything.
Weighing just 3.77 kg, the M30 is lightweight and easy to carry. When folded, the M30 is compact enough to fit inside a backpack and transport by foot.
Whether you're on the front lines of a developing emergency or carrying out an infrastructure inspection in a remote location, the M30 offers the portability you need to get the job done.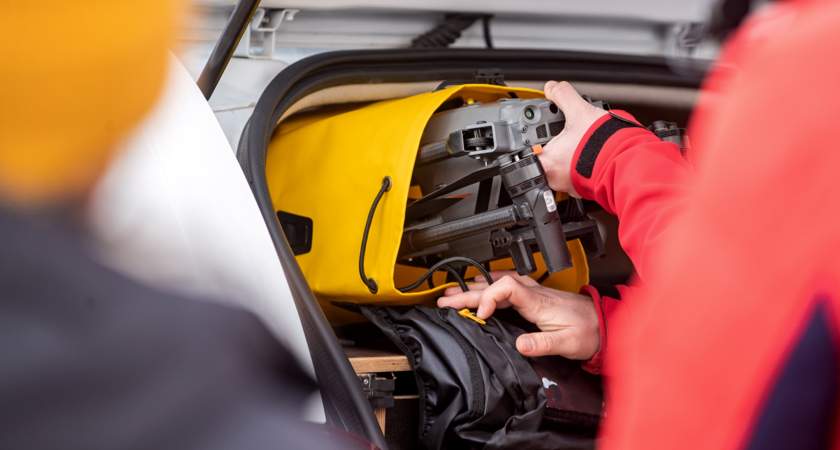 When every moment counts, you don't want to be wasting precious minutes calibrating payloads or screwing a landing gear into place. Whether you're taking off on a search and rescue mission or getting eyes on an unstable asset, the M30 has been developed with deployment speed in mind.
The M30's payload doesn't require calibration before takeoff and its foldable arms have a quick-lock mechanism to minimize setup time. And, unlike the M300, there is no landing gear. Every element is tailored towards getting you flight-ready in a matter of seconds.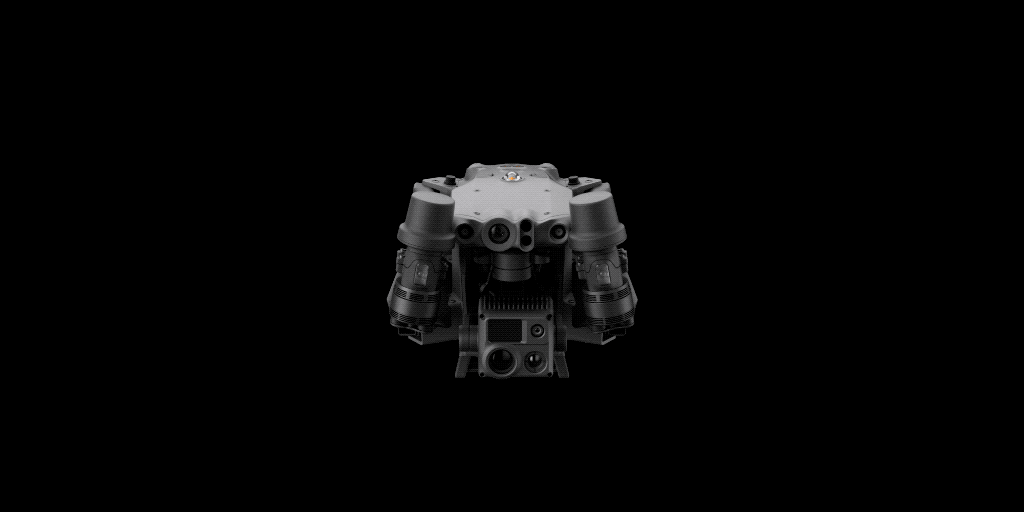 Rugged, durable & dependable
The weather doesn't let up for your operations, so the M30 doesn't let up for the weather. With an IP55 rating, our latest commercial drone platform meets the industry-leading benchmark set by the M300. It's fully capable in harsh environments. That means resistance to light rain, strong winds, and extreme temperatures. The M30 is operational between -20°C and 50°C. You can count on this machine for critical missions that can't wait for clear skies or perfect conditions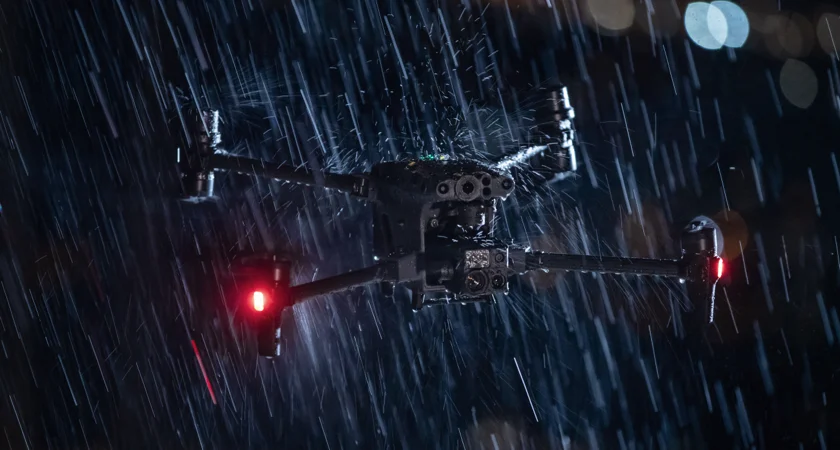 A powerful controller with unmatched functionality
The performance and portability of the M30 drone are bolstered by the addition of a new Enterprise remote controller: DJI RC Plus.
A larger 7-inch screen grants more flexibility during missions and a high-definition feed without the need for an external monitor. IP54 weatherproofing means the new controller is resilient and durable. Even if it's raining the remote controller can withstand the elements, just like the drone it controls.
We've also worked hard to make piloting more intuitive. The M30 remote controller has additional physical buttons that give easy access to key functionality – without having to tap on a screen or let go of the sticks.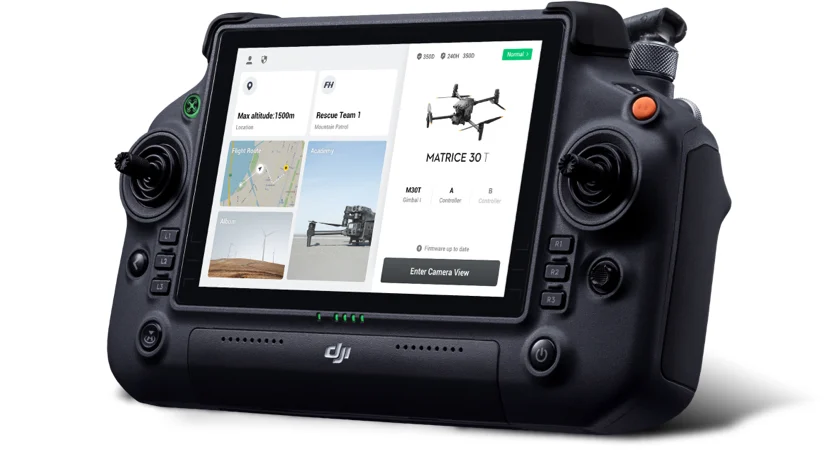 We're launching the M30 alongside its briefcase-sized BS30 Intelligent Charging Station. This accessory, which has a capacity for eight M30 TB30 batteries and two WB37 remote controller batteries, has been designed to make managing your M30 drone batteries as simple as possible. It does this by offering three charging modes, that you can choose from based on your needs.
The first, Standard Mode, charges each pair of batteries to 100%, one pair at a time.
But keeping batteries fully charged for prolonged periods can harm them. Plus, batteries charge with diminishing returns, and the final 10% to go from 90 to 100% takes a long time. So, the BS30 Intelligent Charging Station offers two additional charging options: Ready-to-Fly Mode and Storage Mode.
Ready-to-Fly Mode fast charges each pair to 90%, with each pair taking less than 30 minutes, and then keeps them at 90% on standby. This is ideal for first responders and emergency teams who need their drones and batteries ready to go, at a moment's notice.
Storage Mode charges each pair to 50%. This is ideal for the battery's health if you don't have any work scheduled with the M30 in the near future.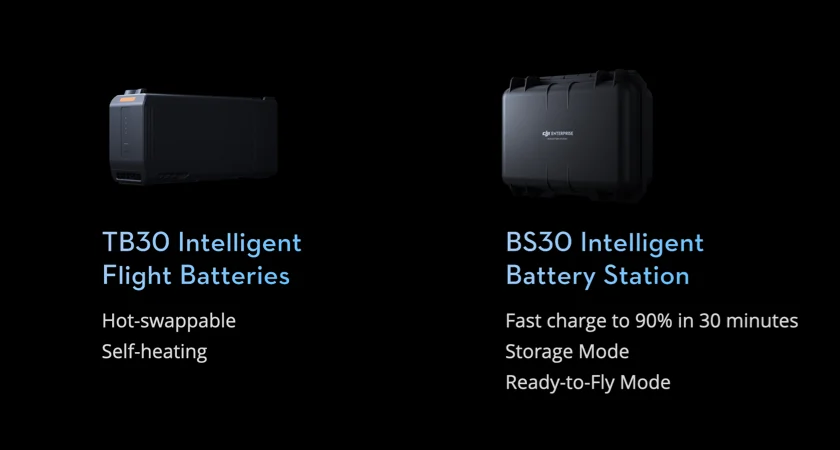 Safety features you can depend on
The M30 comes with a range of hardware and software features to ensure your equipment, payloads, and people on the ground are protected during missions. This includes the same omnidirectional collision avoidance system built-in to the M300, a comprehensive redundancy system, and an onboard computer that only allows take-off when foldable arms and payloads are locked in place.
The M30 has been designed for every possible eventuality. A health management system continuously tracks the status of critical components, and should a motor or prop fail, you'll be able to carry out a three-prop emergency landing.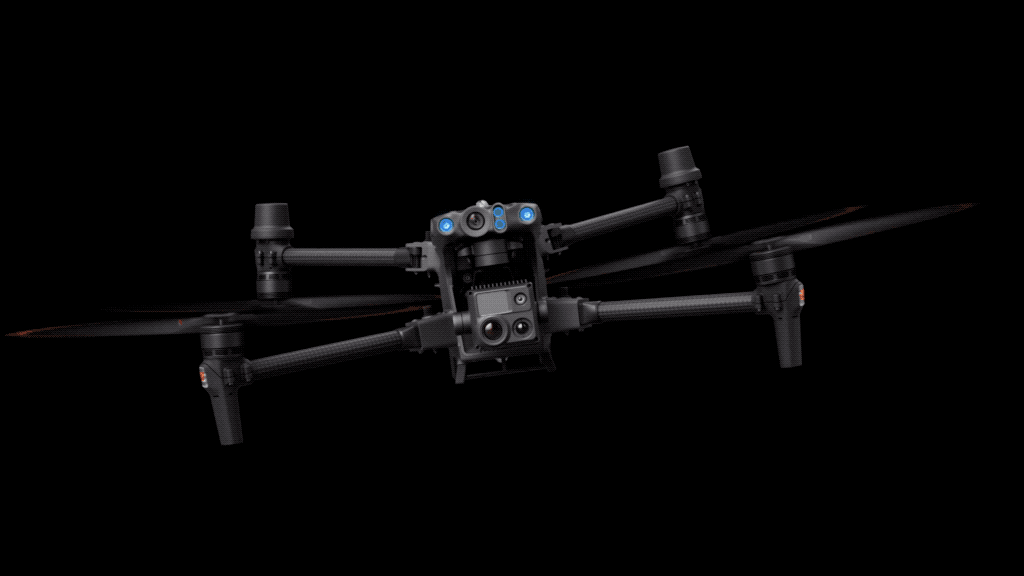 Compatibility with DJI's latest innovations
The M30 is launching alongside two major additions to the DJI Enterprise ecosystem. The first is DJI Dock, an automated docking system that houses and recharges the M30 to enable remote asset inspections around the clock. The M30 Dock Version has all of the same performance and safety specs as the standard model.
The second is FlightHub 2, DJI's professional fleet management solution. We expect the M30 to become a valuable tool for public safety operations and inspection crews. A major part of that is easy integration with FlightHub 2's coordination and synchronization capabilities, which allow you to manage ground teams, drones, payloads, pilots, and all of the valuable data they capture.
First responders, public safety crews, and asset inspection teams around the world need tools that can deliver high-fidelity data and seamlessly fit into existing workflows. The capability and portability of the new M30 make it perfect for dynamic scenarios that require rapid and in-depth data from above.
These nine features only scratch the surface of what the M30 can do. If you want to request a quote, fill out the form below and our sales network will be in touch.