Asset inspection data that is simply powerful
Trendspek is the drone data solution asset managers use to make empowered decisions and ensure absolute asset knowledge
Streamline your asset inspection process
Through your drone inspection data, you can conduct complete visual inspections from any online web browser. Drone based data delivers not only a detailed 3D model or "digital twin". It also gives you valuable asset insight without the need for you to do a site visit. Use powerful tools to analyse your assets and build a complete picture of asset condition that is cost effective.
Drone inspection data that makes sense
Mark your findings right onto your 3D model using simple, easy to use annotation cards. These allow you to firstly highlight risks, secondly classify and filter observations, and most importantly track progress. Showcase the data collected across your team with high impact reports that ensures stakeholder buy-in.
Monitor asset trends and easily compare 3D models
You wanted an easier way to monitor asset trends so you are able to better predict future maintenance. Enhance your predictive maintenance schedule and spend by closely monitoring trends. View different 3D models side by side to easily look for important differences. Refine your understanding of an ever changing asset through repeat aerial inspections.
An easy way to share asset information between stakeholders
All asset stakeholders can easily identify and discuss defects through chat and messaging tools. Comment, tag and respond to defects and observations live and easily share files with your team. Trendspek is designed for everyone; for asset owners, management and contractors. Ensure everyone shares a common goal and knows what action is needed through more structured information.
Data security, integrity and availability.
It's not surprising that organisations want to strengthen their information security posture.
Trendspek is certified to International Standard ISO27001 Information Security and ISO9001 Quality Management System, assuring clients of our commitment to the highest standards of data protection and product quality.
Powerful inspection data
Trendspek is a rich asset information source. Drone based data is comprehensive; delivering, reliable accurate records which are consistent and easily repeatable. Assets models can be delivered in their entirety, void of knowledge gaps that you normally find in traditional inspection methods.
Complete insight into your assets
With a powerful suite of tools you can complete industrial inspections, analyse defects and deliver reports. You can easily monitor progress or change over time. Make better decisions and form confident management strategies with unseen levels of detail, knowledge and insight.
Easily share data
Our philosophy is built on effective information sharing. Aligning company and stakeholder direction. We virtually place everyone "onsite" then give you to tools to effectively discuss, share information and view the full picture. This allows you to better optimise your decisions and take full control.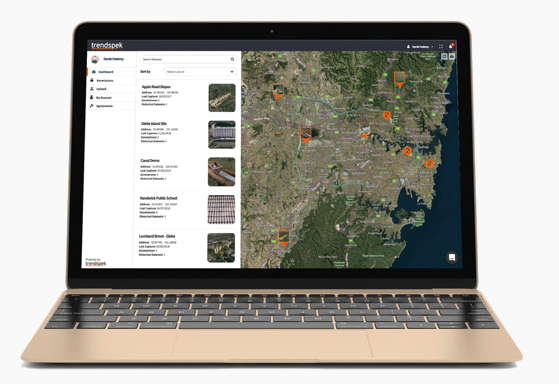 Access Your Inspection Data — Anywhere, Anytime
In an age where we expect information on demand, Trendspek delivers your asset data whenever you want, wherever you want. We believe this is crucial to effective asset management and allows you to optimise your decision making.

Complete overview

Easily search, view or filter your complete asset portfolio.


User management

Share data instantly with user roles and data permissions.


Direct data upload

Simply upload data directly to new or exisiting assets.
Digital asset counterparts "Digital Twin"
Navigate complete, accurate and detailed digital replicas of your asset. As a result you can take full control of your inspection and management workflow.
Lifelike 3D models
3D models with 1mm of detail can be achieved to provide the ultimate virtual inspection process.
Easily access your original images
With a simple click you can access original images containing your exact point of interest.
Powerful markup tools for inspection, planning and analysis

Pins

Choose from multiple pin icons and colours to place annotation cards directly on the 3D model.


Lines

Measure distance, surface distance, height and slope with a simple click.


Polygons

Measure area, tilt, azimuth and volume in seconds.
Intuitive Annotation Cards To Record Asset Condition
Collate, classify and filter your observations clearly by using the easy to use annotation cards.
Easy Annotations
Create notes, Measure distances, gradients and area. Automatically records positional data and attaches high resolution images
Custom Fields
Create custom assessment matrix labels, and include detailed descriptions
Team collaboration
Chat live with your team, upload documents and files, automatically view history logs of any amendments specific to your annotation card.
Monitor Asset Trends
The benefit of consistent reliable unmanned aerial data is the ability to compare the entire assets condition from previous data. Easily track and monitor how a defect has changed over time or assess the cause of a defect.