Sniffer4D is a complete drone-based multi-gas detection system which consists of a drone-mounted gas detection device and powerful analytic software. Sniffer4D is able to measure and visualize real-time gas concentration distribution, providing timely & actionable information for industries such as environmental protection, inspection and emergency response. Through DJI SkyPort, Sniffer4D can be seamlessly integrated with DJI M300 RTK and M210 series.
Up to 9 Parameters at a Time | Verified Data Quality | Cellular Connectivity | Plug & Play | Front & Back Warning Lights
Ultra-short Warm-up Time | Expansion Ports | API | OTA Update
Sense Up to 9 Gases at a Time
Sniffer4D is able to sense up to 9 gas and particle concentrations at one time. Users can flexibly choose or alter their sensor configurations that suit their applications and budgets.
Available Parameters (choose up to 9)
PM2.5        PM10        SO2        CO        NO2        O2        O3        VOCs
LEL / CH4        CO2        H2S       NH3        HCl        H2        Cl2        PH3
Gas Sampling                  Wind Speed & Direction                 Radiation
Other Customized Parameters…
– PM, O3, NO2, CO, SO2, VOCs for ambient air monitoring;
– VOCs, CH4, CO, Cl2, O2, NO2, H2S for HAZMAT response;
– VOCs, CH4, H2S, SO2 for oil & gas plant leak detection.
See Your Real-time Data, Anywhere
Sniffer4D's built-in cellular connectivity* & US-based Cloud server enable secure real-time data transmission with unlimited range to decision makers in different locations.
*Supports 4G/LTE/3G/EDGE/GPRS
Advanced Real-time Visualization
Sniffer4D Mapper software visualizes and analyzes data from one or multiple Sniffer4D(s) in real time, providing intuitive & insightful information for decision makers.
One-click Result Delivery
The drone carries a Sniffer4D and a stabilized camera together – gas data from Sniffer4D, pictures from the camera and flight data from the drone are transmitted to the remote controller of the drone in real time (only for DJI M210). Meanwhile, Sniffer4D is able to transmit real-time gas data to multiple PCs at the mission site, control center or other places through its independent 4G/telemetry radio. Sniffer4D also backs up mission data to the onboard SD card at the same time.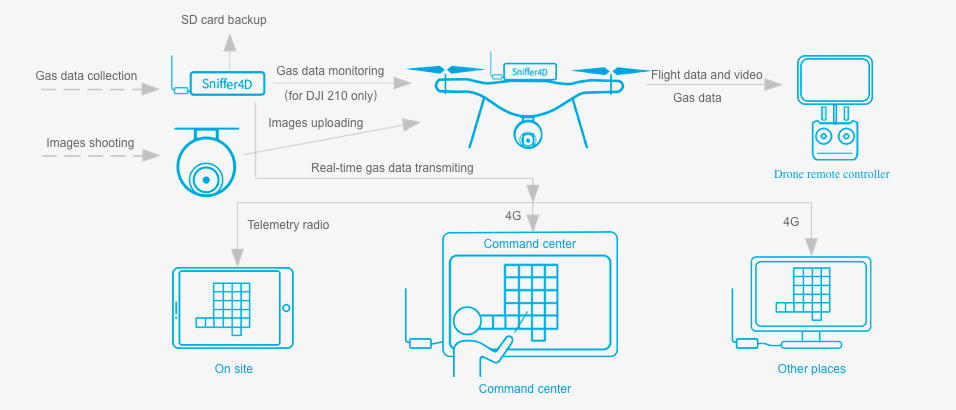 Data can be transmitted to different places in real time.
Our software provides intuitive visualizations for effective and timely decision making.
Data can be transmitted to multiple places
Compatible drone Platform:
M300RTK M200 series
Application
Leak Detection
First Responder
Environmental Monitoring
Measuring Fuel Sulfur Content (FSC) of ships