Pix4D fields
Pix4Dfields builted from the input of farmers, agronomists, and breeders.
To give you fast and accurate maps while in the field, with a simple yet powerful interface fully dedicated to agriculture.
Why Pix4Dfields?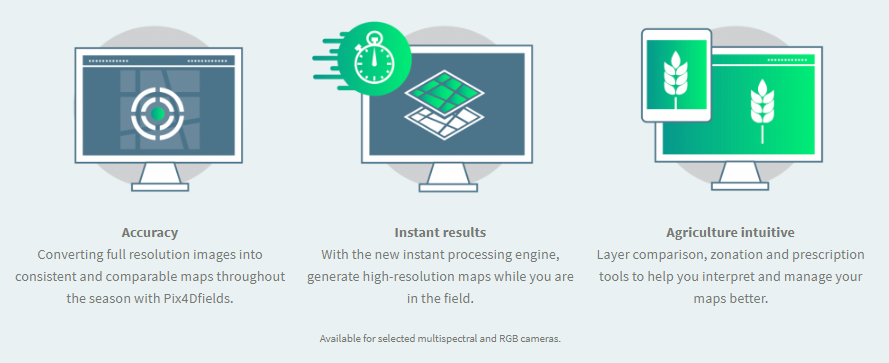 Decisions start in the field
Addressing the most common fields of application like digital scouting and crop protection, crop production, insurance and breeding with Pix4Dfields.
Technical specifications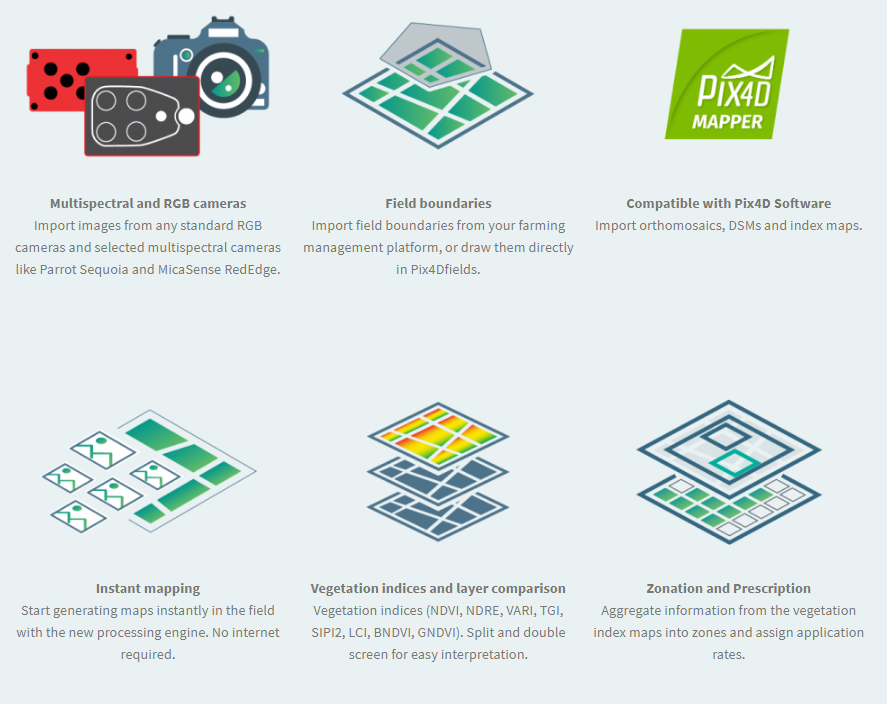 Pix4Dfields outputs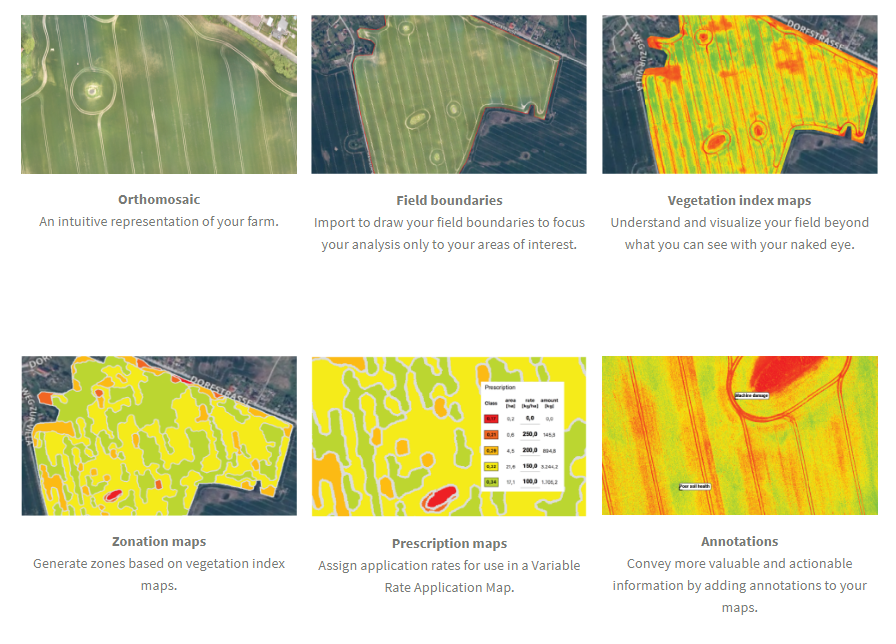 Pix4Dfields FAQ
1. What is Pix4Dfields?
Pix4Dfields is a new product by Pix4D. A software fully dedicated for agriculture, built from the input of farmers, agronomists, and breeders. Pix4Dfields is meant to give you fast and accurate maps while in the field, with a simple yet powerful interface fully dedicated to agriculture.
2. How does Pix4Dfields work?
Pix4Dfields uses a direct-to-orthomosaic photogrammetry pipeline optimized for fast processing of mostly flat terrain from drone imagery. By focusing on this specific domain we can provide high quality maps processed in a fraction of the time, allowing immediate analysis while still on site using a laptop computer.
3. How do I try Pix4Dfields?
Pix4Dfields comes with a 1-month subscription for free.
Existing Pix4D users:
Download Pix4Dfields from the welcome page. By logging in with your existing credentials we will create a 1-month subscription for free automatically.
New Pix4D users:
To create a Pix4D user account go to the sign-up page. Upon completion you will be redirected to the Pix4Dfields welcome page where you can download the software and demo datasets.
4. First time login for new and existing Pix4D users:
Every Pix4D account comes with a 1 month free subscription of Pix4Dfields. After installing the software proceed to login with your account details. Available licenses will be displayed on the screen. Select the 1-month free subscription and click OK.
5. Is Pix4Dfields available for macOS and Windows?
Yes, Pix4Dfields is now available for both macOS and Windows.
6. Is Pix4Dfields a feature in Pix4Dmapper?
No, Pix4Dfields is a standalone software for agriculture.
7. Is Pix4Dfields compatible with Pix4D software?
Yes, you can import the exports from Pix4Dmapper into Pix4Dfields.
8. Does Pix4Dfields process the data in cloud or locally?
Pix4Dfields newest processing engine processes the data locally, offline, on your desktop.
9. What's Pix4Dfields Cloud?
With every Pix4Dfields licence you will have access to Pix4Dfields on your desktop as well as to the Pix4Dfields in the cloud.
Pix4Dfields cloud is a re-branded Pix4Dag Cloud, keeping the same processing pipeline and functionalities as before: timeline and collaboration. In Pix4Dfields Cloud you can import multispectral images from cameras like Parrot Sequoia and MicaSense RedEdge, as well as standard RGB images to generate orthomosaics, DSMs and NDVI index maps.
10. What's the difference between Pix4Dfields Desktop and Pix4Dfields Cloud?
Pix4Dfields Desktop is powered by the brand new instant processing engine, while Pix4Dfields Cloud is powered by the same engine as Pix4Dmapper and former Pix4Dag. This difference might be the source for slightly different absolute values when comparing outputs from both platforms. The Pix4Dfields team is working towards making those slight differences negligible.
11. I redeemed a Pix4Dag voucher and I got a Pix4Dfields licenses instead, what should I know?
As of June 7th we stopped creating new Pix4Dag licenses. Pix4Dfields is our new software for drone mapping in agriculture and we believe this 1-month license will get you closer to a successful workflow in the industry. Please, visit our Pix4Dfields page and Knowledge Base for more information. Don't hesitate to reach out to us if you have any question.
12. What is the price of Pix4Dfields?
Pix4Dfields is offered with monthly and a yearly licenses, please visit our pricing page for more information.
13. Does Pix4Dfields have a perpetual licence?
No, Pix4Dfields is only offered as a monthly or a yearly subscription.
14. Are there any bundle offers available for Pix4Dfields, Pix4Dmapper and Sequoia+?
Yes. Pix4Dfields is offered with Sequoia+ on our store. For other bundle options please contact us directly.
15. If I was a beta tester, what happens with the Pix4Dfields software version I currently have?
The software for beta testing we gave you access to comes with a time restriction of two months. This means from the date you activated the software you will no longer be able to use it after the 2 month mark. We would suggest you get one month for free in order to get the latest software version with all the latest features and upgrades, as well as the version for Windows, which is now available. Or purchase it directly from our store.
16. What is the difference between Pix4Dfields, Pix4Dmapper and Pix4Dag?
Pix4Dmapper is a software focusing on surveying, while Pix4Dfields is a software dedicated to agriculture. Each product comes with tools and features that cater more to the industry they were designed for. To see more details you can have a look at our comparison table.
17. What will happen with Pix4Dag?
With the launch of Pix4Dfields, Pix4Dag will no longer be available on the store or among the Pix4D products. For active Pix4Dag users, they will be able to continue using it without any implications, however they will not be able to renew their Pix4Dag license once it expires. We are really excited about Pix4Dfields and believe that everyone in working in the agriculture industry will be happy to start using Pix4Dfields.
18. Which sensors can I use for Pix4Dfields?
Pix4Dfields is a product specialized for Agriculture. We support selected multispectral sensors like Parrot Sequoia cameras or MicaSense RedEdge cameras. We also support standard RGB and modiffied RGB cameras*. More cameras will be supported in the future. Don't hesitate to reach out to our support and let them know what cameras you would like to see.
*according to the Pix4D camera database
19. Does Pix4Dfields support MicaSense RedEdge cameras?
Pix4Dfields is compatible with the MicaSense RedEdge and RedEdge-M multispectral cameras. A one-time configuration update of the RedEdge-M camera is needed before processing. Go here for further details.
20. Which drones are compatible with Pix4Dfields?
Pix4Dfields, just like any other Pix4D product is platform agnostic. You can process images acquired from any platform.
21. How can I download and install the Pix4Dfields software?
For more detailed information on how to download and install Pix4Dfields please visit our Pix4Dfields Knowledge base.
22. Are there any demo data sets I can use to test Pix4Dfields?
Yes, we have prepared demo datasets for you to use during the testing period. You can access them on our Pix4D Knowledge base. Multispectral demo data setRGB demo dataset
23. How can I get help from support about Pix4Dfields?
You can contact our support team if you need help with Pix4Dfields. Just be sure you indicate you need help with Pix4Dfields.
24. What hardware specifications do you need to run Pix4Dfields?
Please check the detailed hardware specifications on our Pix4Dfields Knowledge base.
25. What inputs and outputs can I use and export in Pix4Dfields?
Please check the detailed input and output list on our Pix4Dfields Knowledge base.
26. Does Pix4Dfields support creating custom vegetation indices?
Yes, with the Pix4Dfields version 1.3 you can now create custom indices by using the index calculator. Pix4Dfields also comes with a predefined list of the most used and popular indices: NDVI, NDRE, VARI, TGI, SIPI2, LCI, BNDVI, GNDVI MCARI. To learn more about how to use these vegetation indices, please visit our Pix4Dfields Knowledge base.
27. What's the difference between a map generated in Pix4Dmapper and Pix4Dfields?
a) Pix4Dmapper takes fine-grained local variations in altitude into account when building maps, whereas Pix4Dfields uses a coarser ground model. If you have a lot of 3D structure in your maps, Pix4Dmapper will give more accurate results for the areas with the 3D structure. However, Pix4Dfields will still give good results on any surrounding flat areas.
b) Pix4Dfields can operate with lower overlap requirements compared to Pix4Dmapper.
28. Does Pix4Dfields include the same radiometric correction module as Pix4Dmapper?
Pix4Dfields includes a radiometric correction module that corrects for exposure, vignetting, etc. Pix4Dmapper offers a more complex radiometric correction module; this module will be included in Pix4Dfields in the near future. At that point Pix4Dmapper and Pix4Dfields will generate equally radiometrically accurate results.
29. What's the geometric accuracy of Pix4Dfields?
Absolute: On flat terrain, it is accurate to 1 GSD, or the GPS accuracy of the camera, whichever is larger.
Relative: On flat terrain, accurate to 1 GSD of output orthomosaic.
On non-flat terrain, because Pix4Dfields uses a coarser ground model, no guarantees can be made. This will be fixed in a future release (with mesh ground plane) where we can guarantee certain accuracies even if the ground isn't flat.
Note: flat means no curvature. The terrain can be inclined, and as long as there is no ground curvature/structure the Orthomosaic will still be accurate.
30. What is the difference between the Digital Surface Model (DSM) generated in Pix4Dfields and Pix4Dmapper?
While both DSMs are outputs generated with Pix4D software, each is more specific to the industry the software is created for. With the DSM generated in Pix4Dmapper you can get the accurate elevation value of each pixel, with or without above-ground objects, ready for your preferred GIS workflow. DSMs generated in Pix4Dfields capture major ground shapes but are less sensitive to small structures. They are a useful tool when addressing irrigation variability and pinpointing erosion prone areas, but are not intended for high resolution usage. The absolute altitude of the DSM generated in Pix4Dfields will depend on the quality of the GPS information from the image acquisition.
31. Is there going to be plant counting implemented in Pix4Dfields in the future?
Yes, our machine learning team is working on it, so expect it in the near future. If you would like to get notified about our new features and upgrades you can join our Pix4D agriculture newsletter.
32. Does Pix4Dfields process thermal imagery?
At this point in time Pix4Dfields doesn't process thermal images, however depending on the frequency of requests for this feature, we might incorporate it in the future.
33. In zonation how do you decide if the zones are significantly different from each other?
Pix4Dfields automatically calculates the zones based on how many classes and level of detail you select. The values are based on clustering regions together.
34. Future Development
Pix4Dfields will be developing, growing and implementing new features specifically based on our user feedback. With this constant development you can expect updates in our software that will translate into better decision making catered for agriculture.