Through the DJI SkyPort adapter, mounting and powering both the Altum and RedEdge-MX is simple and quick. Need to switch out a sensor? Simply twist the quick connect mount and remove the sensor. Ready to fly again? Twist the mount back in place and you are ready to go.
Our rugged, built-to-last, professional multispectral sensor for agricultural drone mapping. Same technology as RedEdge-M, now ready to integrate with DJI SkyPort enabled drones.
Five narrow band multispectral sensors.
Capture plant health images and RGB (color) images in one flight.
High image resolution; 8 cm/pixel at 400 ft (120 m).
Single SD card stores all images with geotags.
DLS 2 with embedded GPS for easier integration, enhanced light calibration.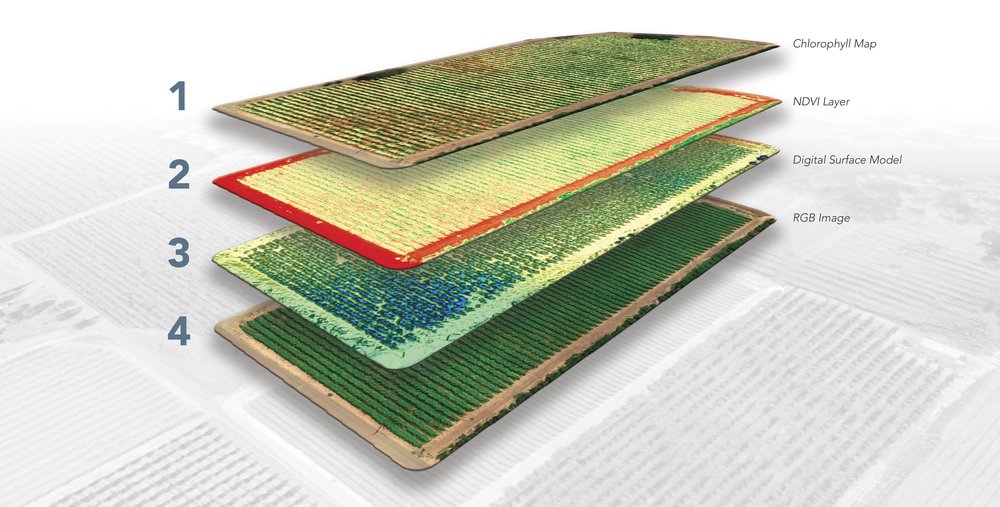 Chlorophyll Map: The red edge spectral band is the star here, working in conjunction with the other bands to provide a more accurate measure of not just plant vigor but plant health.
NDVI Layer: This commonly known index compares the reflectance of the red band with that of the near-infrared band. However, this index alone provides limited information. 
Digital Surface Model: A DSM is an astonishingly advantageous tool in any agronomist's arsenal, primarily because of its use in evaluating surface properties and water flow.
RGB Image: RedEdge-MX features global shutters for distortion-free images, including narrowband red, green, and blue bands for RGB color images that when processed are aligned to all visible and non-visible bands and vegetation indices.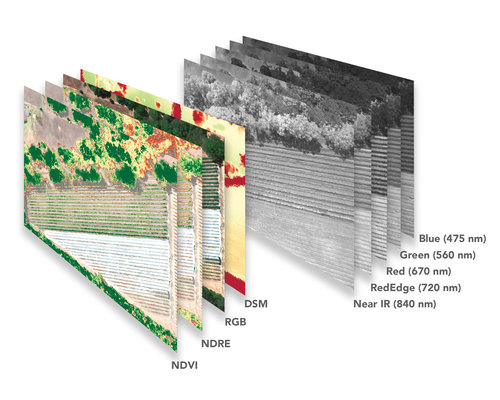 RedEdge-MX is action-ready, integrating seamlessly no matter the platform.
It has a compact design and is lightweight to work with as many drone models as possible. See integration kits available.