The DJI Mavic Air 2 Fly More Combo combines a foldable and portable frame, high-end camera system, and a host of accessories to get you flying quickly. The 3-axis gimbal sports a 1/2″ CMOS sensor capable of capturing 8K Hyperlapse time-lapse shots, 4K60 video, 240 fps slow-motion 1080p video, and up to 48MP stills. In addition, both photos and video can be captured in HDR for more dynamic results. All your footage can be saved to 8GB of internal storage and on optional SD cards up to 256GB in size.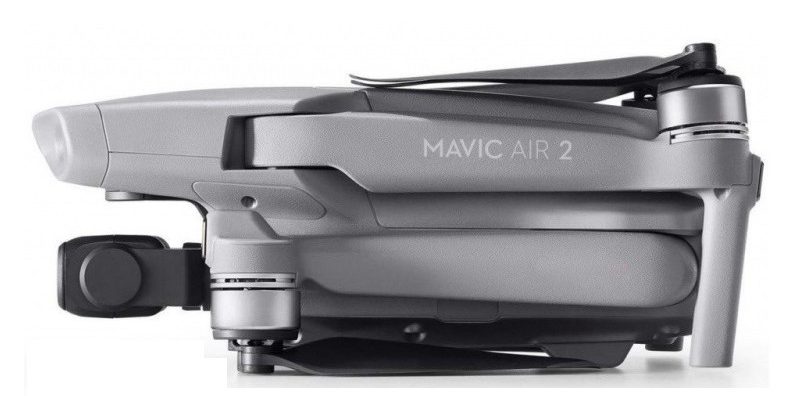 Helping you capture all this stunning footage is a host of built-in tracking technologies and intelligent obstacle avoidance. FocusTrack combines three different tracking features with abilities that include tracking of subjects and following predetermined flight paths. The Advanced Pilot Assistance Systems 3.0 (APAS) is aware of the Mavic Air 2 in 3D space and its proximity to people and objects to help avoid accidental collisions. Return to Home (RTH) and precision landing options are supported so you can easily and safely retrieve the drone when you finish filming.
A robust 3500mAh battery can keep the Mavic Air 2 flying for up to 34 minutes at a time. While in the air, you can fly the drone at speeds up to 43 mph up to 11.5 miles away. The included remote controller supports OcuSync 2.0 technology to provide you with flight telemetry data and a live view of what the drone sees on your attached smartphone. It can transmit up to 1080p quality video from up to 6.2 miles away. Altogether, the Mavic Air 2 gives you the tools you need to expand your filmmaking with creative and professional quality aerial footage.


Mavic Air 2 takes power and portability to the next level, offering advanced features in a compact form factor. Intelligent shooting functions and excellent image quality put aerial masterpieces within reach. Safer, smarter flight enables you to up your game while fully enjoying the creative process.
Master creative aerial shots thanks to effortlessly smooth 4K/60fps video. The D-Cinelike flat color profile retains more information for post-processing. The HEVC (H.265) video codec records more image information, uses less storage, and preserves the dynamic range and detail of your footage, ensuring next-level content.
The secret to incredible HDR video is a high-performance Quad Bayer image sensor. A single frame separates exposure levels in different areas, accurately capturing light and dark details. The images are layered to create a colorful, balanced, and eye-catching picture with higher dynamic range.
With a 1/2-inch CMOS sensor, Mavic Air 2 captures impressive 48MP photos. Get ready to take your aerial content to the next level.



Mavic Air 2 features SmartPhoto, which integrates scene recognition, HyperLight, and HDR into one mode for optimal results. Scene recognition optimizes different camera parameters for various scenes and supports intelligent recognition of five categories: sunset, skies, grass, snow, and trees.Mavic Air 2 offers DJI's most advanced panorama mode, with a higher dynamic range and colors that are vivid and incredibly accurate.
Mavic Air 2 combines a powerful camera with intelligent shooting modes for stunning results. Creative aerial photography has never been this easy. Professional-quality footage is effortless thanks to FocusTrack. This easy-to-use suite of intelligent tracking modes includes Active Track 3.0, Spotlight 2.0, and Point of Interest 3.0, allowing you to unleash your creativity. Mavic Air 2 supports Hyperlapse in 8K, allowing you to warp time and space for especially stunning footage. Best of all, you can achieve this shot without complex post-processing. Choose from Free, Circle, Course Lock, and Waypoint modes, select the shooting location, and the DJI Fly app will do the restCapture cinematic video clips automatically with QuickShots. With just a few taps, Mavic Air 2 plans and flies a complicated aerial route for a professional-quality shot.
OcuSync 2.0 has a video transmission distance of up to 10 km and can also deliver 1080p FHD resolution livestream directly from the drone's camera. Enjoy more freedom for exploring and more clarity for that
perfect shot.