Revolutionized Structure. Reliable Operation.
The all-new modular design of the T16 simplifies assembly and accelerates daily maintenance. An IP67 rating provides reliable protection for key components of the drone. A light, yet durable airframe is made of carbon fiber composites and can be quickly folded to 25% of its original size, making it easy for transportation. Both the battery and spray tank are easily swappable, significantly improving the efficiency of power and liquid supply.
Higher Payload. Enhanced Efficiency.
Supported by its outstanding flight performance, the T16 spray tank can carry up to 16 L, and the spray width has increased to 6.5 m. The spraying system has 4 delivery pumps and 8 sprinklers with a maximum spray rate of 4.8 L/min. The T16 can spray 24.7 acres (10 hectares) [1] per hour. The spraying system also has an all-new electromagnetic flow meter, providing higher precision and stability than conventional flow meters.
Powerful System. Increased Safety.
The all-new modular aerial-electronics system in the T16 has dual IMUs and barometers and adopts a propulsion signal redundancy design to ensure flight safety. The GNSS+RTK dual-redundancy system supports centimeter-level positioning. It also supports dual-antenna technology that provides strong resistance against magnetic interference.
Dual IMUs
GNSS+RTK Dual Redundancy
Dual Barometers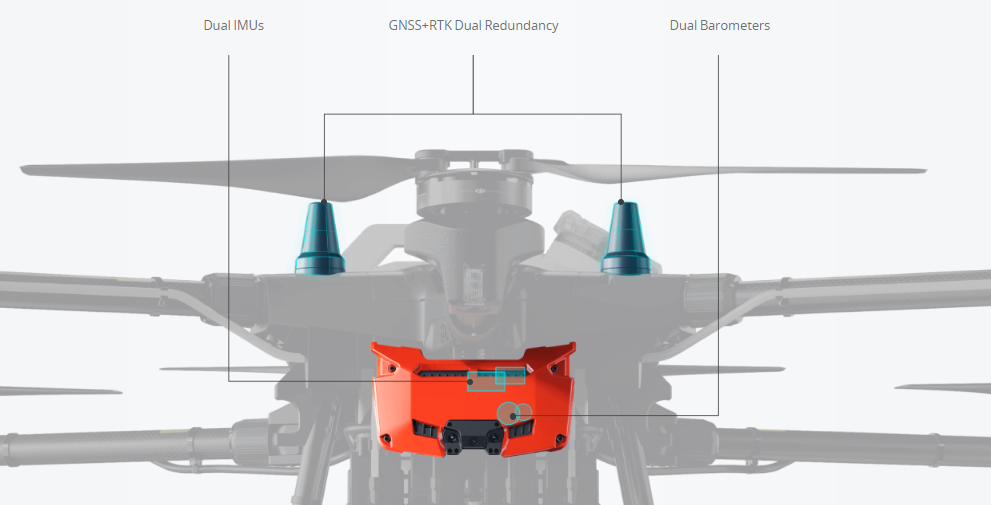 Upgraded Radar. Easier Operation.
The T16's upgraded radar system can sense the operating environment during the day or at night, without being affected by light or dust. It has greatly improved flight safety with forward and backward obstacle avoidance and a horizontal FOV (field of view) of 100°, double that of previous DJI agricultural drones. It can also detect the angle of a slope and adjust to it automatically even in mountainous terrain. This innovative radar system adopts Digital Beam Forming (DBF) technology, which supports 3D point cloud imaging that effectively senses the environment and helps to circumvent obstacles.
*DBF Imaging Radar: 3D Point Cloud Imaging
Different Needs. Different Modes.
The T16 provides different modes for flat ground, mountains, and orchards, to meet most operational needs. Up to five T16 aircraft can be controlled by a single T16 remote controller simultaneously, doubling the efficiency of single-pilot operation.
Mountains:
An outstanding propulsion system and slope angle detection technology make it easy to operate in mountainous terrain.
Orchards:
Use the T16 with DJI Terra to build a 3D model of the operation area and identify fruit trees with AI technology. Then, create 3D operation plans according to tree distribution and altitude.
Flat Ground:
Manual Operation Mode, A-B Route Operation Mode, and Route Operation Mode are available to cover most operational needs.
Comprehensive Solution. Intelligent Operation.
DJI Agriculture is committed to making the workflow of crop protection more efficient and intelligent. With drones and effective tools, DJI's agriculture solution greatly simplifies operations, improves efficiency, and increases industrial upgrades.

1. Phantom 4 RTK
Centimeter-level Positioning
High-precision Data Collection
Image Collection of 247 Acres Within 25 Minutes [3]
2. DJI Terra
Real-time Mapping
2D/3D Modeling
AI Operation Planning
3. DJI Agriculture Management Platform
Operation Data Management
Personnel Arrangement
4. Agras T16
High Efficiency Operation
24.7 Acres Within 1 Hour
2600W 4-Channel Intelligent Battery Charger

Up to four batteries can be charged simultaneously. When using the single-channel quick charging mode, a full charge only takes 20 minutes, a 50% increase in speed from the previous generation. The charger has a built-in battery health management system that monitors critical data in real time, such as voltage and temperature, to ensure charging safety.

T16 Intelligent Flight Battery

The T16 Intelligent Flight Battery has a capacity of 17,500 mAh and a 14S high voltage system that reduces power consumption. It is designed with an IP54-rated all-metal housing, and heat dissipation efficiency has increased by 140% from the previous generation. Supported by cell-balancing technology, the battery has an increased charging cycle of up to 400, [4] 100% higher than the previous generation, significantly reducing operating costs.