Multi-Aircraft Control Mode
Doubled Efficiency and Control Range


A single MG-1P controller can control up to five MG-1P aircrafts simultaneously, doubling the efficiency of single-pilot operations.This new intelligent remote controller extends the control range to up to 3 km[1] and supports high-resolution video transmission within that range, ensuring flight safety.The new remote controller also supports 4G wireless communications, an interchangeable battery, and new antenna design, providing even more convenience for daily operations.
FPV Camera
Safety with Vision
MG-1P series drones are equipped with 123° FOV wide-angle cameras that transmit clear, front-facing live views. For long distance operation, the remote controller's built-in display indicates obstacle avoidance information to ensure safety. With the help of the FPV camera feed, users can effortlessly record A/B points or waypoints, increasing work accuracy and efficiency.
Flight Performance
Stable, Reliable, and Worry-Free
With eight rotors, MG-1P Series Agriculture Drones employ advanced propulsion and control algorithms to ensure flight safety even if one arm or motor breaks during flight. The motor drive system features a redundant communication mechanism that allows the system to reroute control signals during operation if necessary.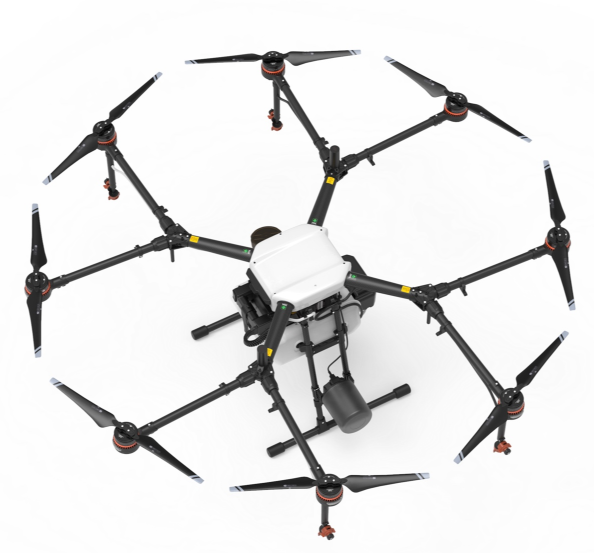 Upgraded High-Precision Radar
Comprehensive Safety
The MG-1P's improved radar system integrates the three high-precision terrain detection radars from previous MG-1S aircraft with an obstacle avoidance radar. This doubles detection sensitivity and allows for multi-directional detection,[2]significantly increasing the aircraft's ability to sense obstacles and follow terrain automatically. The MG-1P can detect centimeter-wide power lines from up to 15 m away. This protects the aircraft not only from power lines, but from trees branches and other common obstacles as well. Active Obstacle Sensing and Avoidance works during the day or at night without being influenced by light or dust. Plus, the radar system's Ingress Protection rating has increased to IP67, making the system even more resistant to dirt, debris, and water.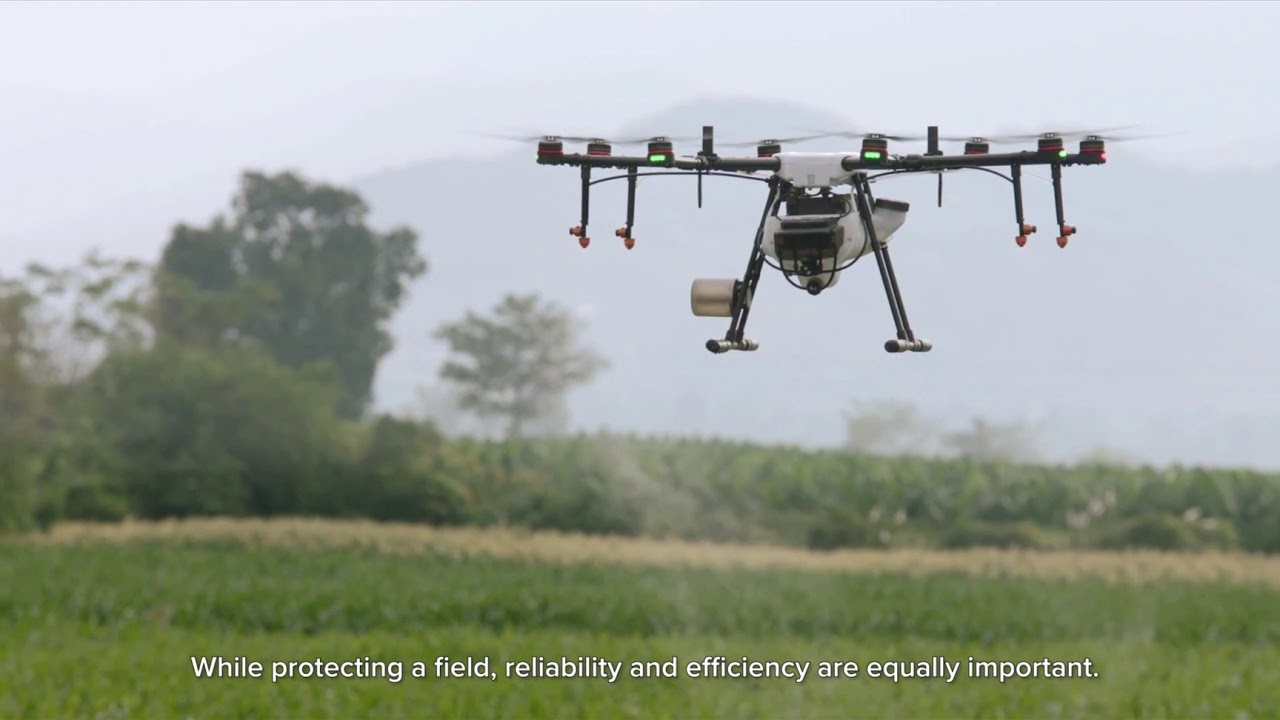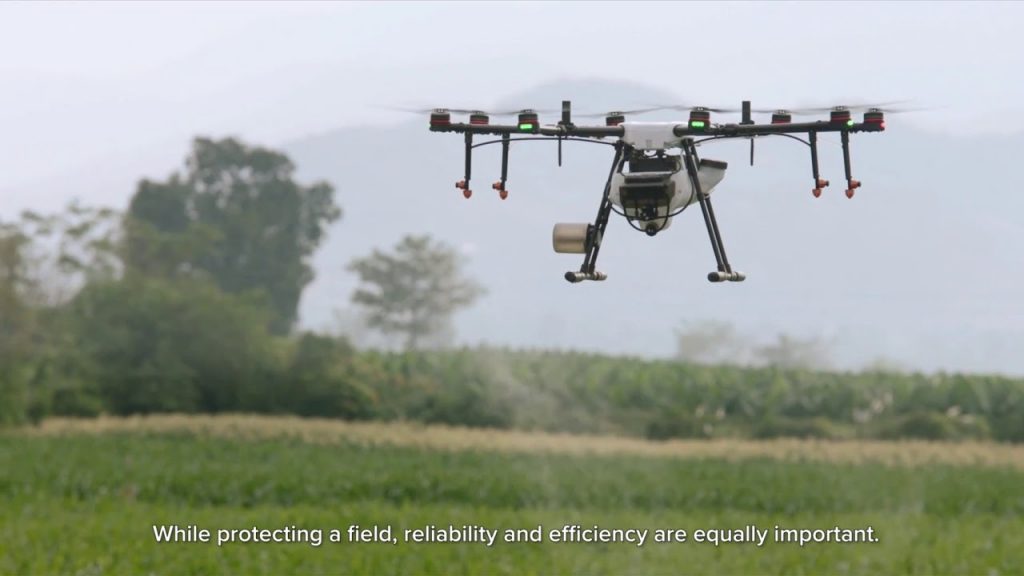 MG-1P RTK
Precise Positioning with Interference Resistance
The MG-1P RTK is powered by DJI's high-precision D-RTK navigation and positioning technology which offers centimeter-level positioning that is essential for industrial applications. Dual-antenna direction finding technology gives strong resistance against electromagnetic interference, ensuring flight safety even when the aircraft is flying near high-voltage power lines or in other complicated environments.The MG-1P RTK works in tandem with a new base station and D-RTKTM handheld mapper,[3]which receives positioning data from the onboard RTK module to accurately measure fields and transmits results to the remote controller for precise planning.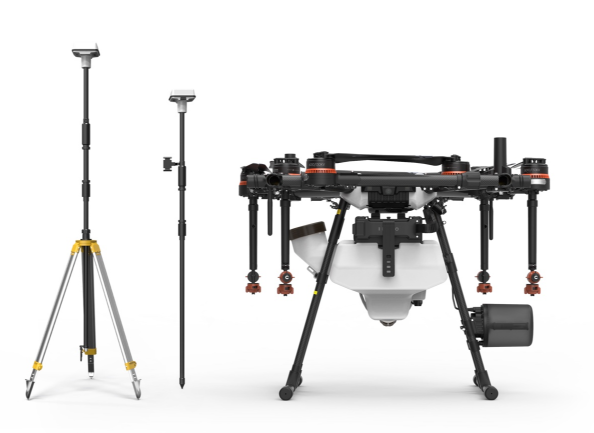 New operation modes have been added to the MG app v2.0. Multi-Aircraft Control mode is easy and intuitive, fully empowering users to control multiple aircraft with a single remote controller. Another new operation mode is Banked Turning, which uses optimized flight routes and increases working efficiency by up to 20%. Apart from the new modes, A-B Route Operation Mode, Manual Operation Mode, and Manual Plus Operation Mode are all still available to allow a multitude of control options.
Agriculture Solution Package 2.0
The Agriculture Solution Package 2.0 is a comprehensive drone solution for manufacturers building aircraft for agriculture. It consists of the A3-AG 2.0/N3-AG 2.0 Flight Controller, Agricultural Management Unit (AMU), a delivery pump, high-precision microwave radars, a customized industrial controller, a flow meter, and the E Series propulsion systems. Also included is the newly added DJI Agriculture Management Platform and high-precision obstacle avoidance radar module. The Agriculture Solution Package 2.0 empowers manufacturers to develop dedicated and customizable flying platforms and adapt to different needs, environments, and demands.
AIRCRAFT FRAME
Diagonal Wheelbase:
1500 mm
Frame Arm Length:
619 mm
Dimensions:
MG-1P: 1460×1460×578 mm (arms unfolded, without propellers)
780×780×578 mm (arms folded)MG-1P RTK: 1460×1460×616 mm (arms unfolded, without propellers)
780×780×616 mm (arms folded)
FLIGHT PARAMETERS
Total Weight (without battery):
9.7 kg
Standard Takeoff Weight:
23.8 kg (MG-1P)
23.9 kg (MG-1P RTK)
Max Takeoff Weight:
24.8 kg (at sea level)
Max Thrust-to-Weight Ratio:
1.71 (with 23.8 kg takeoff weight)
Power Battery:
Designated DJI Battery (MG-12000P)
Max Power Consumption:
6400 W
Hovering Power Consumption:
3800 W (with 23.7 kg takeoff weight)
Hovering Time*:
20min (@12000 mAh & 13.7 kg takeoff weight)
9 min (@12000 mAh & 23.7 kg takeoff weight)
*Hovering time acquired at sea level, with wind speeds lower than 3m/s.
Max Operating Speed:
7 m/s
Max Flying Speed:
12 m/s(P & F mode, with GPS),
15 m/s (A mode)
Max Service Ceiling Above Sea Level:
2000 m
Recommended Operating Temperature:
0 to 40°C
AIRCRAFT RTK
Positioning System:
GPS+GLONASS (global) or GPS+Beidou (Asia-Pacific)
Frequency Point:
GPS L1&L2, GLONASS F1&F2
Asia-Pacific: GPS L1&L2, Beidou B1&B2
Positioning Accuracy:
Flat Surface: 1 cm + 1 ppm
Height:
2 cm + 1 ppm
Orientation Accuracy:
(0.2/R) °R is the distance between two antennas and the unit is meter.
Velocity Measurement Accuracy:
0.03 m/s
REMOTE CONTROLLER CHARGER
| | |
| --- | --- |
| Model: | A14-057N1A |
| Voltage: | 17.4 V |
| Rated Power: | 57 W |
BATTERY
| | |
| --- | --- |
| Battery Model: | MG-12000P |
| Voltage: | 44.4 V |
| Discharge Rate: | 20 ℃ |
| Protection Rating: | IP54 |
| Capacity: | 12,000 mAh |
| Weight: | 4.0 kg |
HIGH-PRECISION RADAR MODULE
Model:
RD2412R
Working Frequency:
MIC & KCC: 24.05 GHz – 24.25 GHz
SRRC & CE & FCC: 24.00 GHz – 24.25 GHz
Equivalent Isotropic Radiated Power (EIRP):
MIC/KCC/FCC/CE: 20dBm; SRRC: 13dBm
Radar Format:
FMCW
Operating Temperature:
-10 to 40°C
Accuracy Range
0.10 m
Radar Dimensions:
109×152 mm
Power Input:
DC 12 V – 30 V
Radar Weight:
406 g
Power Consumption:
12 W
Storage Temperature:
If storing < 3 months: -20 to 45°C;
If storing > 3 months: -0 to 28°C
Hold Altitude & Terrain Follow:
Altitude Measurement Range: 1-30 m;
Hold Altitude Range: 1.5-3.5 m
Obstacle Sensory Range:
1.5-30 m
(Varies according to the material, position, shape, and other properties of the obstacle)
Working Condition:
The aircraft's relative altitude is greater than 1.5 m and flying speed is less than 7 m/s.
Safety Distance:
2.5 m
Obstacle Avoidance Direction:
Forward and backward obstacle avoidance according to flying directions
Protection Rating:
IP67
SPRAY SYSTEM
| | |
| --- | --- |
| LIQUID TANK | |
| Volume: | 10 L |
| Standard Operating Payload: | 10 kg |
| Max Battery Size: | 151×195×70 mm |
| NOZZLE | |
| Model: | XR11001VS (0.379 L/min) |
| Recommend Model: | TX-VK8 (0.525L/min) |
| Quantity: | 4 |
| Droplet Size (XR11001VS): | 130 – 250 μm (subject to working environment and spraying speed) |
REMOTE CONTROLLER
Model:
GL300N
Operating Frequency:
2.400 – 2.483 GHz (Europe, Japan, South Korea)
5.725 – 5.850 GHz (China, USA)
Max Transmission Range:
NCC/FCC: 5 km;
SRRC/CE/MIC/KCC: 3 km
EIRP:
2.4GHz: CE/MIC/KCC:<20 dBm;
5.8GHz: SRRC/NCC/FCC:<26 dBm;
Remote Controller Battery:
External Battery 4920mAh, 2s LiPo
Built-in Battery 320mAh, 2s LiPo
Output Power:
16W
Operating Temperature Range:
-10 to 40°C
Storage Temperature Range:
If storing < 3 months: -20 to 45°C
If storing > 3 months: 22 to 28°C
Charging Temperature Range:
5 to 40°C
REMOTE CONTROLLER CHARGING HUB
| | |
| --- | --- |
| Model: | WCH2 |
| Output Voltage: | 8.7V |
| Max Output Current: | 6A |
MG INTELLIGENT BATTERY CHARGER
| | |
| --- | --- |
| Rated Input Voltage: | 100-240 V |
| Max Input Current: | 15A |
| Number of Batteries Available for Simultaneous Charging: | 2 |
| Charging Mode: | CC/CV |
| Rated Output Voltage: | 50.4 V |
| Total Output Power: | 2400 W |