CoroCAM® 8 UAV Remote Controlled Combined LWIR and Solar Blind UV camera
The CoroCAM® 8 UAV is a combined thermal IR, Solar Blind corona and video camera, sized and balanced to fit into a standard commercial gimbal and to be lofted by an Enterprize grade UAV. The UAV can carry the camera closer to the hardware under inpsection, which allows the visible camera to capture more detailed images of the physical condition of the components. The UAV allows for inspection from various directions of hard to reach overhead hardware. Fault maintenance priority is assigned using the inspection guide. The camera can also be dismounted for hand carried inspections.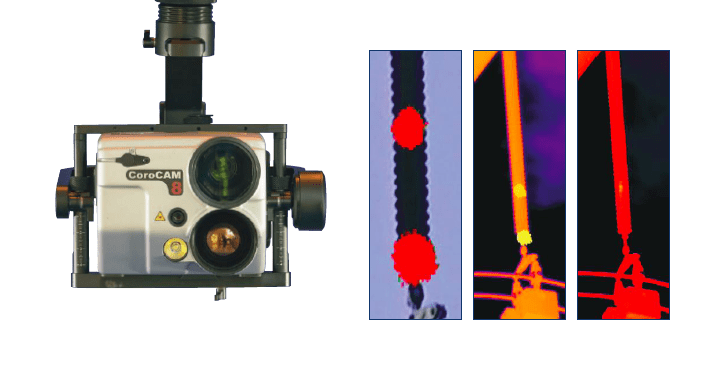 High sensitivity UV detector, which can detect UVc light at 2.05 x 10 -18 Watt/cm2, this allows for the detection of the
smallest corona discharges.
9Hz (or optional 25Hz) Radiometric IR camera module.
Syncronized Smooth or Stepped Zoom of all 3 camera channels.
IR & UV channels are zoomed digitally, visible is zoomed optically to minimum FOV, then digitally enlarged.
Manual or Autofocus for the Visible channel, UV and IR channels has manual focus or can be synchronized with the Visible
channel.
Onboard still images, video and radiometric data recording in high-quality formats.
Metadata recording of camera settings and measurements plus environmental variables manually entered – distance, air, temperature, air pressure, ambient humidity, and wind speed.
The On Screen Display (OSD) shows all the relevant information.
Manual or Auto Exposure of Visible and IR (Level) cameras, UV (Gain) is manually set.
Integrated GPS with internal and complementary external booster antenna.
UV overlay colors have 6 pre-sets or 255 selectable hue levels.
UV overlay translucency control.
UV threshold, Integration & Noise Reduction control.
14 IR color palettes with contrasting Isotherms.
Auto or Manual IR Span.
Camera software update via download to SD card.
Internal or External power supply.
15 Month warranty.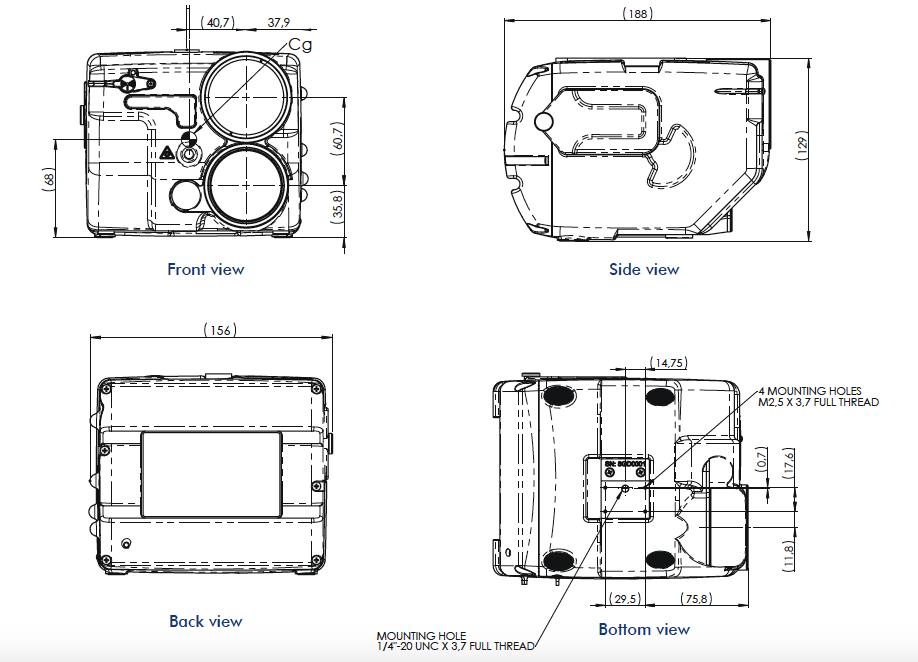 ULTRAVIOLET CHANNEL

Typical Sensitivity:

SB (240 – 280 nm) 2.05×10-18 Watt/cm2, 3pC @ 20m (Korea Electrotechnology Research Institute | IEC 60270:2000) | 13.16dBμV(RIV) @ 1MHZ @ 10m (Korea

Electrotechnology Research Institute – NEMA107-1987)

 

NSB (240-300 nm) ~ 1 x 10-18 Watt/cm2, 0.8pC @ 15 m Tested & certified by Innogy SE-Eurotest Germany: IEC 60270:2000

Field of view:

8° Horizontal x 6° Vertical ~ 10° Diagonal | Zoom Range (optical): 1x | Zoom Range

(digital): 8° to 2°, in 3 steps

Focus type:

Linked to Visible with manual override

Focus Range:

<0.7m to Infinity

Detector Life Span:

No degradation

Corona Measure Method:

Intensity based count, Calibrated for irradiance value of selected area

Threshold Mask:

Useful range 20-100%

UV Transparency:

0-100%

UV False Color Selection:

6 pre-set colors, 100 user selectable hues

UV Integration:

Adjustable period, Summation or Noise Reduction
THERMAL

Detector Type:

VOx Microbolometer

Spectral Band:

7.5 – 13.5 μm

Temperature Range:

-40°C to 160°C

Sensitivity:

Infrared (NEdT): <62.5mK @ f1.25

Focus Range:

2.3m to Infinity

Resolution:

640 x 512

Field of View:

10.4° × 8.3°

Zoom:

8x digital

IFOV:

0.283 mRAD

Readout:

<9 0r 25Hz

IR Palettes

15x palettes / Isotherms

Level & Span

Auto or Manual
VISIBLE CHANNEL
Resolution:
768 x 578 pixels
Sensitivity Day Mode:
0.4 lx (F1.35, 50 % IRE, ICR off)
Sensitivity Night Mode:
0.01 lx (F1.35, 50 % IRE, ICR on)
Exposure / Image Enhancements:
Auto or Manual
Focus Type:
Automatic with manual override
Focus Range:
<1.5m to Infinity
Useful Zoom Range (optical):
16° (0.5x) to 2° (2x)
Camera Module Zoom Range:
28x, 55.8° to 2,1°
Zoom type:
Stepped and Smooth
Zoom Range (digital):
4x, 6x, 8x, 12x
Maximum IFOV:
0.0477 mRAD
DISPLAY
Display Modes:
UV+Vis, UV+LWIR, VIS only, LIR only, UV only, UV Priority
UV Overlay Accuracy:
<1 milirad deviation
On Screen Display:
Gain, zoom, count, active functions
IO & OS
OS Features:
Icon based menu system
10x User Profiles
Boot to inspection capable in 6s, to record capable in 60s.
Image Sort Numbering
Video list and playback
Input:
Keypad, RS232, Ethernet, SBUS, CAN, PPM
Output:
HDMI, Composite Video
Onboard speaker
Bi-Directional:
Micro USB, RS-232
Firmware:
Internal GPS, with external hotplug booster antenna
Light source:
LED Flashlight (Adjustable brightness , 10-100% usable range)
Software Update:
Via files downloaded from website to Mirco SD card
OS Features:
Icon based menu system
MEDIA & DATA STORAGE
Storage Medium:
Micro SD card (32 GB supplied with camera)
Storage Capacity:
1000+ images or >1 hr video/GB
Storage Format Video:
AVI, 720p (H.264 compression)
Storage Format Still:
JPG
Storage Format Radiometric Still:
UCF
Media Download:
Via Card Reader or USB
PROTECTION
Storage / Transport Case:
Pelican style plastic hard case
Environmental Protection:
IP43
Safety Standard:
CE, IEC1010-1
Warranty:
15 months
PHYSICAL SPECIFICATION
Useage:
Mounted
Weight:
1.6 Kg including battery
Dimensions:
188 mm L x 156 mm W x 129 mm H
Window aperture:
Ø = 62 mm
Operating Temp:
-15 °C to 55 °C
Storage Temp:
-20 °C to 60 °C
Humidity:
Up to 90 %, non condensating
Mounting Point
Standard 1/4" X20 thread tripod mount
POWER
Battery:
Sony Li-ion, Type L compatible
Battery Location:
Internal, quickly replaceable
Operating Time:
4hrs maximum
Continuous Operation:
No overheating
Charging:
In camera or in external charger
External Power Supply:
9-16V 12VA – Car or mains adapter | Mains Adaptor: 110-240 V ac 50 – 60 Hz / 12 V dc 3A | Protection: Reverse polarity, over current, under voltage
ACCESSORIES
Gimbal Compatability
Includes: Gremsy T3, DJI Ronin, and more