Share 303S PRO – Aerial Oblique Camera
Description:
Lens: 56mm x 4pcs + 40mm x 1pc;
 Pixels: 61MP, total in 305MP;
 Interface: SkyPort, J30J-15, Type-C;
 Weight: 1400g;
 Size: 200 x 200 x 125mm;
 Storage: 1280GB;
 Software: SHARE Data Manager
 Compatibility: M210 RTK, M300 RTK,M600, Multi rotor, VTOL
Data Process Software
Share Data Manager
Preprocess data & Write POS information
Share Data Manager is an intelligent management software designed for high-efficiency, easy-operation data collation and data preprocess. The purpose is to help user to improve the workflow efficiency and simply the procedure.
If you never used this kind of data preprocessing software, don't worry. Share Data Manager is quite
simple to operate. One key to copy all data you need, easy and efficient. No longer need to spend a lot of time to process POS information.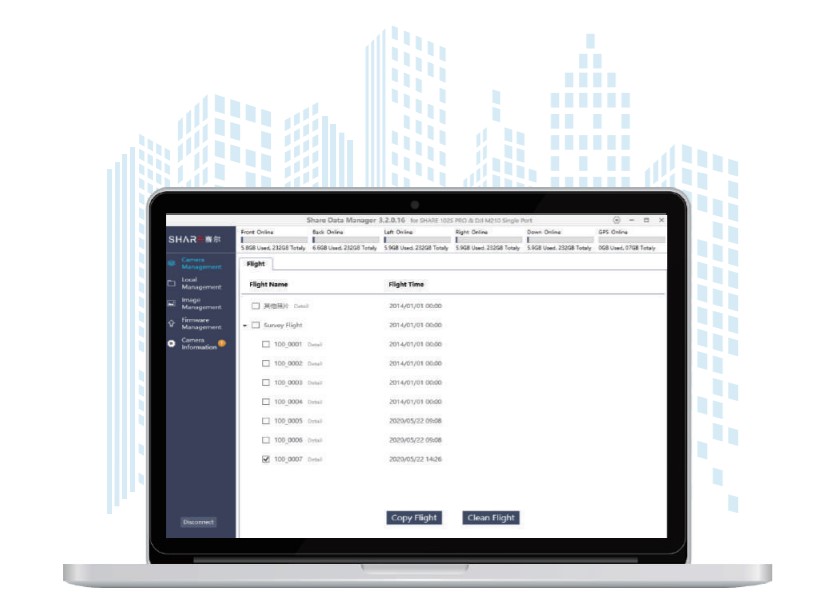 Applications
Cadastral Mapping
Smart City
Mining
Powerline Inspection
Earthwork Calculation
Building
River Management
Historic Site
Road and Bridge
Forest Survey
Plot Plan
Pipeline and Railway