Proof-of-Concept and Demo at Abu Dhabi – DJI Phantom4 RTK
DJI Phantom4 RTK Drone delivering 1cm GSD accuracy in Construction Project in Abu Dhabi Urban City Development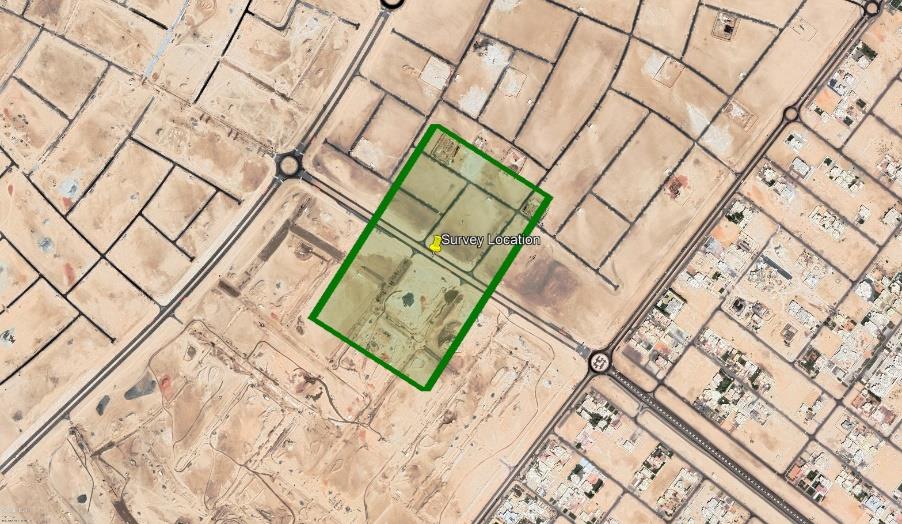 Purpose of the POC / Demo
Saif Bin Darwish using DJI's Phantom4 RTK Drone aiming at achieving 1cm GSD and to measure the level of enhanced productivity & efficiency they can achieve from DJI Phantom4 RTK in the topographic Survey in Zayed City Project in Abu Dhabi.
Aeromotus conducted a Drone-based Topographic Survey with Saif Bin Darwish at Abu Dhabi at one of their live construction projects, i.e., Zayed City in Abu Dhabi. The purpose of this POC was for the Saif Bin Darwish to achieve 1cm GSD accuracy from DJI's Phantom4 RTK and to compare the productivity, efficiency they have achieved using DJI Phantom4 RTK drones over conventional survey and ground topographic methodologies. Outputs generated from the POC were OrthoMaps, Point Cloud, 3D Model using DJI Terra.
Summary / Findings from POC
| | |
| --- | --- |
| Drone/ Camera Model | Phantom 4 RTK |
| Area Covered | 24.7 Ha |
| Total Flight Time | 90 minutes |
| No of Images Captured | 1675 |
| Total Size of Raw Images | 13.8 GB |
| Processing Time – Ortho + DSM | 78 minutes |
| Processing Time – Point Cloud + 3D Model | 319 minutes |
The location of the Survey Area is shown on Google Earth below. The KML of the Area of Interest was created using Google Earth Imagery. The total area is 24.7 Hectares.
As this site is a live construction site, the POC team were provided with a safety briefing for the survey personnel. All survey operations were held away from people and over the space permitted by the GCAA and SBD and in favorable weather conditions. All HSE related measures were fully implemented during the entire survey.
The mission plans were created using DJI's GS RTK App on DJI Smart Controller.
The flight altitude was set to 36m above ground.
The side overlap was set to 65% and front overlap was set to 75%.
The flight speed was set to 3.5m/s.
Camera angle was set to -90 degrees.
The images were captured with GSD of 0.99cm/pixel.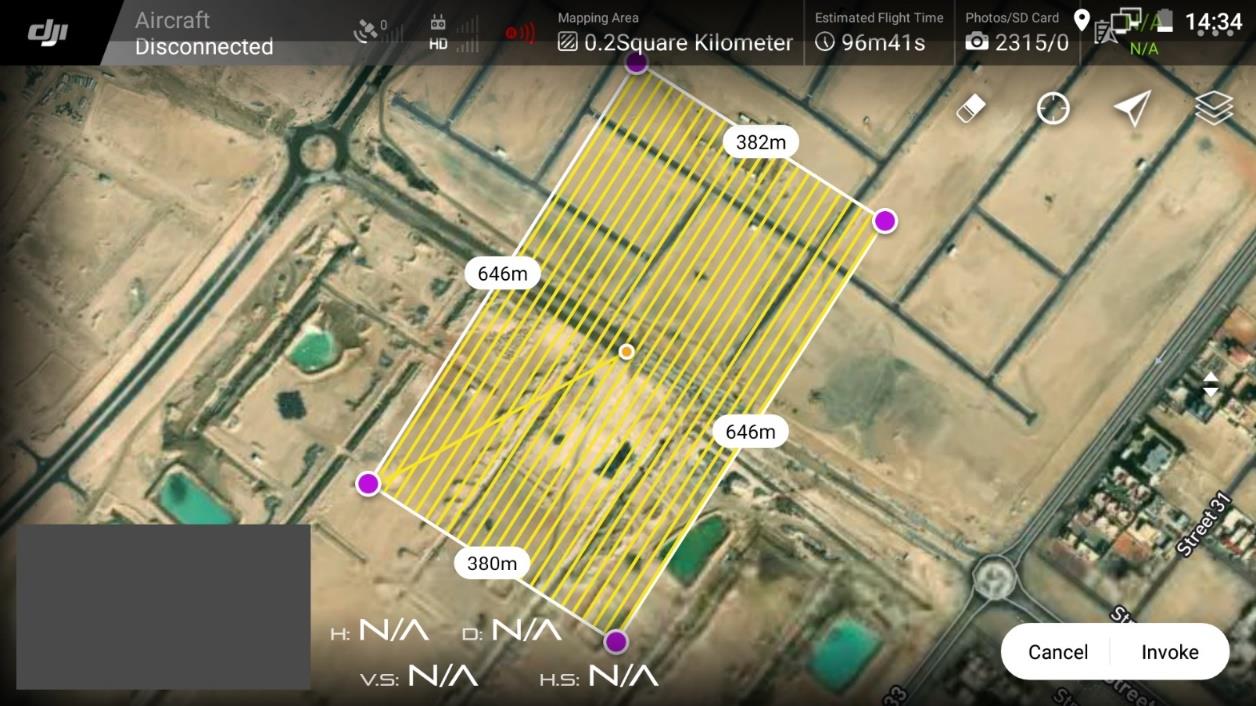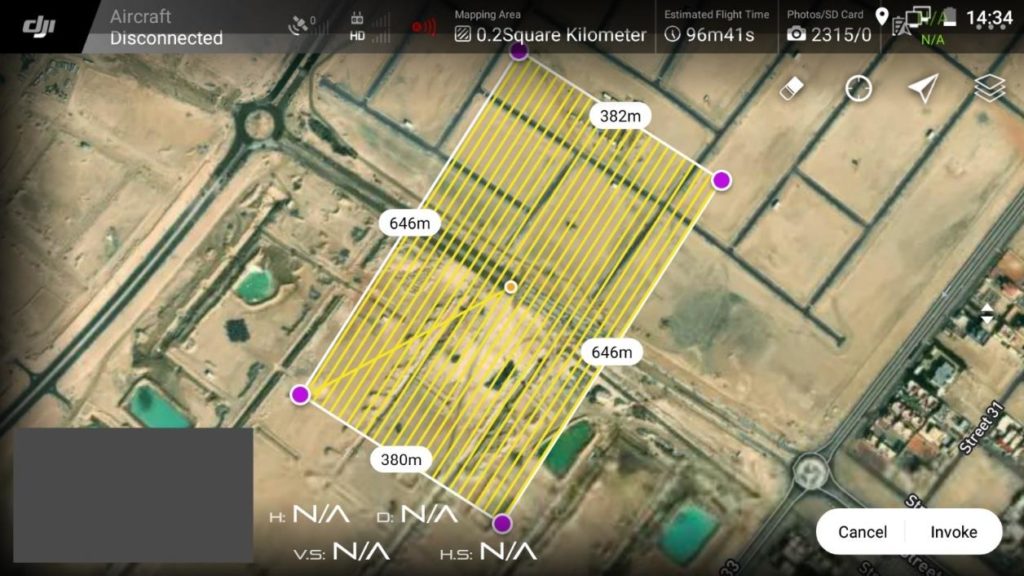 2. Realtime Georeferencing at Site
Base Station (D-RTK2) was setup at the following coordinates:
Easting: 257326.241m
Northing: 2696114.658m
Elevation: 4.871m
Drone IMU and Compass were calibrated before the operation
The first flight took off at 10:00 am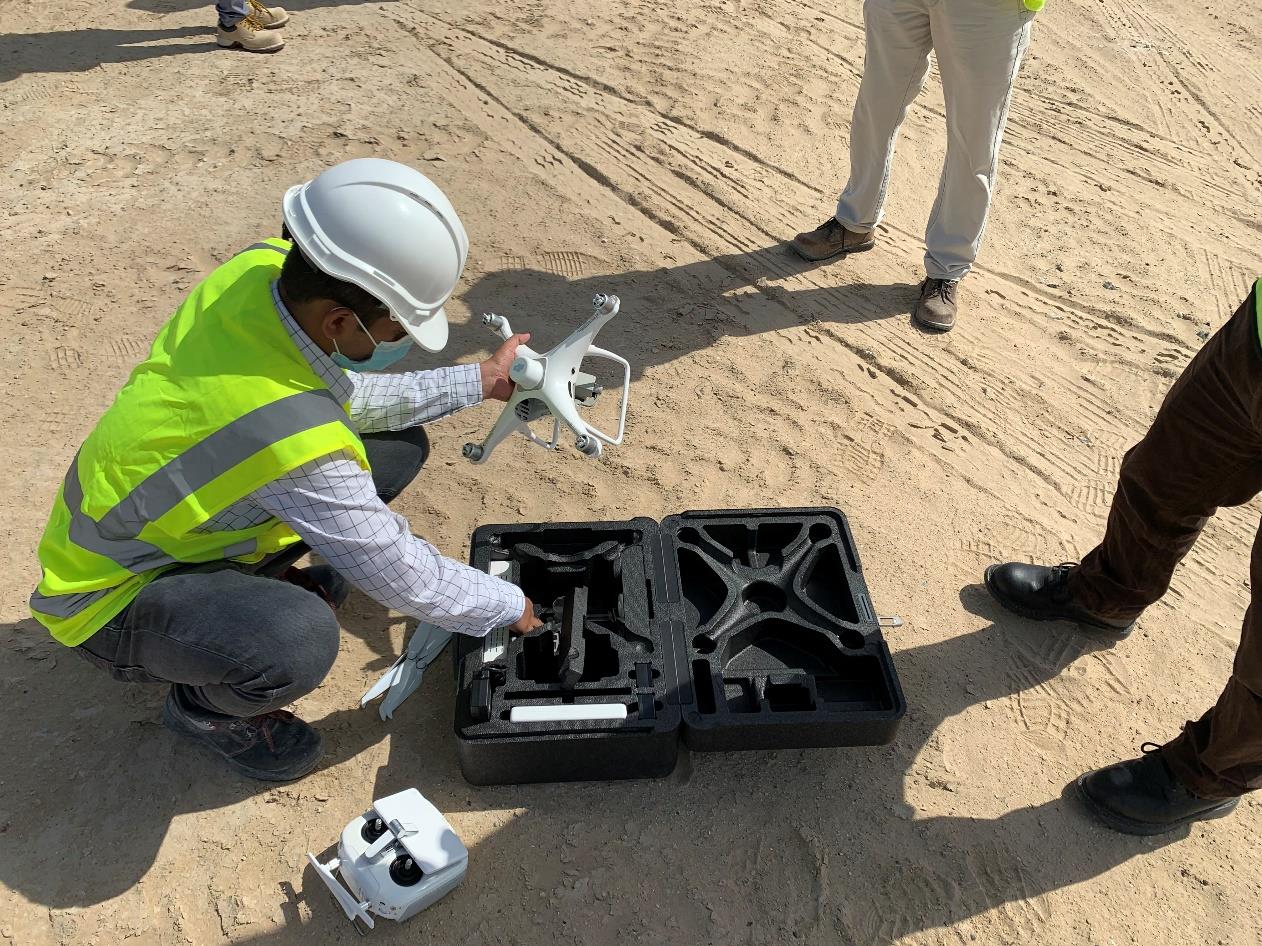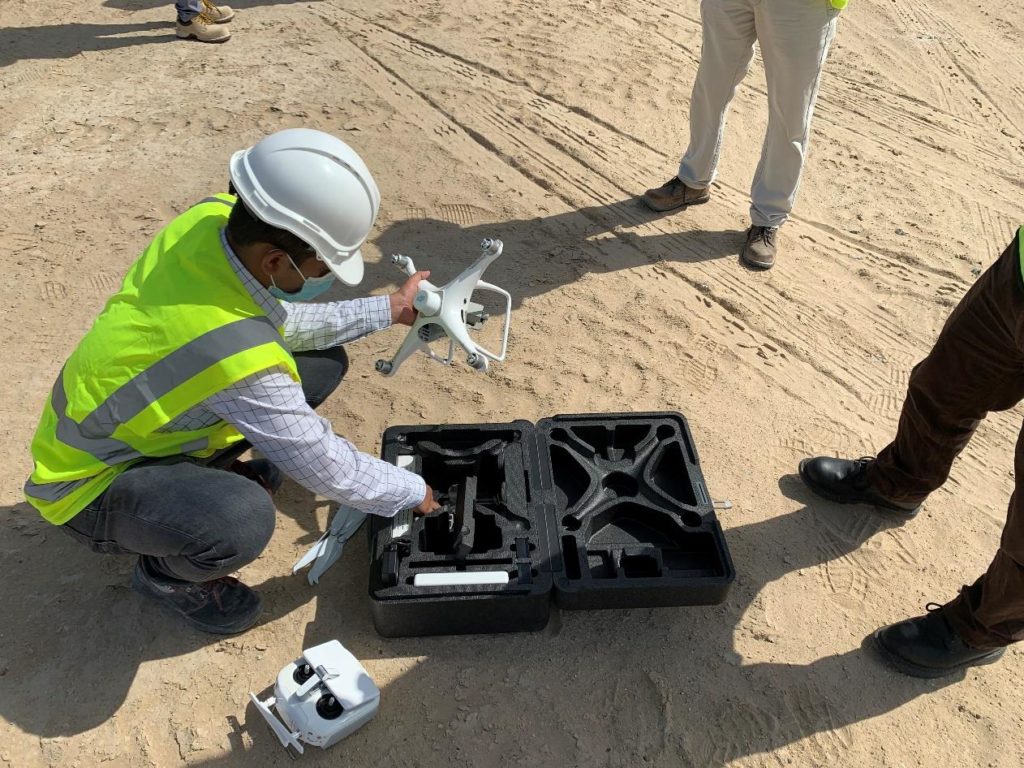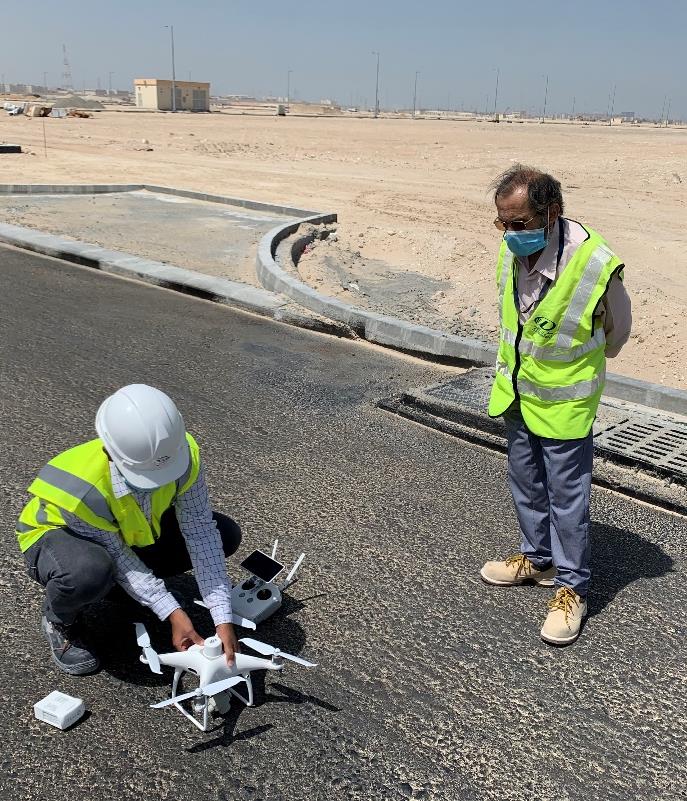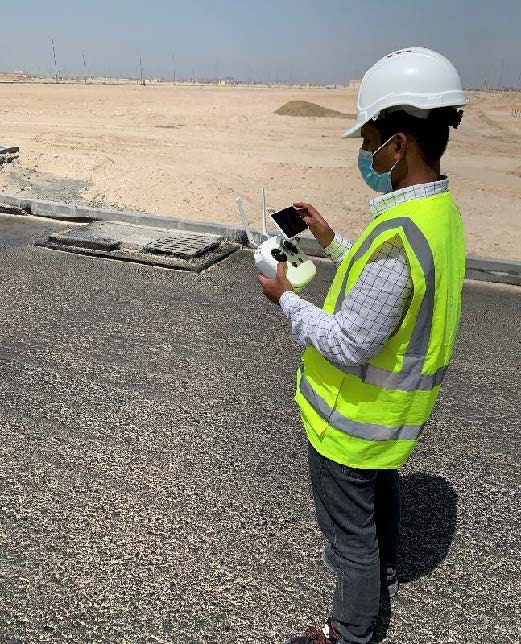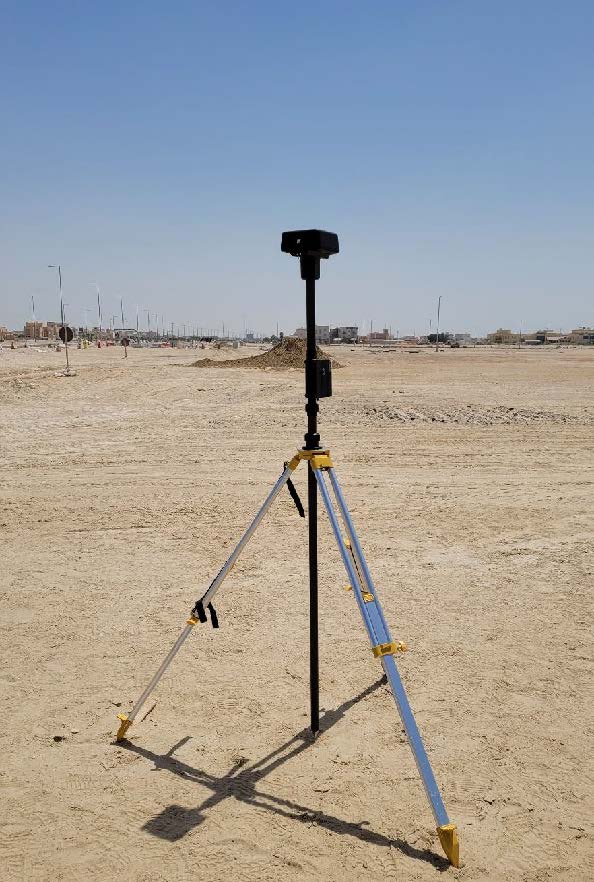 DJI Terra was used to process the images.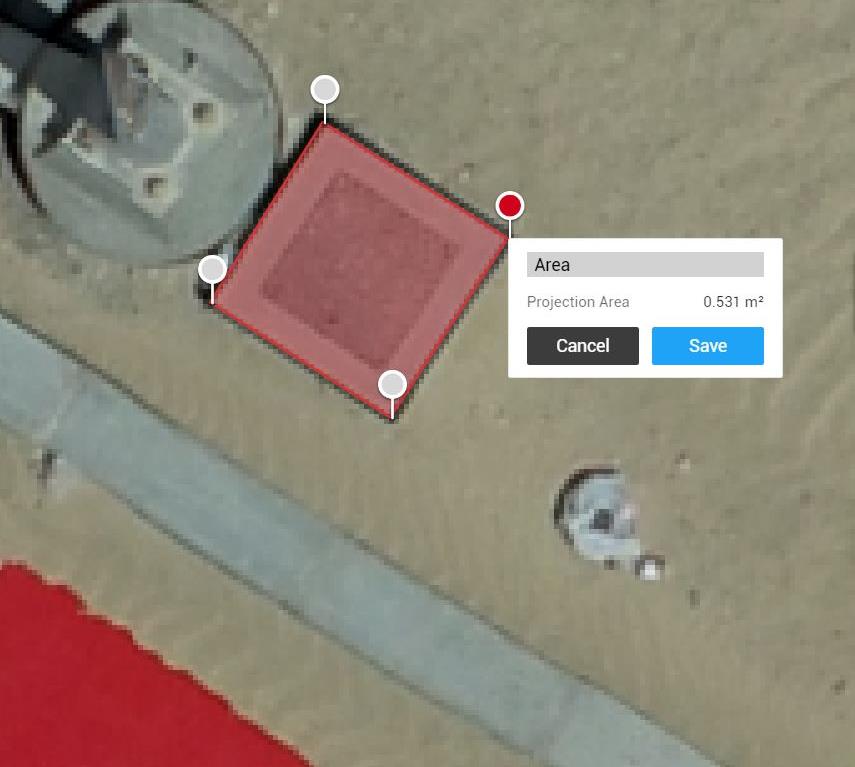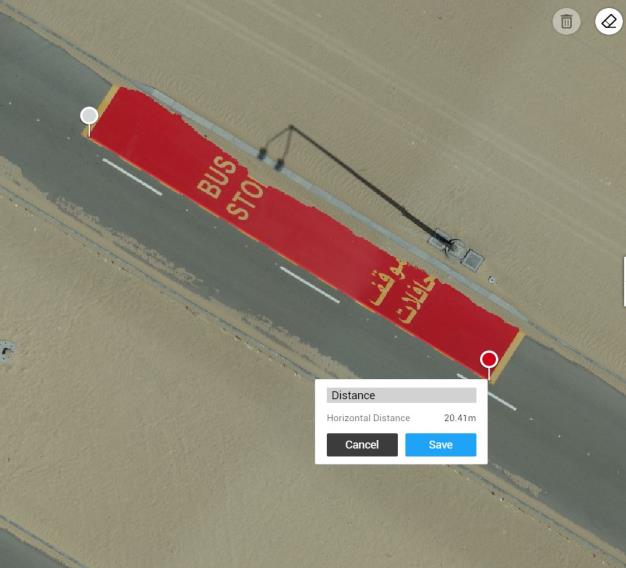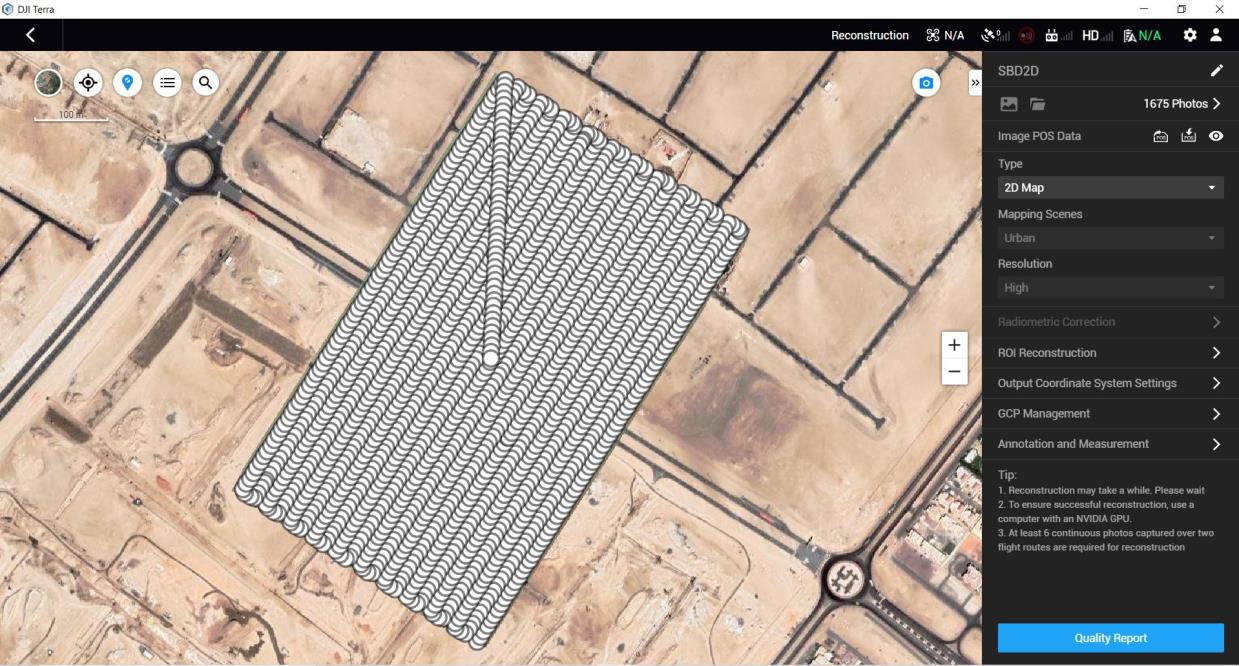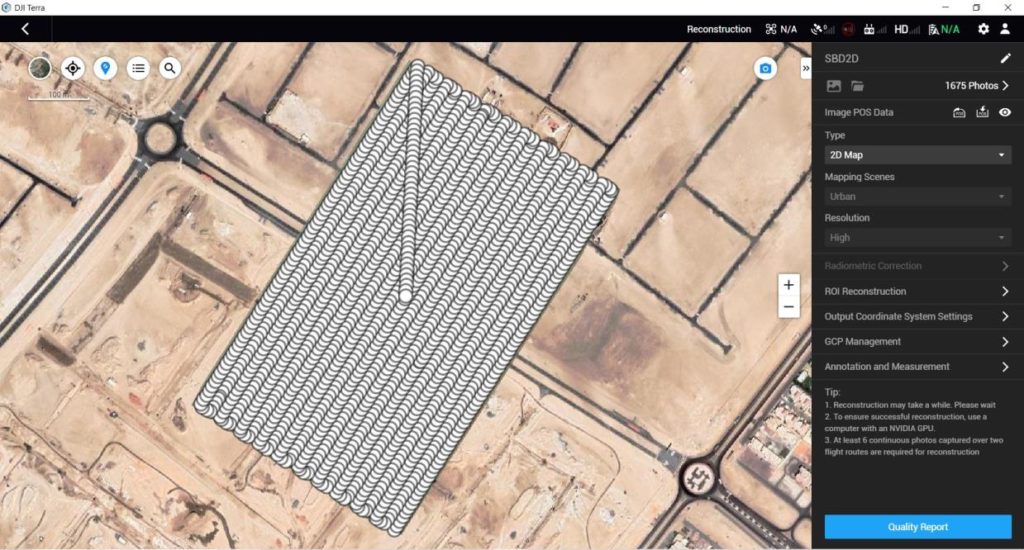 Camera Model

Phantom 4 RTK

Area Covered

24.7 Ha

Total Flight Time

90 minutes

No of Images Captured

1675

Total Size of Raw Images

13.8 GB

Processing Time – Ortho + DSM

78 minutes

Processing Time – Point Cloud + 3D Model

319 minutes

Processing Resolution 2D and 3D Reconstruction

High

Data Output formats

Point Cloud in LAS, 3D Model in OBJ, PLY, OSGB
Orthomosaic in GeoTIFF, DSM in GeoTIFF
Email us with any questions or inquiries or use our contact data. We would be happy to answer your questions.