EASY TO PILOT AND RELIABLE DRONE SOLUTION
With its enhanced aerodynamic design and its advanced autopilot, Parrot Disco-Pro AG is easy to pilot, reliable and safe. This fixed wing drone solution comes with a powerful motor and a high capacity battery that covers up to 80ha / 200ac at 120m / 400ft flight altitude in a single flight. The new Parrot Skycontroller 2 ensures an optimized and secure Wi-Fi connection, and live video streaming on your smartphone via the FreeFlight Pro app.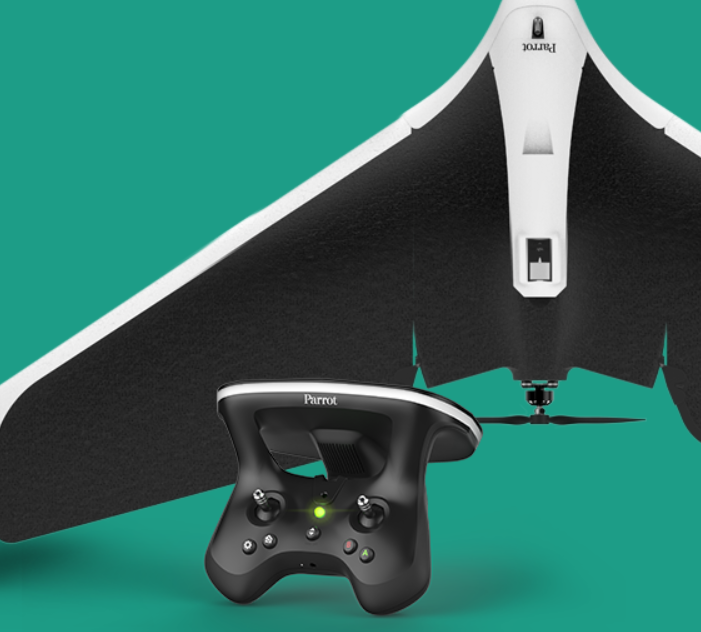 CAPTURE CROP DATA WITH PARROT SEQUOIA
Parrot Sequoia is a cutting-edge multispectral sensor for precision agriculture.
With its two sensors, multi-spectral and sunshine, Parrot Sequoia analyses plants' vitality by capturing the amount of light they absorb and reflect. When facing downwards, the high precision multispectral sensor captures RGB photos and the light plants reflect in four separate bands: green and red lights and two infrared bands invisible to the human eye. When placed on the drone facing up, the sunshine sensor records the intensity of light emanating from the sun, so you can perform radiometric calibration to ensure consistent data measurement.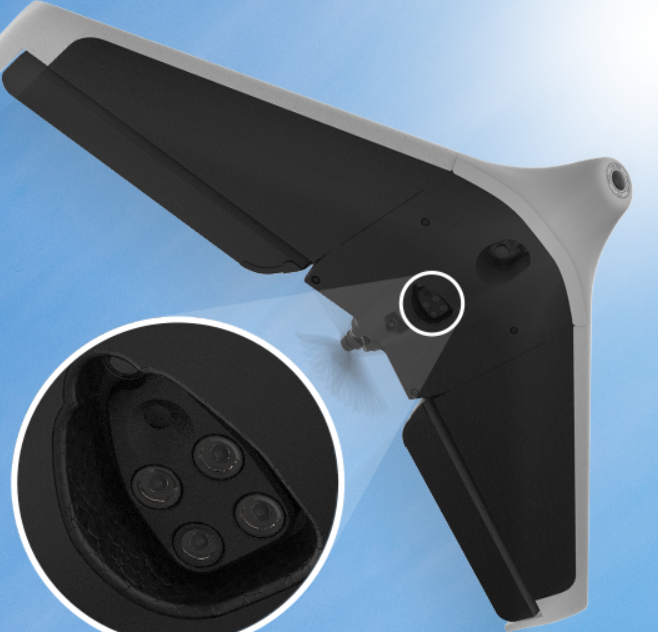 INSPECTION AND ANALYSIS OF MAJOR CROPS
OPTIMIZING CHOICES AND MOVEMENTS FOR BETTER CROP HEALTH
Thanks to its turnkey solution, Parrot allows farmers to monitor their crops from the air by conducting drone flights that require no knowledge of flying.
Equipped with state-of-the-art technology, the farmer can easily control his device to analyse up to 150 ha of data per week via NDVI maps and generated zonings.
Radiography of unprecedented precision to draw up an inventory of the various plots of land.
In the Box:
1 Parrot Disco-Pro AG
1 Parrot Sequoia
3 Batteries
1 Skycontroller 2
1 Backpack
2 Chargers 3 country adapters
1 cable usb to micro-usb
1 Quick start guide
1 Parrot Sequoia user guide
PARROT DISCO-PRO AG
OPERATION OVERVIEW :
Area Coverage: 80ha (200ac) in a single flight at 120m flight altitude (400ft)
Range: Up to 2km with Parrot Skycontroller 2, in an unobstructed area free of interferences
Ground resolution: 11.3cm/px (4.4in/px) at 120m (400ft) flight altitude
Automatic flight plan powered by Pix4Dcapture mobile app
Hand launch for take-off
Automatic landing
GENERAL :
Weight: 780gr | 28oz without Parrot Sequoia
Take Off Weight: 940g / 33oz with Parrot Sequoia & mount
Size : 1150x580x120mm (45x22x5in)
Wingspan : 1150 mm (45 in)
Removable wings for transport
PHOTO & VIDEO :
Photo: 14Mpx wide angle camera
Video: 1080p Full HD
Video streaming: 360p / 720p
Internal Memory: 32GB
WI-FI AND TRANSMISSIONS :
Range: Up to 2km with Parrot Skycontroller 2, in an unobstructed area free of interferences
WiFi AC-type, 2 bi-band antennas (2,4 and 5GHz)
HIGH CAPACITY BATTERY :
Battery life : 30min with Parrot Sequoia
2700 mAh / 25A 3 cells Lipo Battery
SENSORS :
Airspeed sensor (Pitot tube)
Built-in GPS + GLONASS
Inertial Navigation System
Altimeter
Ultrasound
Optical flow camera
PARROT SEQUOIA
RGB CAMERA :
Resolution: 16 Mpx, 4608×3456 pixels
HFOV: 63.9°
VFOV: 50.1°
DFOV: 73.5°
4 GLOBAL SHUTTER SINGLE-BAND CAMERAS :
Resolution: 1.2 Mpx, 1280×960 pixels
HFOV: 70.6°
VFOV: 52.6°
DFOV: 89.6°
4 SEPARATE BANDS :
Green (550nm BP 40nm)
Red (660nm BP 40nm)
Red Edge (735nm BP 10nm)
Near infrared (790nm BP 40nm)
GENERAL CHARACTERISTICS :
Dimensions: 59x41x 28mm (2.3×1.6×1.1in)
Weight: 72 g (2.5 oz)
Photo mode: Up to 1 fps
Internal storage: 64 GB built-in storage
Inertial measurement unit & magnetometer
Power: 5 W (~12 W peak)
SUNSHINE SENSOR (INCL. IN PARROT SEQUOIA) :
Dimensions: 47×39.6×18.5mm (1.8×1.5×0.7in)
Weight: 35 g (1.2 oz)
4 spectral sensors (same filters as body)
GPS
Inertial measurement unit & magnetometer
SD Card slot
Power: 1 W
Up to 150 ha / 370 acres processed per week
Unlimited surface for the first processing
AIRINOV reports includes:
Absolute NDVI map: index value from -1 to 1
Adjusted NDVI map
Simple zoning map: NDVI map divided in 3 zones
Detailled zoning map: NDVI map devided in 7 zones